Background
By the beginning of 2009, American Capital Ltd. (ACAS), investors were exiting the shares in droves: the company had suspended and investors panicked over the fear of bankruptcy. The dividend suspension alienated the traditional investor in a Business Development Company (BDC). The bankruptcy drove further panic as investors - having seen dissolutions in which common shareholders were left with nothing - misunderstood the reorganizations that occur when businesses still continue to pay their debts in full as they come due. The following chart reflects the awful pummeling sustained by the shares between the week before the dividend suspension and the shares' nadir just after the first quarter of 2009: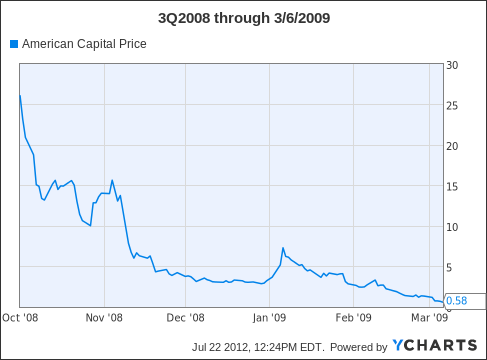 The dividend-news sell-off is visible in the wake of the "Dividend Policy Revision" described on page 2 of its announcement of November 10, 2008. That this price action reflects a panic (rather than fair pricing) is suggested by a look at the company's Net Asset Value per share (NAV) over the last five years, which never got as low as even $5: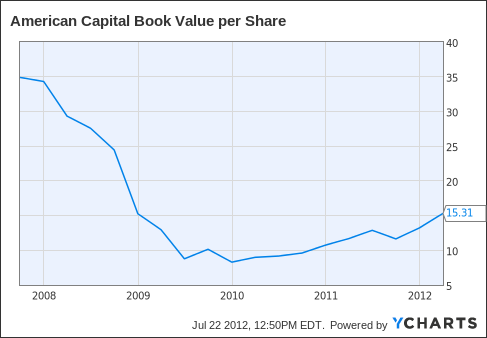 Trading at less than 20% of NAV was likely a result of a growing panic that the company would be destroyed in a bankruptcy. The bankruptcy panic was driven by the fear that repayment of all debts without notice was impossible, though a demand became possible once a net-asset covenant default occurred in the wake of the liquidity crisis. When the illiquid portfolio companies comprising ACAS' portfolio had no market, the "fair value" plummeted and ACAS' covenants to maintain minimum "fair value" could not be kept.
The default was not a payment default, which never occurred. While covenant-default continued, ACAS' Net Operating Income (despite improving) was adversely impacted by default-rate interest payments and "make whole payments" to lenders "suffering" from ACAS' "default". A description of why bankruptcy actually favored ACAS suggests that ACAS could have improved its near-term position by filing bankruptcy, but wanted to make sure that lenders were paid everything they bargained for, to protect management's reputation with lenders the next time the company sought funds.
The crisis was solved in mid-2010 through a refinancing as secured debt, at new interest rates, debt that was previously unsecured. The refinancing terms were interesting: some lenders wanted so much not to be repaid - they wanted to continue being lenders to ACAS - that they agreed to the refinancing only on the condition they received "make whole payments" to compensate them for being repaid earlier than they'd hoped. From the outset, ACAS paid principal ahead of schedule, lowering its debt as part of an overall scheme to raise and until recently no principal payment was due until 2013. ACAS promptly repaid principal to the level entitling it to the best rate available under its refinancing agreements.
The downside of the debt agreements? ACAS could repay debt, but was barred from borrowing anything without the consent of the lenders. This meant that debt repayment was a one-way street: debt repaid in one quarter could not be borrowed in a later quarter to finance a deal. The company could only shrink debt.
The Old Fears
Without a revolving line of credit, some suggested that ACAS "can't generate meaningful (relatively speaking) new business." Headlines describing ACAS transactions as an "offload" of portfolio company inventory suggested that the company was in a divestiture phase that presumably would shrink it. Without a revolving line of credit - making debt repayment a one-way street - little suggested growth.
Analyst reports the author cannot link went so far as to suggest that the company would "unlock value" by spinning off bundles of assets and debt in sales, and continue cutting headcount to eliminate expense. This thinking ignores the fundamental operation of American Capital Ltd. The company is not a passive investor and cannot kill head count because it is involved in assessing and improving operations at its numerous portfolio companies, and is assessing and investing in numerous new deals every year even as articles suggest it is busy divesting itself of holdings.
So, is American Capital shrinking to the point it cannot spread its operating overhead across a shrinking portfolio? Is "growth" just a per-share artifact gamed by management's execution of a share buyback program? As described in more detail in an earlier article, American Capital has grown the assets of the organization even as it has retired shares, concentrating value in fewer shares.
American Capital (not just per share, but at the enterprise level) hasn't been shrinking, it's been growing.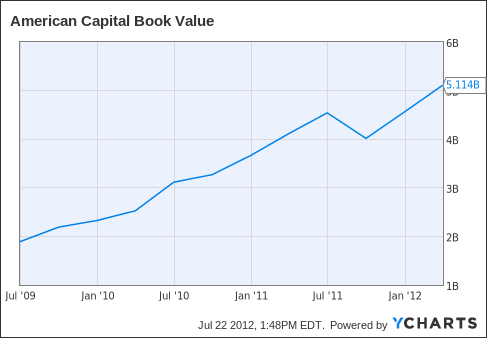 The News
As American Capital has grown NAV while retiring debt, it's been dramatically lowering leverage. During the liquidity crisis, management described its target debt/equity ratio as 0.6:1, yet ... have a look: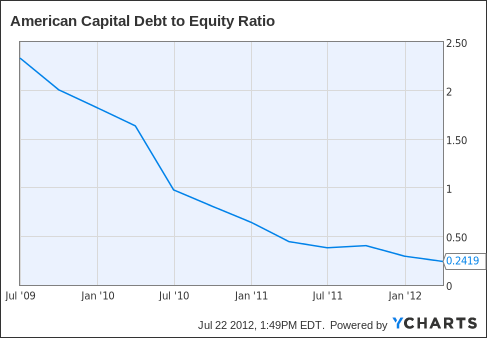 This is not a sign management no longer believes in leverage, or that it has decided the ideal leverage is closer to 1:4 than the 0.6:1 previously announced to shareholders when times were lean. The vanishing debt is instead evidence management wants out of its old debt agreement, which sticks the company with a 2010-era interest rate and bars it from obtaining cheaper credit, even on a subordinated basis. Although the details aren't yet out, American Capital has announced plans to refinance the old debt with a creditor group arranged by its joint bookrunner J.P. Morgan Secutiries LLC. The new arrangement involves two secured credit facilities, including a revolving credit facility and a four-year loan for $600,000,000. Details will be available to prospective lenders at a meeting Tuesday.
Conclusion
American Capital isn't divesting itself to nothing, or jettisoning itself piecemeal in a final bid to cut costs. American Capital's management seeks to return the company's operations to a pre-crash state. The reorganized credit facility will enable American Capital to pursue investment more aggressively than it has previously been able and protect its flexibility whenever it chooses to repay debt; no longer will American Capital be obliged to conduct transactions solely from cash on hand, and to choose each quarter whether to pay interest for the right to hold cash or forego the opportunity to pursue deals.
Investors who desire to participate in private equity but lack the many millions needed to buy assets of the classes pursued by American Capital - or who desire the diversification offered by sharing in an established pool of investments - should consider American Capital as a way not only to participate in this market segment, but to do so at a discount to book value that continues to mirror the discount available two years ago when the company's prospects were less clear.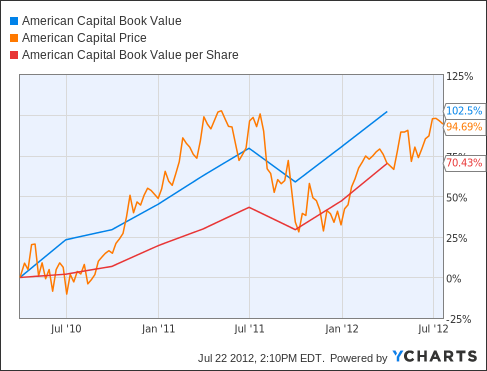 Based on the NAV at the end of the first quarter, current share prices are discounted more than one third. This is particularly interesting given the company's historical pre-crash trade at a premium to NAV: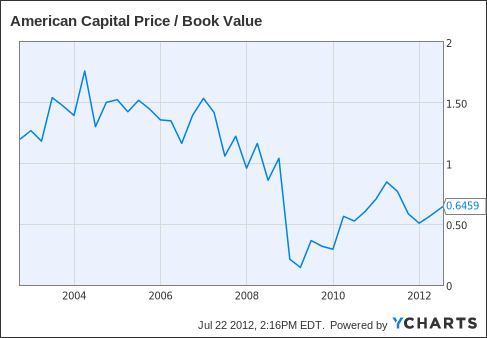 The debt refinance news is a harbinger of the growth that will consume the loss carryforward and accelerate the return to dividend payment. Assuming that the dividend suspension and the appearance of normal operations are linked to the current NAV discount, the prospect for a three-year return appears extremely attractive.
Disclosure: I am long ACAS.