By: Brendan Gilmartin
Overview
Netflix (NFLX) is scheduled to report 2Q 2012 earnings after the close of trading on Tuesday, July 24 at approximately 4:05 p.m. EST with a conference call slated to follow at 6:00 p.m.

Outliers & Strategy
Netflix is expected to post a profit of $0.05 per share in the 2Q period. Revenues are seen rising 12.7% to $888.9 million (Source: Yahoo Finance). The company issued the following outlook back in April:
2Q 2012 Earnings Per Share: (-$0.10) - $0.14.
2Q 2012 Revenues: $873 mln - $895 mln.
Netflix is trading at just 27.5x trailing earnings, below the 5-year average of 30x, and just 1.35x sales with high short interest.
Recent News
07/03: Netflix CEO Reed Hastings said in a Facebook post that monthly viewing in June exceeded 1 billion hours for the first time.
07/03, According to an article on Forbes.com, Citigroup Analyst Mark Mahaney reiterated a Buy rating and a $130 price target on Netflix, following the recent share price pullback. The positive view was also based on the company's execution track record relative to competitors, improving customer trends, and upside from streaming video given the adoption of tablets and smartphones.
06/25: Janney Montgomery upgraded Netflix from Sell to Neutral, according to a post on Seeking Alpha. The firm noted that the recent pullback back presents a more rewarding risk/reward scenario. The fair value price is $67.
06/25: An excerpt from a report by Janney Capital Markets published in Barron's showed Netflix was gaining an advantage over video on-demand and premium channels, citing industry research. The report showed Netflix is also outperforming its rivals when competing for advertising revenues.
05/31: Bank of America lowered the price target on Netflix from $88 to $72, according to a post on Benzinga.com. The firm said it was upbeat about the domestic streaming business but was concerned over the aggressive investment in international expansion.
05/04: Hedge Fund Manager Whitney Tilson told CNBC he continues to purchase Netflix, as the shares appear cheap at these levels and the company makes for an attractive acquisition candidate.
Technical Review
Netflix shares are up more than 30% from the June low near $60.00, but down more than 70% over the past year. The recent pick-up in momentum is evidenced by the upward-sloping 20-Day SMA, crossing back above the 50-Day, the positive trajectory in the MACD, and relatively high short-interest, prompting many borrowers to cover on even the slightest piece of positive news.
Headed into the earnings release, the candlesticks have shortened and volume has tapered off - signals that a breakout could be on the horizon. Look for initial resistance at the $85.00-level in the event of a positive surprise, followed by $90.00 (200-Day SMA) and $100 (level prior to the 1Q earnings release in April). Initial support is $75.00, with downside risk to $70.00. (Chart courtesy of StockCharts.com)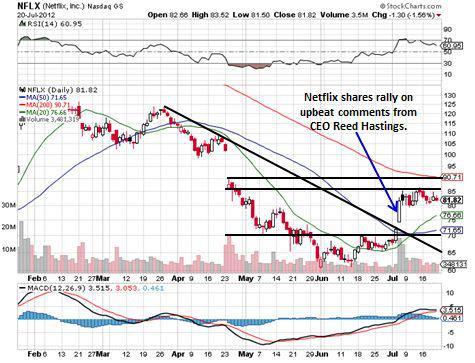 Summary
Netflix shares have enjoyed a solid bounce over the past several weeks, climbing more than 20% off the June lows, thanks in part to positive remarks from CEO Reed Hastings on July 3, suggesting Netflix monthly viewing in June exceeded 1 billion hours for the first time. Increased adoption of streaming content, evidence of outperformance versus video on-demand and premium channels, valuation, high short-interest (24.3% of the float), along with strong support from Hedge Fund Manager Whitney Tilson and Citigroup Analyst Mark Mahaney have also helped lift the shares to a 3-month high. While the backdrop is showing signs of improvement, Netflix continues to face high content acquisition costs, while investing heavily in international markets - two factors that could potentially hold earnings in check.
DISCLAIMER: By using this report, you acknowledge that Selerity, Inc. is in no way liable for losses or gains arising out of commentary, analysis, and or data in this report. Your investment decisions and recommendations are made entirely at your discretion. Selerity does not own securities in companies that they write about, is not an investment adviser, and the content contained herein is not an endorsement to buy or sell any securities. No content published as part of this report constitutes a recommendation that any particular investment, security, portfolio of securities, transaction or investment strategy is suitable for any specific person.
Disclosure: I have no positions in any stocks mentioned, and no plans to initiate any positions within the next 72 hours.