Chinese equities, particularly those operating in the tech sector, have lagged the performance of the U.S. equity markets, based on slowing growth concerns due to both domestic demand, but perhaps even more so tied to economic difficulties in Europe, China's largest export market. The group, as represented by the Claymore China Technology ETF (NYSEARCA:CQQQ), has fallen off about 40% from the highs set last April, and is currently flirting with multi-year lows. Meanwhile, the Shanghai Composite Index is down over 35% from the highs set in mid-2009, and is back to within striking range of the lows in 2008/09. This, while the U.S. equity markets, have relatively blossomed, with the S&P 500 having doubled from those lows, and near multi-year highs.
However, long-term, the Chinese economy is expected to keep up its growth trajectory, at rates far in excess of those in the West, and with prices near lows, now may be an opportune time to take a look at the group. It is with this intent that we present here our analysis of the investments of 25 of the world's largest or mega fund managers in the China Tech group. These mega fund managers together account for almost 40% of the assets invested in the U.S. equity markets and manage between $100 billion and over a trillion dollars each. Also, together, they are bearish on U.S.-exchange traded Chinese ADR's, cutting a net $160 million in Q1 from their $13.04 billion prior quarter position in the group.
Among well-known Chinese companies, Focus Media Holdings Ltd. (NASDAQ:FMCN) is the favorite pick among the world's largest or mega fund managers. It operates the largest out-of-the-home digital advertising network in China through using flat-panel, poster frame and digital displays. Mega funds together added a net 3.69 million shares (or $69 million) in Q1 to their 16.95 million share prior quarter position in the company, and taken together mega funds held $387 million or 14.2% of the outstanding shares. The top buyers were Wellington Management, one of the largest private independent investment management companies in the world, with $634 billion in assets under management, that purchased 3.45 million shares, and Goldman Sachs Group with $836 billion in assets under management, that purchased 2.27 million shares.
In its latest Q1 (March), FMCN beat analyst revenue and earnings estimates (46c v/s 43c), with growth of 36% and 53% year-over-year respectively. Its shares meanwhile trade at a cheap 14.5 current P/E, at a discount to its earnings growth rate. Looking forward, earnings are projected to continue growing at a respectable 18.7% annual rate, rising from $2.05 in 2011 to $2.89 in 2013.
The stock has been under pressure ever since a Muddy Waters research report in November of last year made serious allegations about the company making fraudulent statements about its business operations. To its credit, the company has gone head-on and tried to address many of the points raised in the Muddy Waters report; however, the market seems to be buying neither argument conclusively for now, and shares continue languish in the high-teens to low-$20's range after a brief dip below $10 immediately following the Muddy Waters report. Overall, Wall Street analysts seem to agree with the bullish outlook of mega fund managers about FMCN. Ten of the eleven analysts that cover it rate it at buy/strong buy, and the remaining one at hold, with a mean price target of $39, well above current prices in the $19 range.
Other China Tech companies that mega fund managers are bullish about include:
The following are China Tech companies that mega funds are bearish about (see Table):
Furthermore, the following are additional notable holdings of mega funds in the China Tech group (see Table):
China Unicom Ltd. (NYSE:CHU), that is a Hong Kong-based provider of cellular, paging, long distance, data and internet services in the People's Republic of China, in which mega funds together hold 6.20 million or 0.3% of the outstanding shares; and
E-commerce China Dangdang (NYSE:DANG), a Chinese online retailer offering books and other media, personal care and general merchandise via Dangdang.com, in which mega funds together hold 0.90 million or 1.1% of the outstanding shares.
Table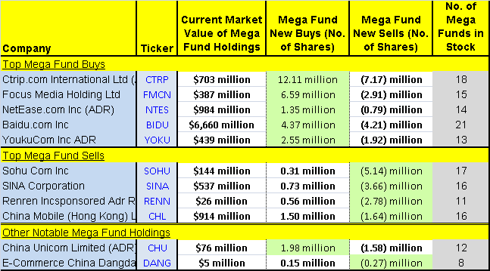 General Methodology and Background Information: The latest available institutional 13-F filings of the largest 25 mega hedge fund and mutual fund managers were analyzed to determine their capital allocation among different industry groupings, and to determine their favorite picks and pans in each group. These mega fund managers number less than one percent of all funds and yet they control almost half of the U.S. equity discretionary fund assets. The argument is that mega institutional investors have the resources and the access to information, knowledge and expertise to conduct extensive due diligence in informing their investment decisions. When mega Institutional Investors invest and maybe even converge on a specific investment idea, the idea deserves consideration for further investigation. The savvy investor may then leverage this information either as a starting point to conduct his own due diligence.
This article is part of a series on institutional holdings in various industry groups and sectors, and other articles in the series for this and prior quarters can be accessed from our author page.
Disclosure: I have no positions in any stocks mentioned, and no plans to initiate any positions within the next 72 hours.
Disclaimer: Material presented here is for informational purposes only. Nothing in this article should be taken as a solicitation to purchase or sell securities. Before buying or selling any stock you should do your own research and reach your own conclusion. Further, these are our 'opinions' and we may be wrong. We may have positions in securities mentioned in this article. You should take this into consideration before acting on any advice given in this article. If this makes you uncomfortable, then do not listen to our thoughts and opinions. The contents of this article do not take into consideration your individual investment objectives so consult with your own financial adviser before making an investment decision. Investing includes certain risks including loss of principal.