Trading in an increasingly tight range that is likely to resolve itself in a big move up or down sometime next month or so, precious metals ended little changed for the week after prices were pushed lower by futures traders who were disappointed that Fed chief Ben Bernanke offered no strong signals about more money printing while testifying before Congress. The bullish news came late in the week that the Russian central bank had once again added to its gold holdings.
For the week, the gold price fell 0.3 percent, from $1,589.40 an ounce to $1,584.00, and silver fell a penny, from $27.34 an ounce to $27.33. Gold is now up 1.1 percent for the year, down 17.6 percent from its 2011 high, and silver is 1.9 percent lower in 2012, down 44.8 percent from its peak last year.
Though most analysts continue to think another round of stimulus from the Fed is likely to come sometime this year due to a weakening economy and stubbornly high jobless rate, its timing has become exceedingly difficult to predict and is now the subject of much speculation. Last week was no exception as hopeful traders bid the gold price back to almost $1,600 an ounce early on Tuesday in anticipation of Bernanke's appearance on Capitol Hill and then proceeded to push the price more than $30 lower as the Fed chairman spoke during a two day session that ended on Wednesday.
Precious metals prices will surely rise when the next round of quantitative easing is announced, but when that announcement will come is a moving target.
The gold price continues to be supported by strong central bank buying and the IMF reported that the Russian central bank added 6.2 tonnes to its gold holdings that now stand at 836 tonnes, ranking it eighth in the world.
Offsetting steady central bank gold buying have been recent outflows from the world's most popular gold ETF - the SPDR Gold Shares ETF (NYSEARCA:GLD) - that has seen more than 25 tonnes exit the trust over the last month, bringing its holdings to a six-month low at 1,255 tonnes. The GLD gold holdings have been remarkably steady over the last year at between 1,200 and 1,300 tonnes as the gold price rose to an all-time high of over $1,900 an ounce and then tumbled, but they bear close watching in the weeks ahead.
Perhaps the most important near-term event for the gold market is the resolution of the pattern indicated in red below from StockCharts in which the gold price has been converging in an ever-narrowing trading range, a development that is usually followed by a breakout in one direction or the other.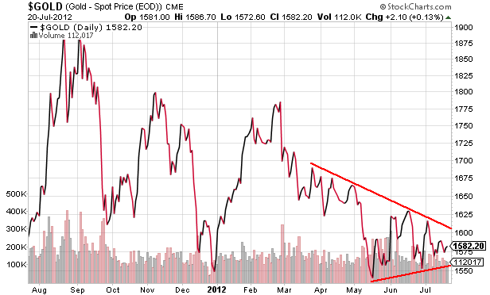 Click to enlarge
One possible catalyst for a move out of this triangle pattern will occur on August 3rd when both the monthly labor report and the ISM manufacturing index will be released. Both of these reports have moved precious metals markets in the past and could do so again.
Fed Chief Ben Bernanke is scheduled to deliver his annual speech at the Fed's Jackson Hole gathering on August 31st, roughly the same time that the two red lines in the chart converge, and this too could have an impact.
Recall that in 2010, Bernanke signaled that QE2 would soon begin and this sent the gold price sharply higher, from about $1,250 an ounce to over $1,400 an ounce by the time the stimulus was launched.
As always, developments in China and India could drive the gold price higher or lower over the next month - after all, these two nations are the world's biggest sources of gold demand by a wide margin - though higher demand from the latter does not seem likely, at least not over the near-term.
Gold imports to India have tumbled this year, in large part because of higher gold import duties and a weaker rupee that makes the metal more expensive in local currency terms. Indian gold imports reportedly fell 55 percent during the second quarter to just 135 tonnes and the same level of gold buying is expected during the third quarter as weak rains during the monsoon season are expected to crimp demand later in the year. More than half of Indian gold demand comes from rural areas and, with a poor harvest comes less gold buying.
Demand in China remains strong and, according to a Wall Street Journal report last week, the Chinese government has its sights on the nation becoming a major gold trading center along with London and New York, something that clearly makes sense since they are the world's leading producer and consumer of the metal. The proposed changes would allow trading of commodities such as gold on its vast interbank markets rather than on just two exchanges at present - the Shanghai Gold Exchange and the Shanghai Futures Exchange.
Another important point to remember about India and China is that the nascent rise in food prices due to drought will surely have a much bigger impact on their measures of inflation than that seen in the U.S. simply because food accounts for a much larger share of the "consumer basket" in both countries. How much higher inflation in those two nations will rise remains to be seen, as does the response to higher prices by investors who buy gold as an inflation hedge.
There were a few price predictions last week for precious metals as Goldman Sachs sees the yellow metal at $1,840 an ounce by year-end citing central bank gold buying, low real interest rates, and more easing by the Fed as the main drivers. Analysts at Commerzbank, Germany's second largest bank, said that bargain hunters will support the gold price over the near-term and they "expect to see a sharp rise in price in the second half of the year".
Disclosure: I am long GLD, SLV.
Additional disclosure: I also own gold and silver bars and coins.