In mid-October of 2007, equity markets around the world were at or near their all-time peaks. Since then, the global financial and economic system has been shaken to its very core, raising many questions about the future.
It would be nice to think that the days of global economic and financial crisis such as experienced in 2008-2009 are behind us. However, it is an inconvenient fact that since the trough of the global financial and economic crisis of 2008-2009, global and economic fundamentals have not gotten better; they have only gotten worse around the world.
Government debts around the world have skyrocketed to unprecedented levels and many sovereign nations now face the serious prospect of default. Global financial institutions are facing the threat of mass insolvency, not only because of their exposure to public sector borrowing but because private sector borrowers in most nations around the world are generally in the worse shape that they have been in a generation.
Indeed, viewed objectively, the world currently stands at the precipice of an even greater crisis than the one in 2008-2009. You wouldn't know it by looking at US stock prices.
US Decoupling
Many equity markets around the world reflect the grave danger of a new phase of global economic and financial crisis. Below I provide charts three equity markets that I consider to be "leading indicators," in the current global environment: Spain, Italy and China.
Spain and Italy are leading indicators because the entirety of Europe's economy will be ultimately driven by what happens to Spain and Italy. By the same token, the fate of Asia's economies will be determined by what ultimately transpires in China.
IBEX 35 (Madrid) vs S&P 500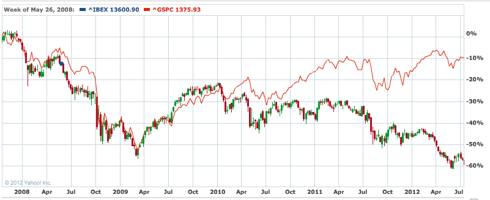 FTSE MIB (Milan) vs. S&P 500

SSE (Shanghai) vs. S&P 500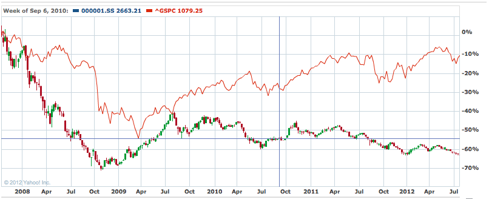 The charts of all three of these leading equity markets (in the current global context) show unequivocal signs of serious distress and rapidly deteriorating financial and economic conditions. By contrast, the S&P 500 index is conspicuous for the apparent complacency reflected in its prices. This complacency must be considered rather anomalous given the global nature of the companies that comprise the S&P 500 index.
The Spanish, Italian and Chinese stock markets are all down by 60% or more since their peaks. By contrast, despite all that has transpired in the world (and in these leading markets in particular), the S&P 500 is down only about 10% from its peak levels in October 2007.
The most important thing to note is that the S&P 500 has radically decoupled from Spanish, Italian and Chinese markets since mid 2011. Since that time, the S&P 500 has been essentially flat while the three leading markets highlighted have been in the midst of brutal bear markets that show few signs of abating. Furthermore, fundamentally and technically, the three leading markets highlighted appear headed for even lower lows.
It is folly to think that the S&P 500 index can long withstand simultaneous conflagrations in Spain, Italy and China. As these economies go, so too will the entire global economy.
In this regard it is important to understand that close to 50% of all S&P 500 earnings are derived outside the US. Furthermore, the global economic imprint on S&P 500 EPS rises to well over 60% if the impact of globally priced commodities is factored into a sensitivity analysis.
The Reason For The Decoupling
US investors have enjoyed a remarkable decoupling of US stocks from global equity indices. The question is: Why has this occurred?
Various reasons could be cited. However, I think that the most important reason is psychological. A phenomenon has transpired that is akin to "the boy who cried wolf" parable. US investors have "gotten sick" of hearing about the European crisis and a possible hard landing in China. US investors have been constantly bombarded with warnings about these global threats for a year or more. Yet European economic growth is merely flat (as opposed to collapsing) and Chinese economic growth is tracking at close to 8.0%, which is more than respectable.
The fact that the crises in Europe and China have not transpired as feared has made US investors complacent. US investors have essentially "lost interest" in developments in foreign lands that they have little or no knowledge/understanding of, supposing that either crises in these regions will not occur, and/or that their own investments will not be seriously affected.
Conclusion
US investor apathy won't change the course of events in Europe and China. Nor will current complacency prevent the consequences of these crises to ultimately become manifest in US investor portfolios.
Whether you are an index investor in ETFs such as SPY, DIA or QQQ or an equity investor in stocks with a strong global footprint such as Apple (NASDAQ:AAPL), Intel (NASDAQ:INTC) or Procter and Gamble (NYSE:PG) it would be foolish to thing that the decoupling of US equities from global equities can continue for long.
US stocks have yet to decline because the feared foreign crises have yet to transpire. However, equity indices in the key nations are clearly signaling a high likelihood that such crises will occur. Fundamental economic data emerging from these nations reinforces this view.
Many that are bullish about US equity prospects take heart from such parochial fundamental information as US housing starts. Likewise, bullish chartists take heart from the price action of various domestic US equity indices and/or sub-indices.
I advise that US investors adopt a much more global perspective. Regarding fundamentals, given that the S&P 500 is an index comprised of companies that derive their profits primarily from international factors, investors should examine data regarding the economic cycle in key international economies. By the same token, technical analysts should take a look at the price action of various international equity indices and/or sub-indices for clues about what may soon transpire in the US.
Viewed from this international perspective, and particularly from the point of view of the three key "leading" economies and financial markets that I highlighted, the prospects for the S&P 500 are not looking good at all.
Disclosure: I have no positions in any stocks mentioned, and no plans to initiate any positions within the next 72 hours.