It's difficult to dispute the contention that a company that performs well for customers also tends to perform well for its investors. One oilfield supplier that clearly enjoys the confidence of its customers to an almost unmatched degree -- and whose stock price has outperformed the benchmark Philadelphia Oil Service Index (OSX) over the last one, three and five years -- is Smith International (SII).
To be sure, Smith does not garner clients' accolades by simply talking a good game. Our belief is that the company maintains one of the best reputations in the industry in part by carefully choosing the segments in which it knows it can effectively add value (while avoiding most others).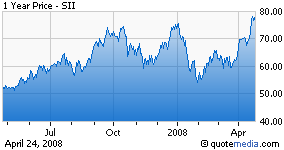 Within its 1st Qtr 2008 earnings announcement (see transcript), there's another sign that there's something special about Smith. Its oilfield segment operating margins actually increased by 20 basis points versus last year.
Normally, this would not be big news; however, consider that comparable margins for Baker Hughes (NYSE:BHI), Halliburton (NYSE:HAL), Schlumberger (NYSE:SLB) and Weatherford (NYSE:WFT) fell by over 300 basis points on average during the quarter.
To be sure, our research continues to indicate that oilfield customers will in fact pay up for products and services they believe will lead to incremental production in cost-effective manners. In our opinion, Smith's ability to buck the industry trend when it comes to operating margins speaks directly to the perceived value of its products and services.
Want more specific evidence of Smith's unique ability to satisfy finicky oilfield customers? Alright, here you go: In EnergyPoint's independently-conducted 2007 Drilling / Wellsite Equipment & Materials Survey, which captured the views of over 630 oil and gas industry professionals, no company garnered more first-place customer satisfaction ratings than Smith. Among the "big six" integrated multinational oil service suppliers –- Schlumberger (SLB), Halliburton (HAL), Baker Hughes (BHI), Weatherford International (WFT), Smith, and BJ Services (BJS) –- Smith rated first in all seven of the survey's key attributes and rated first in 23 of the survey's 24 sub-attributes. Overall, a very heady showing for Smith indeed.