We wrote an article about the slow death of the hard-disk at the hands of solid state drives (SSDs), meeting some critics and even ridicule in the comment section. Now the ink of that article has hardly dried up and what do we see, Seagate (NASDAQ:STX) is supposedly interested in taking over OCZ Technology Group (NASDAQ:OCZ), the solid state drive king.
The rumor is serious enough to have propelled OCZ shares 23% higher on Thursday, and we see some vindication of our earlier article in the move, more especially in stuff like:
Analysts said an OCZ acquisition would boost Seagate's margins and help it establish a firmer foothold in the lucrative enterprise segment, where SSDs are gaining popularity. [Reuters]
Quite a few commentators to our previous article touted 'cloud storage' as the growth opportunity for hard-disks. Well, perhaps, but we pointed out the simple fact of the superior speed and, even more importantly, energy efficiency of SSDs, something that really counts in server land. Energy costs are so important a part of server farms that electricity tariffs are an important determinant in their location.
Anyway, it's no surprise that Seagate wants to take over an SSD player in general, and OCZ in particular. SSDs' main disadvantages are price and capacity, but those disadvantages are narrowing:
The good news for those who are currently in the market to purchase a new SSD is that prices are in a steady and substantial decline according to TechReport. The steady decline in price of SSD storage combined with the increase in price for hard drive storage resulting from a massive flooding in Thailand means the difference in price between the two storage formats is getting closer and closer. [dailytech]
That Seagate has a special interest in OCZ isn't surprising either, the SSDs from OCZ invariously generate raving reviews. With SSDs, much of the performance difference comes from the controlling chip. Here is a nice summary from Overclockers club (it also links to a 12 page review of one of the newest OCZ drives, the Vertex 4):
OCZ as a company has come a long way in a few short years and is one of the pioneers of consumer and industrial grade Solid State Drives. Early drives based on JMicron controllers offered significant increases in performance over spindle-based drive but came with challenges of their own. The next step up the performance ladder was the jump to the Indilinx "Barefoot" controller on the first of the Vertex series drives. In the never ending search for more performance, OCZ once again moved to another controller in subsequent Vertex offerings using the Sandforce 1200 SATA 3Gb/s then 2200 series SATA 6Gb/s controllers. Not satisfied being tied to others controllers, OCZ went out on a limb and in 2011 purchased Indilinx to develop a controller that suited the needs of OCZ and its customers. What came out of that bold leap of faith was its Everest controller as seen in the OCZ Octane that offered excellent read/write performance in a consumer based drive.
Taking over Indilinx is a bit of a gamble, but it can play out.
The popular 3rd party solid state drive controller that everyone has been using over the past year or so has been the SandForce SF-2281 chip. Because so many companies are using the same controller the solid state drive market has become saturated with the same type of drives that offer just about the same performance. OCZ wants to remain a big player in the solid state drive market and with their purchase of Indilinx last year they made that very apparent. Earlier this year OCZ announced the second generation Everest solid state drive controller (Everest 2) and the Vertex 4 is the first consumer drive to use this controller. With rated speeds of 560MB/s read and 510MB/s write it is set to compete very well with SandForce-based drives. [thinkcomputers]
It is also useful to quote at length from the conclusion:
As far as performance goes this drive is definitely in the top of all of the drives we have tested. With scores of 560MB/s read and 513MB/s write in ATTO it is now our #1 drive in that test and can easily compete with SandForce-based drives in our other tests as well. Also this drive is not have to worry about incompressible data like SandForce drives do, it performs just the same when accessing incompressible and compressible data. OCZ is backing this product with a 5-year warranty, more than most other solid state drives on the market. Right now the 256GB version of the drive is selling for $249, which puts it on par with some of the other best in class SSD's available. OCZ is constantly updating the firmware to make the drive better so that is a great incentive right to choose this give over others. [thinkcomputers]
So basically OCZ is trying to escape the near commodification of the industry were many SSDs were based on the same controller chip (the Sandforce SF 2281 chip) and went its own way with Indilinx. The first results haven't disappointed.
For the technophiles amongst you, they also have another line of drives not based on SATA-3 connections (which are already a great improvement on SATA-2), but on the PCI-e connection (like the latest RevoDrive 3), which allows even much faster sequential read and write speeds. Technophiles, start drooling:
A lot of the PCIe-based SSDs on the market are multi-thousand-dollar offerings designed explicitly for enterprise applications; they're a little outside the realm of what's reasonable for even an expensive desktop. OCZ's RevoDrive 3 X2 240GB is considerably more attainable, however. For not much more than a high-end graphics card, this PCI Express NAND sandwich claims it can push transfer rates up to 1500MB/s-three times the peak speed of the fastest 2.5" SSDs. [techreport]
The RevoDrive is still based on the SandForce chip (actually, four of them) although the performance isn't optimal in every condition, it's more of a workstation solution.
OCZ share performance
Enough technology; let's look at OCZ shares: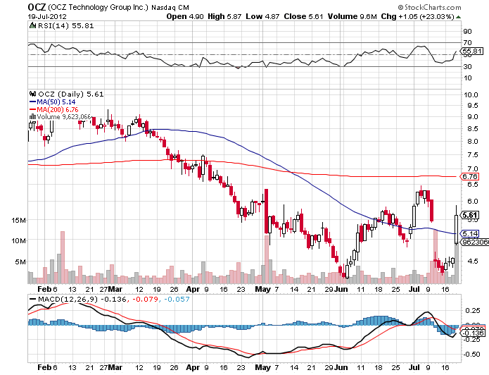 Click to enlarge
If you look at the OCZ graph above, you see that the stock dipped significantly just before Seagate's apparent move. This was the result of a disappointing quarter. Well, disappointing with respect to expectations, as revenues were up 54% over the same quarter a year ago. This nevertheless was slightly below analyst expectations; see graph below: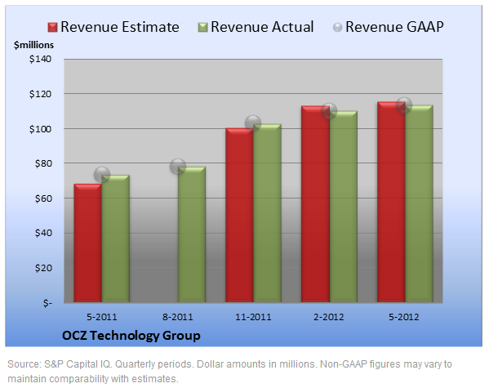 Click to enlarge
The bigger disappointment was in the 17 cents per share loss, where analysts, on average, only expected a 12 cent EPS loss.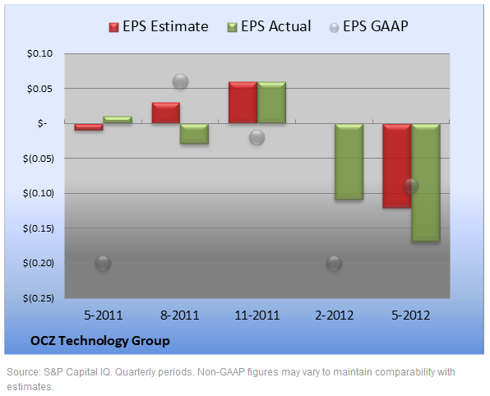 Click to enlarge
One thing to keep in mind is that OCZ really is heavily shorted. There are 67.65M shares outstanding (64.78M in the float) and a whopping 23.78M are shorted (as of 29 June, from Yahoo). The balance sheet is healthy ($43M in cash with no debt), but problems lie in operational cash flow. The fiscal year 2009 was the last that showed a positive here.
Analysts expect 13 cents in earnings per share ((NYSEARCA:EPS)) for 2013 (the fiscal year ends in February already, so that's the current year), rising to 99 cents in February 2014. It's difficult to imagine they will be profitable without producing positive operational cash flow, so that problem is likely to sort itself out, if we can believe the analysts' average.
If we can, the shorts are in a a spot of bother, we would say. At $1 in profits next year, the shares are also, well, ridiculously cheap, even after Thursday's rally. Some market parties making rather outrageous bets:
optionMONSTER's Heat Seeker tracking program detected the purchase of 3,000 December 8 calls for $0.25 and the sale of about 1,500 December 5 calls for $0.75. Volume was more than triple open interest at both strikes. The trade appears to be an instance of a relatively rare strategy known as a backspread . It resulted in an initial credit of about $0.25 and will lose money as the stock pushes higher. But those losses will stop at $8 and turn to unlimited profits over $11--roughly the same level where the stock peaked one year ago...

Yesterday's backspread could be a bet on an unexpected event, such as a takeover at a huge premium. [Yahoo]
Indeed. This was last week, as it happens. On top of that, OCZ was always a likely take-over candidate for the likes of Seagate or Western Digital (NYSE:WDC), but there could very well be other suitors.
Enter Micron
Something else was quite notable:
Fudzilla said Micron Technology Group was also in the running to buy OCZ. [Reuters]
The motivation for the (supposed) take-over attempts, by both Seagate and Micron (NASDAQ:MU), was put as follows:
Seagate has been late to address the flash storage market and needs to hedge its aging HDD business. Micron would benefit from owning OCZ by selling more NAND flash. [Reuters]
This is somewhat remarkable, as there was also other news out from Micron that caught our attention last week:
Micron is First to Offer Phase-Change Storage Chips for Mobile Devices [dailytech]
Now, here is an article listing most of the next generation memory technologies, amongst which phase change memory ((NYSE:PCM)), or memristors (according to some they are really the same) features quite prominently. PCM memory is already next generation memory and a candidate to replace flash memory (the memory technology that make up SSDs).
Other take-over candidates?
OCZ has quickly grown to be one of the best SSD companies, but there are others, like Intel (NASDAQ:INTC), Corsair, Samsung (OTC:SSNLF) and Crucial. Intel and Samsung won't be taken over, of course, and we think it's not very likely that they will enter the fray in the bid for OCZ (they have their own technology).
Crucial is already part of Micron and Corsair seems to be private. Stec Inc. (NASDAQ:STEC) is another candidate, and these shares jumped 3% in sympathy on Thursday.
Disclosure: I have no positions in any stocks mentioned, but may initiate a long position in OCZ over the next 72 hours.