Weekly Outlook: The market finished off what seemed to be a bullish week on a bearish note, and it may be setting up for a bearish week. A good week of earnings hit a snag on Friday after General Electric (NYSE:GE) and several other blue chips showed weaker than expected sales that seemed to be hit by problems stemming from Europe. Additionally, the market did not get any further QE3 from Ben Bernanke's testimony to the Senate and the House, which did give some weakness to the markets mid-week. So far, earnings season has been mixed with some companies exceeding expectations, especially in the tech space, while consumer-related companies seem to be doing worse.
The market seems like it will most likely be starting out a bit weaker this week after the rough end to last week. We have a SUPER busy week of earnings and some more important data. Further, we took a lighter week on Europe last week, and there will be some more attention paid to Europe, which has not been a positive for the market as of late.
Economic data is a bit lighter this week with things getting started on Wednesday with New Home Sales and Crude Inventories. Thursday will give us Pending Home Sales, Durable Orders, and Initial Claims. Friday will bring us GDP for Q2 as well as Michigan Consumer Sentiment. The GDP number as well as housing data will be the crucial data points for the week, but they really do not start until Wednesday. That means data really will not play a huge role in moving the market from our own data, but we do see Europe being very important to the market this week.
Overseas, we are looking at a big week for Europe. News broke over the weekend that Greece will potentially not receive funding from the IMF any longer, and if that really does occur, it could mean that Greece would become insolvent by September. The country faces a very real threat of defaulting on their loans, which creates a lot of fear for investors. Growing European fears is not good for the market as it means that we face both a rising dollar and "risk-off" trading. Other important moments to watch this week are Great Britain's GDP on Wednesday, the German Consumer Confidence on Thursday, and EU Consumer Price Index on Friday. Overall, though, it's not going to be a pretty start to the week.
The only hope that our market may have this week is for something unexpected from the EU that can create some positive buzz as well as earnings reports that can move the market. Some important earnings to watch this week include McDonald's (NYSE:MCD) and Halliburton (NYSE:HAL) on Monday; UPS and Apple (NASDAQ:AAPL) on Tuesday; Boeing (NYSE:BA) and Visa (NYSE:V) on Wednesday; ExxonMobil (NYSE:XOM) and Amazon (NASDAQ:AMZN) on Thursday; and DR Horton (NYSE:DHI) on Friday. There are a ton of earnings reports this week, and so we definitely do have a lot to watch this week as far as movement from these reports. It will create some needed distraction from Europe until earnings start to show a pattern of European weakness. If that happens, it could be a very weak week.
The Federal Reserve has a pretty light week with some data coming out from Fed Activity Indices for Richmond, Kansas City, and Chicago. Other than that, they have a very light week. We got no QE3 last week and with the issues in Europe and volume of earnings, the Fed is taking a definite backseat this week.
So where are we headed this week?
To say we have a lot of confidence about this week is hard to do. Greece starts the week on a sour note, and it will be up to some earnings early on in the week to counterbalance that issue. At the same time, we have some interesting data to end the week that also will be important. This latest move by the IMF with Greece, though, is going to renew fear in Europe that had died down as of late. That fear renewal will definitely create negative market conditions, so expect upside to be limited this week without some major catalyst to the upside that we cannot foresee right now.
Stocks To Trade:
The two trades we like for this week are Nordstrom (NYSE:JWN) long and Motorola Solutions (NYSE:MSI) short. Nordstrom is in a very strong long-term uptrend while MSI is in the reverse trend. JWN has been on fire as of late, outperforming the market, due to bottoming after their May earnings report. The stock continues good volume coming into the stock, and as we start to see more risk come into the market, luxury names as well as discount names always tend to outperform. We believe that over the next couple weeks, JWN will head into August earnings strongly. MSI, on the other hand, is showing a coming death cross. We believe their earnings look very weak for the coming quarter, and we see them underperforming JWN.
Position #1: JWN, Long
Position #2: MSI, Short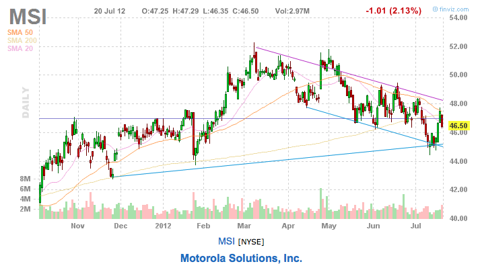 Oxen Group Holdings:
We have the following positions:
In our Short-Term Equity Portfolio we are long DirecTV (DTV), Dollar Tree (NASDAQ:DLTR), Ashland (NYSE:ASH). We are short RR Donnelly & Sons (NASDAQ:RRD), Pall (NYSE:PLL), McDonald's (MCD). In our Options Portfolio, we are long Monsanto (NYSE:MON), Dollar General (NYSE:DG). We are short Facebook (NASDAQ:FB). In our Earnings Alpha Portfolio, we are long VeriSign (NASDAQ:VRSN), Seagate Tech (NASDAQ:STX), Apple, and Disney (NYSE:DIS). We have a reverse iron butterfly in F5 (NASDAQ:FFIV). In our Goldman Sachs Up/Down Paper Portfolio, we are long Calpine (NYSE:CPN).
Disclosure:
I have no positions in any stocks mentioned, and no plans to initiate any positions within the next 72 hours.