While all eyes will be on Apple's (NASDAQ:AAPL)Tuesday evening earnings report, we'll be looking forward to an old consumer discretionary/industrial report on Wednesday morning, when Ford Motor (NYSE:F) reports its second quarter, 2012 financial results before the bell.
Ford issued a warning about Europe's profitability on June 28th, just as the quarter was coming to an end, saying that Ford's operating loss in Europe would be 3(x) that seen in the first quarter, or almost $570 million, amounting to $0.14 - $0.15 per share.
The current second quarter consensus earnings per share estimate is $0.28 per share, down from $0.35 when the first quarter earnings were released. So, despite the warning, analyst consensus has only been reduced $0.07 per share, which gives some idea of how strong the U.S. remains.
The second quarter consensus revenue estimate has been reduced $1 billion since the first quarter results, from $33.72 billion to $32.172 billion, and downward pressure continues on 2012 and 2013 consensus revenue estimates.
Ford has been gaining market share in the U.S. and according to SAAR auto sales, released monthly by the industry, the U.S. auto industry sales remain well below their long-term trend, which should be closer to 16 million per year. The average car on the road is now 6 years old, so there should be significant pent-up demand for auto's once the consumer starts to buy cars again.
However, the biggest positive to Ford (in our opinion) is that the stock is just too cheap, given the company's cash-flow, balance sheet and margin improvement.
Since F breaks out Automotive from Financial Services, Ford's Auto group generated $8 billion in 4-quarter trailing cash-flow as of the first quarter, leaving Ford trading at 5(x) price to cash-flow for just the Automotive division. Also, North American pre-tax auto margins hit 11.47% for Ford in Q1 '12, a record (I believe) and better than the late 1990s 8% high-water mark.
As perhaps a better demonstration of Ford's balance sheet improvement, Ford's senior debt credit rating was recently raised to investment grade for the first time in years, and the stock now pays a dividend.
But, Ford's 2012 consensus EPS estimate continues to be under pressure, even though F is still trading at 7(x) reduced earnings:
Q2 '12 $1.32 (pre-release)

Q1 '12 $1.49

Q4 '11 $1.49

Q3 '11 $1.62

q2 '11 $1.75
The 7(x) multiple is consistent with F's traditionally trading at a 50% discount to the S&P 500 multiple, which as of Friday, July 20th, stood at 12.5(x) forward estimates.
Technically, the weekly chart shows the stock below its 200-week moving average (which we don't like to see), but above its 52-week low of $9.05. If Ford takes out $9 per share on volume anytime this week, the stock is likely broken, and it is tough to say where it ends up.
With earnings Wednesday morning:
Watch the North American results, particularly pre-tax automotive margins, and cash-flow, and listen for North America's positives offsetting non-U.S. negatives;

Watch and see if the stock stays above $9.
Ford and Ford's management team are doing a lot of things right. They can't control Europe and the non-U.S. economies, and it is making life tough on the company.
Most analysts we follow have a $13 - $17 price target on Ford, while Morningstar has a $23 intrinsic value. The stock is undervalued, but for good macroeconomic reasons.
Click to enlarge: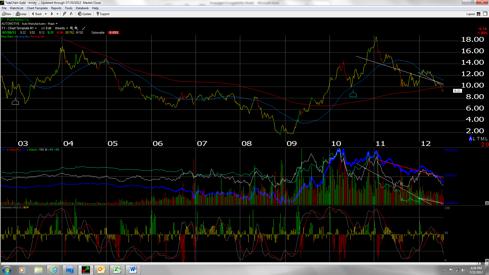 Click to enlarge
Disclosure: I am long F.