Last month, we analyzed and evaluated Exelon Corporation (NYSE:EXC) versus Wisconsin Energy Corporation (NYSE:WEC), one of our portfolio holdings and the only utility that we have a position in. We analyzed Wisconsin Energy versus Exelon as Exelon is one of the largest diversified utility companies in the world and because its headquarters and legacy business unit, Commonwealth Edison (ComEd), is 90 miles south of Wisconsin Energy's headquarters.
We also felt that Wisconsin had the potential to poach businesses and residents away from Illinois in the wake of Scott Walker and the Republican Party's electoral success in the June 5th recall. Already, we have seen a bold ad campaign by the Wisconsin Economic Development Corporation to show that Wisconsin is open for business. In addition to the highly publicized FatWallet episode, Chief Executive Magazine announced the following analysis with regards to best and worst places to do business in its 2012 survey of best and worst states to do business in the USA:
Illinois (home to ComEd) was the third worst state in the USA to do business
Pennsylvania (home to PECO Energy and Exelon Generation Company) was the eighth most business unfriendly state in the USA
Maryland (Baltimore Gas & Electric) was the 11th most business unfriendly state in the US
Wisconsin (Wisconsin Energy) was the 20th most business friendly state in the US
Wisconsin's business friendliness ranking improved by 23 spots since 2008, which was the second highest in the nation.
Following the feedback we received on our report, we followed it up with a dedicated report on Exelon 10 days later, and thereafter reported on the highlights of Exelon's Investor Day meeting. Based on all the feedback, we have decided to do a deep dive comparison of the power generation and utility business units of Exelon and Wisconsin Energy:
Power Generation: Exelon is the largest owner and operator of nuclear plants in the United States through its Exelon Generation Company, LLC subsidiary. Exelon Generation has ownership interests in 14 nuclear plants in the US. It accounted for more than half of EXC's Q1 2012 revenue and nearly half of its operating segment profits.
Wisconsin Energy previously produced 75-85% of its energy, but sold its Point Beach Nuclear Plant to NextEra Energy (NYSE:NEE) in 2007. Wisconsin Energy incorporated a merchant power subsidiary W.E. Power, LLC in 2001 to own and operate Wisconsin Electric generation plants constructed as part of Wisconsin Energy's Power the Future Strategy. Through W.E. Power, Wisconsin Energy still produces about 60% of its power needs internally. We acknowledge that Exelon has a strong advantage versus Wisconsin Energy in this segment.
Despite the fact that Wisconsin Energy has a much smaller presence in the above-mentionedd high potential growth and profitability segment than Exelon, we were pleased to note that Wisconsin Energy's corporate-wide Q1 2012 profit margin of 14.44% was comparable to Exelon Generation's Q1 2012 adjusted profit margin of 14.69%. Moreover, we like to note that Wisconsin Energy did not have to "Alibi-Ike" its earnings results with "one-time charges" added back to arrive at "adjusted net income".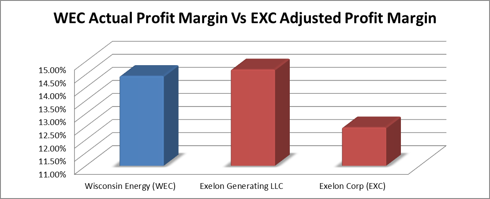 Sources: Wisconsin Energy Q1 2012 10-Q and Exelon Q1 2012 Earnings Release
Utility Subsidiaries: Exelon has three regulated utility subsidiaries serving three large urban metropolitan areas. Exelon's utility subsidiaries consist of ComEd in Chicago and Northern Illinois, PECO Energy in Philadelphia and Southeastern Maryland and Baltimore Gas & Electric in Baltimore and Central Maryland.
Commonwealth Edison serves the Chicago metro and Northern Illinois areas. It serves 3.8M electric customers within an 11,300 square mile service area. It generated $1.4B in revenues in Q1 2012, down 5.3% from Q1 2011. ComEd was able to increase its business segment net income by 20.54% on the strength of lower purchased power costs, which was partially offset by increased operating costs and depreciation/amortization expenses. ComEd's Q1 2012 and FY 2011 profit margin was well below that of Wisconsin Energy and WEC's utility segment, We Energies, because although ComEd had higher revenues than Wisconsin Energy, Wisconsin Energy was able to generate higher profits than ComEd.
PECO Energy serves the Philadelphia metro and Southeastern Pennsylvania areas. It serves 1.6M electric customers, 485K gas customers and has a utility franchise service area of 2,100 square miles. PECO's revenue net of purchased power declined by 8.85% in Q1 2012 versus Q1 2011, which caused operating income to decline by 15.7% and net income dropped by 23.2%. Wisconsin Energy's FY 2011 and Q1 2012 profit margins were higher than PECO's. Wisconsin Energy had more revenue and profit than PECO even though PECO's service area is more densely populated than WEC's areas.
Baltimore Gas & Electric serves the City of Baltimore and all or part of 10 counties in Central Maryland. It serves more than 1.2M electric customers and 650K gas customers in a 2,300 square mile service area. BGE's Q1 2012 and FY 2011 results were skewed due to one-time charges, but even adding those charges back WEC still generated higher profit margins than BGE during this time period. WEC also generated higher revenues and profits than BGE as well.
Wisconsin Energy has one consolidated utility reporting segment and brand name "We Energies", which consists of Wisconsin Electric and Wisconsin Gas. Its headquarters and home territory is the Milwaukee metropolitan area and it serves electric, gas and steam customers throughout Wisconsin and the Upper Peninsula of Michigan. It acquired the Edison Sault Electric Company in 1998 for $64M and sold it in 2010 for $63M. While we were not pleased at the loss on ESELCO, we take note that WEC only lost $1M on it, unlike the $6.4B Exelon and Constellation Energy wrote down from 2003-2011. WEC serves 1.1M electric customers, 1.06M gas customers and 485 steam customers in its service area.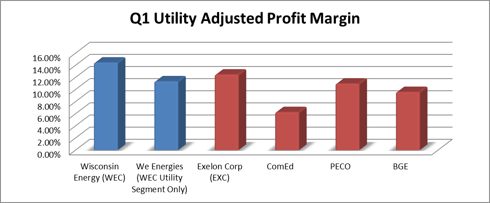 Sources: Wisconsin Energy Q1 2012 10-Q, Exelon Q1 2012 Earnings Release and Baltimore Gas & Electric Q1 2012 10-Q
We know that Exelon bulls have been beating on the "gas prices will normalize" drum. We noted that Exelon's stock registered a total return that significantly exceeded Wisconsin Energy's from February 2002 to July 2008, which was the period when energy prices in general and natural gas prices in particular began their rapid ascent. WEC had nothing to be ashamed of though, since it still doubled its EPS during this time period and made strong progress in its Power the Future Program. WEC actually grew its EPS faster and more consistently than EXC during the 2002-2008 time period.
We have noted Exelon's leadership position in the merchant power generation segment, but we think Exelon has a long way to go in order for it to be an attractive investment opportunity for us. We took note than Wisconsin Energy was more profitable than each of Exelon's utility segments in 2011 and generated higher profits than all of Exelon's utility segments combined in Q1 2012.
In conclusion, we have buttressed and reinforced our thesis in that investors who want a utility should buy Wisconsin Energy, instead of Exelon. Exelon shareholders should be embarrassed that its utility subsidiaries generated less collective profit in Q1 2012 than Wisconsin Energy. Even if this was to reverse itself, we would not be impressed, as WEC's largest metro area Milwaukee has significantly less population than any of Exelon's service areas.
In our next report, we will be analyzing further why Wisconsin Energy continually outshines Exelon, even though Exelon on paper has a lot more advantages than Wisconsin Energy has. We will also be touching upon the "gas prices will normalize" thesis as well.
Disclosure: I am long WEC.
Additional disclosure: Saibus Research has not received compensation directly or indirectly for expressing the recommendation in this report. Under no circumstances must this report be considered an offer to buy, sell, subscribe for or trade securities or other instruments.