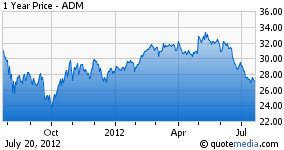 Right now ADM (NYSE:ADM) is trading mid-way between its 52-week high and 52-week low. It looks like the most obvious short in the history of Earth. That's because the drought now overtaking the Midwest is aimed squarely at its most crucial raw materials, corn and soybeans. The large U.S. food processor looks like it's about to take a very large hit.
Investors are just starting to get an inkling of what is ahead, raising the prices of fertilizer makers and futures prices for corn and other crops. But ADM's business model is based on the idea of abundant U.S. corn. It practically created the ethanol industry in order to make use of this abundance. That abundance will not exist for some time, and ethanol production is already at a multi-year low.
Even the good news of moderating prices runs counter to ADM's interests. ADM is a huge exporter of corn and soybeans. Exports have to drop if there is no supply, and if U.S. prices are non-competitive on world markets. The only hint I've seen of ADM trouble is this Motley Fool study questioning the validity of reported cash flow numbers.
I'm less worried about reported cash flow numbers than profitability going forward. If plants are not being used, if there's not much crop to transport, earnings have to take a hit. And ADM was already just marginally profitable before this happened. The company has a cash cushion of barely $1.25 billion, with about a debt-to-assets ratio of about 25% and over $21 billion in quarterly revenue. It lacks the financial flexibility to hide bad news.
The company is due to report earnings at the end of this month. Its previous earnings statement was bad, which it blamed on results in ethanol and oilseeds. The current quarter, and the next quarter, are bound to be worse.
Disclosure: I have no positions in any stocks mentioned, and no plans to initiate any positions within the next 72 hours.