Well, we are about at that time again. On Tuesday afternoon, Apple (AAPL) will release its fiscal third quarter earnings report. You can bet that many will be watching. Today, I am releasing my official Apple earnings preview article, something I have done for the past few quarters. Last quarter, I was dead on with my revenue number, iPad sales forecast, and forward revenue guidance number. This quarter, I'll try to do better, but I can't guarantee that I will.
About two months ago, I released a mid-quarter update on Apple, where I projected where things stood based on my views at that point. I've made a few changes since then, which I will detail throughout. Before I get into some hard analysis, here are a few reminders about how this quarter was structured.
Apple gave Q3 guidance of $34 billion in revenues, and earnings per share of at least $8.68.
The iPhone 4S only went on sale in Mainland China during fiscal Q2. Fiscal Q3 will be the first full selling quarter there.
The new iPad was released in mid-March. This will be the first full selling quarter for it.
The new iPad was released in select Asia-Pacific countries during fiscal Q2, with the remainder scheduled to get it in Q3.
Just recently was the iPad 3 officially released in China, meaning those sales will not be factored into the equation until fiscal Q4.
So let's get into some numbers!
Looking Back - Past Fiscal Q3 Numbers:
We all know that Apple has really boomed over the past couple of years. The following table shows Apple's unit sales by product over the last few years for fiscal Q3, in millions.
| | | | |
| --- | --- | --- | --- |
| Unit Sales | 2009 | 2010 | 2011 |
| Desktops | 0.849 | 1.004 | 1.155 |
| Portables | 1.754 | 2.468 | 2.792 |
| Total Macs | 2.603 | 3.472 | 3.947 |
| iPhone | 5.208 | 8.398 | 20.338 |
| iPod | 10.215 | 9.406 | 7.535 |
| iPad | 0.000 | 3.270 | 9.246 |
| Total | 18.026 | 24.546 | 41.066 |
Between 2009 and 2011, Apple more than doubled total unit sales. For this year's quarter, Apple could sell about 60 million units or more, with about half or so coming from the iPhone. That has led to a huge increase in both revenues an earnings, which can be seen from the following table. Apple has also done a pretty good job of increasing its margins. When you sell twice as many products, economies of scale generally work in your favor.
| | | | |
| --- | --- | --- | --- |
| Key Financials | 2009 | 2010 | 2011 |
| Revenues | $9.73B | $15.70B | 28.57B |
| EPS | $2.01 | $3.51 | $7.79 |
| Gross Margin | 40.92% | 39.08% | 41.73% |
| Operating Margin | 27.04% | 26.97% | 32.83% |
| Net Profit Margin | 18.78% | 20.72% | 25.58% |
Breakdown By Product:
When I gave my initial mid-quarter projections, I gave my projections for unit sales. I have since changed a few of those numbers, but have left two the same. I left my iPod sales forecast at 6.25 million units. We all know that iPod sales are declining year over year, and are becoming a very small factor in Apple's success.
I am leaving my iPhone unit sales prediction at 31.5 million. We heard from Verizon (VZ) that iPhone sales fell by about half a million units over the prior quarter. AT&T (T) will report Tuesday morning, and Sprint (S) will report on Thursday, so I can't get their numbers into my earnings preview, but I couldn't last quarter either. I do believe that we will see softer sales for the iPhone in anticipation of the new phone coming later this year. My forecast is approximately a 10% decline over fiscal Q2, but I am not as conservative as some of those analysts claiming Apple only sold 26 to 28 million iPhones in the quarter. The phone is selling well overseas, and like I said, fiscal Q3 was the first full selling quarter for the phone in Mainland China.
Now for the two numbers I have changed. Apple had a Mac refresh late in the quarter, so I have raised my Mac sales forecast from 4.15 million to 4.305 million units. Since the refresh occurred late in the quarter, the full effect will be felt in fiscal Q4, which I expect to be a very good selling quarter for the Mac. Then we will have the holiday Q1, and that should be strong as well.
I also believe that the iPad has sold incredibly well, despite not being available in China until last week. I have raised my iPad sales forecast from 15 million units to 17.58 million units. Getting those sales in China should provide a good sales base for Q4 as well.
Overall Financial Performance:
Since I increased my unit sales for two of Apple's product lines, I have obviously changed my forecast for both the top and bottom line.
In terms of revenues, I have increased my revenue forecast from $39.042 billion to $40.225 billion. That number is a little more than a billion higher than fiscal Q2. It will obviously be a record for fiscal Q3 for Apple, and will also be a non-holiday quarter record, should they report a number higher than the fiscal Q2 one of $39.186 billion.
Before I get into my bottom line number, I must first talk about margins. I expect all three margin categories to be up significantly over the prior year period (bolded in the table below), but to be down over fiscal Q2. Since Apple will be selling more iPads and less iPhones, margins will most likely decline. The iPhone is a very high margin product. I've gone back over the past year in the table below. The Q3 2012 numbers below are my predictions for this quarter's margins.
| | | | | | |
| --- | --- | --- | --- | --- | --- |
| Margins | Q3 2011 | Q4 2011 | Q1 2012 | Q2 2012 | Q3 2012 |
| Gross | 41.73% | 40.25% | 44.68% | 47.37% | 45.50% |
| Operating | 32.83% | 30.81% | 37.42% | 39.26% | 37.75% |
| Profit | 25.58% | 23.43% | 28.20% | 29.66% | 28.40% |
I'm still expecting Apple to improve margins over fiscal Q1, despite the possibility that iPhone sales dollars as a percentage of total revenues might be a little lower. I just think Apple can improve margins whenever it really wants to.
Given the forecast for 28.4% net profit margins and the revenue number from above, I believe Apple will product net income of a little more than $11.42 billion. Since Apple will not be buying back shares to compensate for executive dilution until fiscal Q4, I expect the diluted share count to rise to 946 million. That gives me my earnings per share forecast of $12.08. That is a little below fiscal Q2's $12.30, and that is mostly due to the shift in product sales, which I believe will impact margins a bit.
Looking forward to Q4, Apple is going to give its usual conservative guidance. In fiscal Q4 last year, Apple reported revenues of $28.27 billion and earnings per share of $7.05. Given that most analysts expect iPhone sales to be in the low 20 million area, expect guidance to be light. I would not be surprised to see Apple guide to $31 billion in revenues and $7.50 in earnings per share. Don't be surprised when their guidance is well below the currently expected $38.04 billion in revenues and $10.22 in earnings per share that wall street analysts are currently expecting.
Wall Street Expectations:
I've given my forecasts for $40.225 billion in revenues and $12.08 in earnings per share. I think that is a rather fair estimate.
Now, there are a bunch of numbers to look at for what "the street" expects. According to Yahoo Finance's estimate page, the average consensus from 42 analysts is for $37.23 billion in revenues. The range for those analysts is $34.54 billion to $41.73 billion.
41 analysts have provided earnings per share estimates, with the average at $10.35. The range amongst those analysts is even wider than the revenue range, and it is from $9.45 to $12.51.
Now, it is always interesting to see where wall street professional analysts are, since they have been rather conservative when it comes to Apple. On the other side, we have seen independent analysts be much bolder, and have much higher estimates. According to Philip Elmer-Dewitt, the independents are currently expecting $41.5 billion in revenues and $12.31 in earnings per share. Just about all of those analysts see Apple having more than $40 billion in revenues, with one analyst above $46.4 billion. Most of the independents think $12 plus in earnings is likely, with a few above $13 and the highest at around $13.85.
Stock Price Action / Final Recommendation:
Apple's stock has performed extremely well over the past 6 months, as seen from the chart at the bottom. Apple took off after the January earnings beat, rallying to its high early in April. After a bunch of analysts came out with cautious notes going into last quarter's report, the stock tumbled into earnings. It gained back those losses when it beat. Basically, Apple has been flat over the past three months.
So what should investors do here? Well, if you are a long-term investor, you probably don't care about one specific earnings report. You can feel safe buying here if you think the stock is going to $700, $800, or even $1,000 eventually. If Apple falls back after earnings, long-term investors will probably take advantage and buy more shares.
If you think Apple is going to hit a new high after earnings, the August expiration $605 calls for about $21 are a nice way to play things. Should Apple test that $644 high, you are looking at doubling your money. It probably isn't worth trying to play higher strike calls that may only cost you a few bucks, as you will definitely need a huge move just to break even.
I'm looking for a good report this week from Apple, and you should be as well. Even if Apple doesn't end up hitting my estimates, I don't see any reason why they won't beat the current street estimates, which again appear too low. If for some reason they did miss estimates, this stock will pull back a bit, but that only means that future quarters will be tremendous, mostly in terms of iPhone sales. I'm not going to provide a formal recommendation for what to do into earnings, although that options trade above does seem interesting. I will say this about Apple however. If earnings and good and shares pull back, be ready to scoop this name up. I'll return after Apple's report to discuss how they actually did.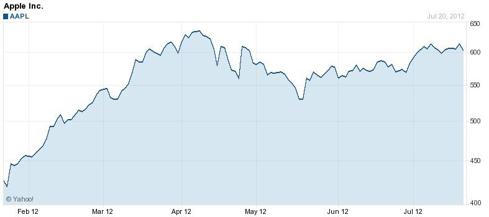 Click to enlarge
(Click to enlarge)
(Source: Yahoo Finance)
Disclosure: I have no positions in any stocks mentioned, but may initiate a long position in AAPL over the next 72 hours.