Earlier this year, we started the $33,000 American Portfolio saying:
We'll start our portfolio with $33,000 in honor of the average American and give our portfolio the following purpose: The purpose of the $33,000 American Portfolio is to be a learning tool for seeking home-run potential with acceptable risk.
Let's have a look at where we stand.
The $33,000 American Portfolio
JG Boswell (OTCPK:BWEL)
The Boz, our secretive California water rights play whose cotton you are probably wearing, stays steady and has paid us a dividend of 4 bucks a share. What does America's largest farm have to do with the banks in Europe or China? Not a cotton picking thing.
6 shares BWEL @ 717.00 = $4,302 (13.04% of the portfolio)
Last close $750, Dividend $24, $4,524 total, +$224
Waterfurnace Renewable (OTC:WFIFF)
Replacing old heaters with energy efficient ones in existing buildings has kept this play going while we wait for housing to recover.
200 shares WFIFF @ 15.28 = $3,056 (9.26% of the portfolio)
Last close $16.73, $3,346 total, +$290
Alliance Grain Traders (OTCPK:AGXXF)
The little pulse-processor that could has come in a little from the 30.9% it was up last week, but it also paid a dividend @ 15 cents a share.
150 shares AGXXF @ 10.78 = $1,617 (4.90% of the portfolio)
Last close $13.83, Dividend $22.50, $2,097 total, +$457.50
Solazyme (SZYM)
The Soul blew past our $12.50 strike almost immediately, then came all the way back in to $11 before turning again to last close at $13.90. Have a look at something: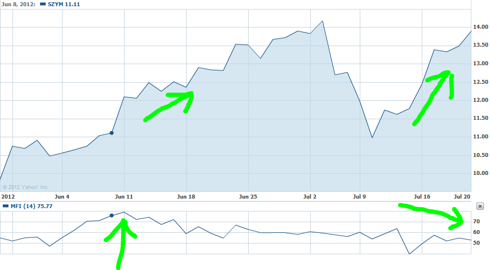 Click to enlarge
(Click to enlarge)
The graph on the bottom is the money flow index, a measure of momentum that is sometimes a leading indicator of price movement in a stock. The MFI takes into account whether more shares are bought on the uptick or downtick. For example, a stock could open at $1, then 100 shares trade hands at $1.01, then 10 shares trade at $1 again. The price is flat but the MFI would show positive momentum because more shares were bought on the uptick suggesting motivated buyers.
The Soul's MFI shows we had a swarm of buyers back in early June that predicted the bull run that blew through our $12.50 strike. From there however the MFI declined and the run proved unsustainable.
From this perspective, SZYM's last 10 days of divergence between its upward price movement and decline in the MFI suggest that the price recovery won't be sustained. It looks like a gift and we are going to not look it in its horse mouth, we're closing our position.
This does not mean that we don't love Solazyme anymore. It's still a great company in our estimation and we will happily pick it up if it comes in for us. This could be a stock we game several times before it finally takes off. Right now we have other trades we like so we will close our Soul for now.
11 contracts SZYM Sept 22 $12.50 Put @ $3.20 = $3,520 (10.67% equivalent of portfolio)
Cost to close puts: ETrade lists asks @ $1.20 X 11 = $1,320 Difference: +$2,200
Arch Coal (ACI)
2 weeks ago we said of Arch:
Our Arch position had gobbled up all the gains from Solazyme's meteoric rise. All that is history now, though, as our favorite play on the powder river basin has battled all the way back to $7.36, $.06 higher than where we took our position. Arch looks to be back and we will not be surprised if the $8 puts we sold expire worthless in a couple weeks.
That was before Patriot Coal (PCX) went the way of Colonel Sanders and brought the coal sector to its knees. Bankruptcies tend to mark bottoms in sectors, Natural gas (hallelujah) has broken above $3, and Summer is really hot in the Midwest so we are going back in to Arch as we will see.
Our existing puts expired and we were virtually put the shares. We will virtually sell those shares and put the money back to work at Friday's close. That's 1,300 shares we were put @ $8.00 costing us $10,400. Friday's closing price was $6.16 so that's $8,008 we can sell for, a difference of $2,392. We were paid $1,651 for our puts, so the loss on the trade is $741.
Arch traded at $7.30 when we took our position, those 1,300 shares would have cost $9,490. If we had gotten the common stock instead of selling the puts we would have a loss of $1,482, exactly double our loss of $741. Selling cash-secured puts in lieu of buying common stock saved the day.
13 contracts ACI July 21 $8.00 Put @ $1.27 = $1,651 (5.00% equivalent of portfolio)
End of Trade: -$741
8 contracts ACI Jan 2014 $8.00 Call @ $2.13 = $1,704 (5.16% of the portfolio)
Last Trade: $1.37, $1,096 total, -$608
Amazon (NASDAQ:AMZN)
Remember Netflix (NASDAQ:NFLX), those puts people had kept losing value until ...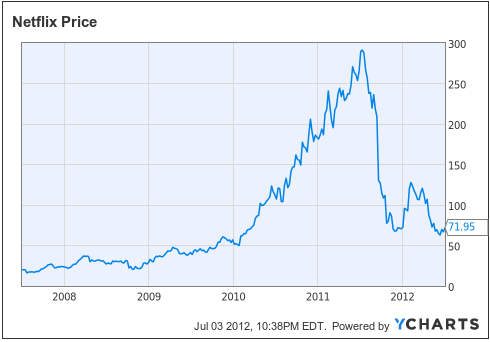 1 contract AMZN Jan 2014 $150.00 Put @ $16.90 = $1,690 (5.12% of the portfolio)
Last Trade: $10.95, $1,095 total, -$595
Salesforce.com (NYSE:CRM)
Not quite as ugly Amazon.
1 contract CRM Jan 2014 $100.00 Put @ $14.90 = $1,490 (4.52% of the portfolio)
Last Trade: $13.50, $1,350 total, -$140
Repositioning
So that leaves us with a lot of cash to put to work:
Stocks and Options: $13,461.50
Cost to close puts: ($0)
Dividends: $46.50
Other Cash: $20,600
Total: $34,108
We are sticking with our theme of homerun potential with acceptable risk. Macro-economically speaking we are bearish and think Europe is going to weigh markets down. We (we love the royal "we") are loathe to sink money into puts on banks that have been beaten down so severely already. We've been waiting for a fake-out run in internationally focused Citibank (NYSE:C) to bet against but the stock has been trounced.
We also are not going to buy puts on Philip Morris (NYSE:PM). We think the internationally focused Morris is going to give back its recent gains, but in general going short a traditionally defensive stock is probably a little too radical to recommend to the average investor.
Likewise we are not going to buy calls on Obagi Medical Products (NASDAQ:OMPI). The stock is rumored to be getting a tender offer, but playing buyout catalysts is not for the average investor that does not have the time.
Instead we are going to look to long term stories in the bio and pharma sectors for some plays that march to the beat of their own drummers. Bio and pharma stocks, perhaps more than any other sector, move on a company-specific basis and generally have little in common with the movement of the broader market. This sector does have many companies that cannot be held for long, often there are catalysts on approvals and deals that mean you have to be a nimble trader. We have found six companies, however, that we think have exciting long term stories:
We will start by selling cash-secured puts on the more liquid names along with Arch Coal.
Let's start with Arch. The October 20 (Happy Birthday Jason Brudereck) 2012 $7.00 puts have a bid of $1.40. That's 56 cents of time premium on the $6.16 stock, 9% profit in 3 months if Arch only stays flat. We will sell 8 puts for $1,120 and secure them with $5,600 cash.
The $13 Oct 20 Puts are bid at $4.20 for ARNA, which currently trades at $9.52. We will sell 3 puts for $1,260 and secure them with $3,900 cash.
The SPPI Nov 17 (Happy Birthday Danny Devito) $17 puts are bid at $2.90, Spectrum currently trades at $15.88. We will sell 2 puts for $580 and secure them with $3,400 cash.
Solazyme showed us that even aiming high with your strike price does not guarantee that you will not cut off your upside so we looked at buying some long term calls on these stocks too. Arch looked good. We originally bought 8 Arch Jan 2014 $8 calls, so we will double down now that they are cheaper and get another 8. The ask of $1.43 on ETrade means $1,144 spent. Spectrum and Arena's calls, however, are just too expensive.
That leaves us with $9,562.50. Let's get some common stock on the smaller plays. Antares closed Friday at $5.32 so we will get 400 shares ($2,128), Ibio at $.92 for 2,900 shares ($2,668), MannKind at $2.62 for 900 shares ($2,358), and Pluristem at $3.38 for 700 shares ($2,366). That leaves us with $42.50 in cash.
We repositioned quite a bit as we took profits and also hid in bio and pharma as we are bearish on the macro-economic outlook. Until next time, that is where we stand.
Disclosure: I am long ACI, OMPI.