"Unless there's a financial Armageddon, everything will be just fine."
- SAM Advisors
Truer words were never spoken. This is why I don't watch financial TV during the day and am glad not to be a guest saying dumb things.
So, we got some dollar pumping and related commodity weakness as the WSJ suggested that the Fed may cut a quarter point on Tuesday and then stop. Citigroup (NYSE:
C
) said they'd keep the dividend and everyone got all lathered-up to sell the previously hot commodity sector and buy financials.
Volume picked-up smartly but breadth wasn't really impressive. [You'll note Yahoo Finance's continuing struggle with math 101.] The action was focused in bigger names but the A/D line in the NASDAQ was negative meaning the heavy volume was focused in the biggest names.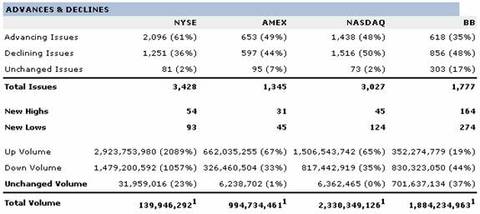 My apologies for not posting last night but I was too busy. Today we spent time with the AMEX's Cliff Weber and then a lunch with Deutsche Bank's Kevin Rich who is responsible for many of the commodity ETFs we've been highlighting and using. New products are coming soon from them and we'll be using those when available.
One thing that's been clear for a long time: commodity products, without the heavy leverage common to many commodity investments, have been a much needed addition for common portfolio construction. Starting with GLD among others, the line-up of products has grown dramatically. We're as excited about these as we have been about many international equity ETF products.
Tomorrow we'll be meeting with the Wall Street Journal and Northern Trust Co.—all this with another week in NYC ahead.
Whether various snake oil salesmen masquerading as analysts are pushing financial stocks prematurely is an open question. I can't count all the failed attempts to pump bank and brokerage stocks during this mortgage/credit crunch mess. Some day they'll be right. However, it seems that those doing this are buried in these sectors and want your help. The bottom line for us is to keep an open mind with respect to the tape. If it indicates we should go in, we will.
Have a great weekend.
Disclaimer: The ETF Digest maintains positions in SLX, MOO, XLE and IYR.