Currently Zynga (ZNGA) is trading well below $5.00 per share once again. After having a nice post-IPO run from $10 - $15, it has lost a whopping 66% of its value. The question remains, "how low can it go?"
There are a lot of concerns about Zynga's future that are worth noting. Its stock and its business are tied very closely to Facebook (FB). According to Cory Johnson of Bloomberg, 93% of Zynga's revenue comes from Facebook, and 71% of Zynga's receivables are from Facebook. 12% of Facebook's sales comes from Zynga, and Zynga accounts for 72% of Facebook's payments business. Zynga and Facebook are very closely interdependent. This creates some problems.
I believe Facebook is still overvalued. Even at a market cap of $84.5 billion, the social media giant is still assigned a 64.5 P/E ratio. It is priced for perfection, which is not a good position for it to be in given the quick growth of mobile devices. In June, Verizon Communications (VZ) changed the structure of its wireless plans to position them for the increase in smartphones with data usage. It seems that more and more people are making mobile data a "must have." I have upgraded to a smartphone with a data package in recent years. In fact, I even saw my dad with an iPhone last week. This may bode well for Apple (AAPL), but both Zynga and Facebook struggle to monetize mobile applications of their social media and games. Until these companies can figure out a way to take advantage of their leadership in these areas, it is going to be tough for them to keep up with growth expectations. Let's face it, Zynga needs growth to survive. The company has been growing revenue at a nice pace, but it still has not proven that it can be a profitable company.
I am afraid that when people realize that Facebook is not going to put up numbers like Google (GOOG) did when it went public, its stock may come back to earth. When that happens, Zynga is going to drop right along with it.
Let's look at some of the numbers. Currently, Zynga is valued at $3.69 billion. It has a total asset value of $2.61 billion, and according to the balance sheet is a debt-free company. That gives Zynga $3.69 of total assets for each share of stock. That tells me that there is not a lot of downside risk to this stock. I love that Zynga has been able to build the business without accumulating the debt that usually accompanies a newer growth stock.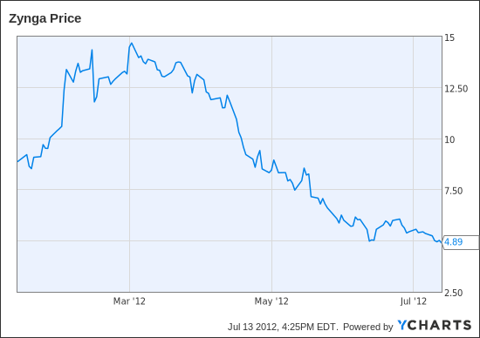 ZNGA data by YCharts
In June, Zynga experienced resistance at $4.71 and bounced back higher. It seems that it may test that low again in the weeks to come. I had changed negative on Zynga back in late April, but if I see it approach the low again and it shows resistance it may be time to pull the trigger on a valuation position in Zynga.
Disclosure: I am long AAPL.