Baidu (NASDAQ:BIDU) just met on EPS, which is disappointing. However, both on revenue and revenue guidance they beat hands down.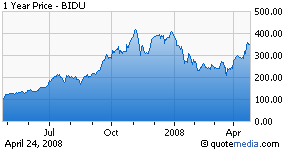 In addition, Baidu is spending money on projects (such as Baidu Japan, E-commerce, social networking, wikis, radio and TV advertising, etc.) that will pay off later.
Baidu can't maintain it's advantage over Google (NASDAQ:GOOG) in China by standing still. It's pretty obvious that Baidu was trying to lower expectations with it's press release in February (as posted by CR).
Baidu is using this year's strength to position itself better in the future and not milking it's impressive growth for short-term gains. The best is still to come from Baidu.
Disclosure: Author has a long position in BIDU