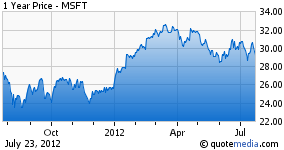 Microsoft (MSFT) remains a confounding stock for an investor with a value inclination. While the stock looks undervalued even on the assumption of 5% free cash flow declines for a decade, the company clearly as a long way to go to catch up to rivals like Apple (AAPL) and Google (GOOG) in markets like mobile, consumer, and online. Likewise, while Microsoft is stronger in enterprise than the Street seems to think, the company needs to show stronger operating leverage.
Mixed Messages To End The Fiscal Year
Microsoft's fiscal fourth quarter earnings reflect some of those challenges and conflicting trends.
Revenue rose 4% for the quarter, with double-digit growth in server/tools, online, and entertainment. Microsoft's Business unit just missed the double-digit growth party, while Windows dropped 13% as the current generation winds down ahead of new launches later this year.
Profit leverage was less impressive. Gross margin dropped more than a point and a half, while operating income (adjusting out the $6.2 aQuantive write-off) rose a little under 4% and the company saw a slight decline in operating margin.
Good Results In Enterprise
Relative to companies like IBM (IBM) and Oracle (ORCL), Microsoft has little to apologize for in its enterprise-oriented operations. IBM and Oracle both posted very low growth over this past quarter, while Microsoft showed the solid aforementioned growth. Admittedly the comparisons are not perfectly apples-to-apples (plenty of consumers use Microsoft Office, as just one example), but I do think it's significant. Moreover, platforms like Azure should give the company at least some of the cloud-related upside that investors seem to love about Oracle, Salesforce.com (CRM), and so on.
But Consumer Needs Work
There's no point in soft-peddling the challenges in Microsoft's consumer business. Windows Phone 7 has made little impression, and Microsoft OS share in products like phones and tablets is pretty much trivial. Microsoft got caught flat-footed and while optimists can argue that the current generation of Nokia (NOK) Lumia phones was a rush-job that doesn't sufficiently reflect their potential, the fact remains that the upcoming Window Phone 8 launches later this year are pretty significant.
Of course, Microsoft is not taking this lying down. The company is launching its own tablet product and one that seems (at least on first blush) to be more geared to business use. There's also talk that these new Windows products rolling later this year are going to be much more competitive with Apple and Google Android, and that coupled with new Intel (INTC) processors, there will be growth in ultrabooks.
Microsoft longs had better hope so - while new Windows and Office launches will probably help the PC market, but clearly the company has to think beyond Dell (DELL) and Hewlett-Packard (HPQ) at this point (just as Dell and HP are thinking past consumer PC and more about enterprise software).
Time For More Aggression?
Relative to IBM, Oracle, and SAP (SAP), I think you can make the argument that Microsoft has under-spent its software rivals in building up its enterprise software offerings. Perhaps the company was put off by the unsuccessful aQuantive deal, but given the speculative buy of Skype and the recent purchase of Yammer, I'm not sure I can buy that.
The long and short of it, though, is that I think the company has fallen behind in areas like middleware, analytics, identity management, and performance monitoring. Whether the company wants to think about a deal for a company like CA (CA) or smaller, faster-growing private companies, or re-focused internal development, I still see opportunity in this market.
The Bottom Line
I think it's fair to say that there's a bear case to be made that Microsoft has done very little with its own internal resources in recent years and has lost its innovative spirit. That breeds a certain amount of healthy skepticism about Microsoft's ability to seriously threaten Google or Apple and opens up the debate as to whether the rich cash flow stream from Windows is liable to decline and decline more quickly than feared.
All of that said, the expectations are so low for Microsoft that I can't help finding these shares interesting. As I said, you can project a decade of 5% annual free cash flow declines (and no growth thereafter), and the shares are still undervalued. Give the company any credit for growth at all, and these shares are well worth considering - though anyone buying on a value basis needs to remember that "tech" and "value" often go together like potato chips and bubblegum.
Disclosure: I have no positions in any stocks mentioned, and no plans to initiate any positions within the next 72 hours.