With a few hours left in Monday's trading session, The S&P (NYSEARCA:SPY) is down about 1.5% to 1,342.
After years of reinforcement that "buying the dip" is always a profitable strategy, I'm sure there are many investors and traders alike who are buying today's sell-off.
However, the nature of today's sell-off is quite different than those we've seen over the last couple of weeks. After taking a look at the dynamics of several other markets (not stocks), it's clear that equities are the only major market left with significant expectations for large-scale asset purchases.
A Look At Other Markets
For one, short-term volatility (spot) popped about 3 vols, or more than 18%, to 20. We've typically seen early morning sell-offs without confirmations from the VIX, only to see equities drift higher throughout the afternoon.
Secondly, oil is off more than 3%, reflecting demand worries and removing some of the war-risk premium. WTI and Brent prices have been huge relative outperformers since the EU-Summit, and have typically been far more resilient during equity sell-offs.
Thirdly, U.S. treasuries are once again making record highs (yields at record lows), with the yield on the 10-year dropping to 1.40% at its intraday low. While we've certainly seen far more skepticism in the bond market than we have in stocks, it's interesting to see the relentless purchasing of treasuries, and it tells us where all the capital is going. With the dollar index up markedly and treasuries making new highs, it's clear that global investors are dealing with a shortage of "safe" assets, and treasuries will continue to rise as money continues to be drawn from both developing and debt-laden EU countries.
Fourth, the EUR/USD rate fell below 1.21 intraday, and is seemingly on its way to well under 1.20.
Lastly, and perhaps most importantly, the Spanish 10-year bond closed with a yield of almost 7.5%, while the comparable Italian bond closed at 6.34%. Spanish bond holders are getting eerily close to capitulating; the rise in yields has been relentless given the fact that there is nothing to catalyze a rally, with the exception of direct purchases (not currently possible given no ESM) or a sovereign bailout. A bailout seems highly unlikely considering Spain's banks are already slated to receive $100 billion or so, and it remains to be seen as to where the funds (probably several hundred billion euros) would come from.
Huge Disconnect Between Equities And Everything Else
Despite news lows in the euro, U.S. treasury yields and Spanish bond prices, U.S. stocks have remained strong, down less than 5% from their 2012 highs.
As I've written in the past, while resilience may indicate some short-term strength, the look at other markets, especially the VIX, tells us that equities are "fundamentally complacent, rather than reasonably bullish."
Here's a chart (courtesy of ZeroHedge) that indicates the breakdown in the TSY/S&P correlation, and the impending compression: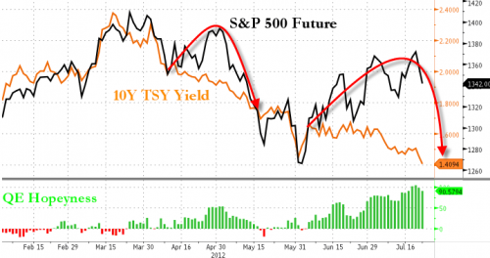 Click to enlarge
This kind of chart has gotten mixed reviews, but have phenomenal success. Credit markets are far more efficient than stock markets, and are currently pricing in risk factors much more effectively. I believe that while QE expectations may be a factor in the strength of stocks, the mere fact that the long-term trend has yet to be broken is far more relevant.
In other words, bull markets are much more difficult to break than bear markets. In rapidly declining markets, fear begets fear and investors capitulate rather quickly. In strong, long-term bull markets like the one we've seen since March 2009, the breakdown of the trend takes more time.
This doesn't mean you should be long; it simply means that the so-called "dip-buyers" need to really feel the pain before stocks realign with reality.
Regardless, on a shorter-term basis, the path of least resistance appears to be from the short-side of broader U.S. indices. With SPY fair value almost 5% lower than where we are now (about 1,342) and plenty of macro catalysts to put headline pressure on the markets, I recommend traders stay short. I still own my longer-dated puts on the SPY.
Disclosure: I am short SPY.
Additional disclosure: Short via puts