Shares of specialty retailer The Gap, Inc. (NYSE:GPS) are trading close to a five-year high. However, there are three reasons to consider going long The Gap, Inc.
Click to enlarge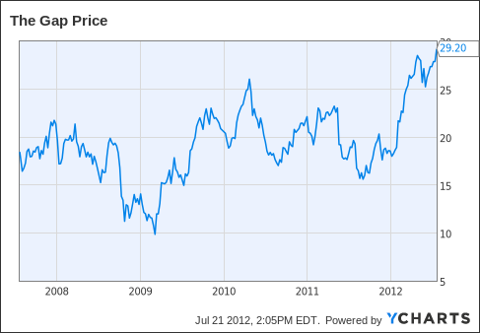 Click to enlargeGPS data by YCharts
Options Activity
Option Monster reported on the high level of bullish options activity recently; 8,400 August 30 calls were purchased, while at the same time, 5,100 August 28 calls were sold. The trade suggests that an investor had previously owned the August 28 calls and is now moving the position to a higher strike. This trade will benefit if The Gap, Inc. moves higher.
Two possible catalysts for such a move higher would be same-store sales reported in early August, and second-quarter earnings in mid-August. The large trade likely represents institutional money. Institutional money is usually smarter, thus worth following. In summary, the recent options activity points to more upside ahead for The Gap, Inc. over the short term.
Insider Ownership
It is interesting, and positive, to note that over 36% of The Gap, Inc. shares are held by insiders. This means that the management at Th e Gap, Inc.has a real stake in how the company does. It is somewhat unusual for insiders to own such a large percentage of a company the size of The Gap, Inc.
Dividend
Currently, The Gap, Inc. pays a dividend of 50 cents per share or 1.71%. While this is not a large dividend, it should be noted that the company has been consistency boosting the dividend since 2005. Given the company's strong financial position, nearly $400 million in net cash, I believe the company will be able to continue raising the dividend.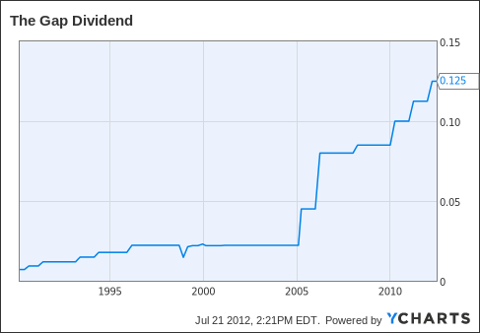 Click to enlargeGPS Dividend data by YCharts
Conclusion
Despite the fact that The Gap, Inc. is trading at five-year highs, there are still reasons to buy the stock. The bullish options activity, high percentage of insider ownership, and dividend are all reasons to consider going long The Gap, Inc.
Disclosure: I have no positions in any stocks mentioned, and no plans to initiate any positions within the next 72 hours.