The last time I checked, Universal Travel Group's (UTVG.OB) online presence China Booking Association, a hotel reservation website owned by subsidiary Shanghai Lanbao, was ranked ~45,000 in terms of the most popular websites in China. When I checked on Thursday, it ranked ~14,000.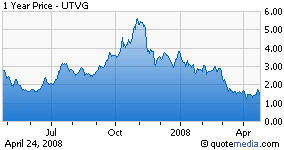 That is an impressive gain and it tells me two things about the company. First, while Universal Travel's strategy last year was gaining a physical footprint across China (with acquisitions in Shanghai, Xian and Foshan), the strategy for 2008 appears to be improving its online presence.
Second, all the press about China being the most wired nation on Earth (with the most internet users) is not just talk but is indeed having a real (and very positive) impact on UTVG. Sure, Universal Travel's website has still a long way to go before catching up with Ctrip.com (NASDAQ:CTRP) and eLong.com (NASDAQ:LONG), but at the rate it is going, this may not be entirely impossible.
I think the real test here is to see how this website fares after the whole Olympic Games fever dies down. Is the gain a temporary blip? Or will the Games have the permanent effect of exposing the website to a larger audience? We shall see.
In any case, the company came out with 2008 guidance earlier this week, projecting revenues of $69-73 million and net income of $12-14 million, compared to 2007 figures of $44.3 million and $8.7 million respectively. If this bears out, it means UTVG is currently trading at 4.1x 2008 P/E, with a PEG of approx. 0.16, both ridiculously low. I really think we have turned a corner for these Chinese small caps and now is the time to accumulate stock, which is what I have been doing.
My Position: Long.