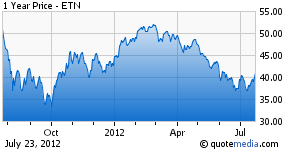 Eaton (ETN) isn't necessarily the best industrial company that investors can buy, but it's a quality name that investors ought to reconsider during the lulls in the cycle. With good long-term fundamentals in most (if not all) of its target markets and reasonable leverage to emerging market growth, Eaton should be a reliable "market growth-plus" story for the foreseeable future.
Doing Better In A Worsening Environment
Eaton may be a good candidate for the long term, but the situation today isn't great. In fact, I dare say that the solid market response to earnings has more to do with fears and whisper numbers that performance and guidance would be even worse.
Revenue fell 1% this quarter and missed Wall Street guesses by about 4%, but the company appeared to do better than its markets (at least as management assesses them) across the board. Although revenue was a little disappointing, the company did well again with its margins. Gross margins improved nearly a point and operating income rose about 5-6% depending on what adjustments an investor wants to make.
Sussing Out The Comps
Aerospace showed the most growth, up 7% and more or less reflecting the production growth seen by Honeywell (HON) and to a lesser extent General Electric. Curiously, management pointed to weaker end market growth (up 1%), likely due to the impact of declining defense sales.
Hydraulics was a good news/bad news situation - the company grew better than the end market, but organic growth of 3% was still quite weak and it looks like the hydraulics/fluid power market has slowed more than expected. Chalk that up to slowing markets like agricultural, mining, and construction equipment, and perhaps investors ought to be a little more worried about what Parker Hannifin (PH) and Sauer-Danfoss (SHS) will have to say.
Based on what we've heard from companies like Cummins (CMI) and Honeywell , it was not too surprising to see the weaker results in auto and trucks. Cummins hasn't sounded too optimistic about a big near-term improvement in trucks, but that may not be so terrible for Eaton as there's an aftermarket component to their trucks business.
Bulking Up Ahead Of A Recovery In Electrical?
Last and not least is the electrical business - down slightly overall this quarter, with good growth in the U.S. offset by a 7% organic decline overseas. Bookings were soft this quarter and it was largely the strong margin improvement in the Americas unit that helped overall margins stay in line.
These aren't the best of times for end-markets like motors and power supplies, but this looks more like a lull than a fundamental change in the markets. Moreover, it looks as though the company is adding Cooper (CBE) at the right time - ahead of meaningful end-market recoveries.
Utilities have been holding back on spending (as ABB (ABB) and Siemens (SI) know all too well), but they (and other transmission system operators) have to upgrade infrastructure at some point. Likewise for markets like harsh/hazardous power supply and building lighting - in fact, management said they were seeing better non-residential activity than the ABI numbers would suggest. At the same time, Eaton and Schneider seem well ahead of would-be rival Emerson (EMR) in data center power.
The Bottom Line
The Cooper deal does add more substantial near-term execution risk to this story; while I like the long-term rationale for the deal, the company isn't paying peanuts for Cooper and the size of the deal is substantially larger than its norm. Still, if compensation policies are any indication, there should be reasonable cultural overlap and there are definite synergies between the two businesses.
As Eaton's lower guidance would suggest, 2012 isn't going to be a great year and hopes for a second-half rebound now seem pretty optimistic if not aggressive. I don't take a trader's approach to valuation, though, so a couple of bad quarters does not radically change my view on the business.
In looking for 10% annualized free cash flow over the next decade, I'm assuming that recent capex trends are more the exception than the rule. Likewise, I'm looking for roughly equal contributions from revenue growth and cash flow conversion improvement. With an implied fair value in the mid-$50s on the basis of those assumptions, I think Eaton is at a point where long-term investors can buy, but with the caveat that these shares could get cheaper still with further erosion in the global growth outlook.
Disclosure: I am long SHS.