On Thursday evening, I ran the valuation on the REITs. Currently, the Dow Jones Real Estate Index ETF (NYSEARCA:IYR), is trading at 9.0x funds from operation [FFO]. That is a 15% premium to the S&P500 ex-financials, which is trading at 7.8x FFO.
As I have pointed out in the past, REITs should trade at a discount to stocks, not at a premium. Corporations can retain all their earnings to generate internal growth. REITs have to pay out most of their earnings in dividends and are more reliant upon external sources of financing to fund growth. Thus, REITs should trade at a lower multiple and at a higher dividend yield than stocks.
No FFO discount would put the IYR at $60. A 10% discount to the SP500 would put the IYR in the mid-$50s. IYR closed just below $71 on Thursday.
According to Merrill Lynch (MER), the dividend yield on REITs has averaged 1.75% above the 10-year Treasury bond. Currently, the IYR is yielding 5%. With the 10-year at 3.82%, a 175 basis point premium would put the expected yield at 5.57%. At a dividend yield of 5.57%, the IYR would trade at $63 per share.
However, the 10-year is coming off very low levels. If it rises back to a more normalized level of, say, 5%, that premium will shrink. With a 5% T-bond yield, the expected yield would be 6.75%, and a normalized value for the IYR would be $52, implying a 26% decline.
click to enlarge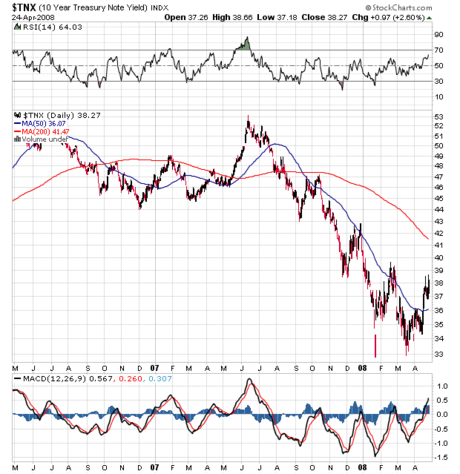 Technically, the IYR is running right up against resistance at $71-$72.
click to enlarge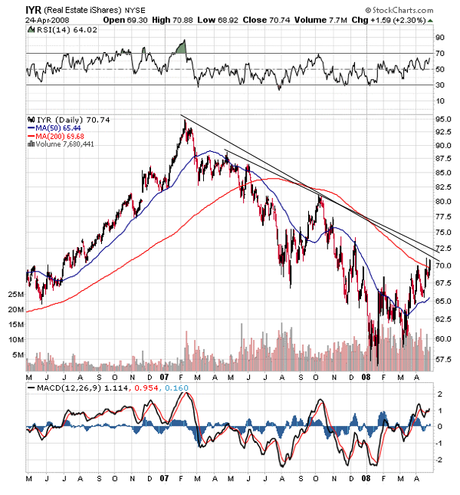 And there have been few strong up days as of late on heavy volume.
click to enlarge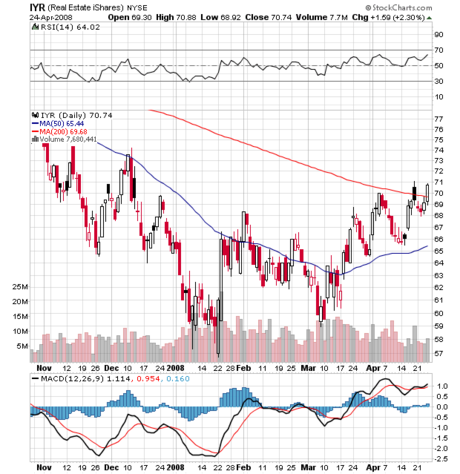 There has been a lot of short covering in the group over the past month.
Disclosure: I am short REITs via my ownership of the ProShares UltraShort REIT ETF (NYSEARCA:SRS).