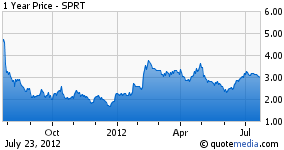 The market got off to a tough start for the week today as Europe again came back into focus. I took advantage of the sell-off to pick up some cheap domestic small cap stocks. One stock I took a position in for the first time was Support.com (SPRT) which has strong insider buying, a robust balance sheet and improving growth prospects.
7 reasons SPRT is a good pick up for growth investors at under $3 a share:
Insiders have bought 600,000 shares of new stock over the last year.
The stock has over $50mm in net cash (1/3 of market capitalization) on the books.
Earnings are going in the right direction. The company lost 26 cents a share in FY2011 and is projected to lose only 12 cents a share in FY2012. Analysts expect the company to make 12 cents a share in FY2013.
Sales growth is impressive as analysts expect between 25% to 35% sales growth for both FY2012 and FY2013.
The three analysts that cover the stock have a median price target of $6 a share on SPRT, double the current price. Targets range from $4.75 to $7 a share.
The company was within $400K of being cash flow positive last quarter.
Consensus earnings estimates have increased for FY2012 and FY2013 over the last three months and the company has beat or met earnings for the last four quarters.
Disclosure: I am long SPRT.