Pep Boys (NYSE:PBY) recently announced that their CEO, Jeff Rachor was resigning to enter an automotive dealership venture. Rachor was brought in just over a year ago to revitalize PBY's operations by instituting a long range strategic plan. Come on - this resignation sounds more like standard corporate boiler plate jargon for "they asked him to resign". The guy was only at it for a year… it takes a year just to get familiar with an organization, yet alone turn an entire $2 billion enterprise around.
PBY reported that Mike O'dell, its Chief operating officer was elevated to interim CEO and is a serious candidate for the permanent position. Strangely enough the company also added that they had no plans to conduct a search at this time and coincidentally reported the hiring of a new CFO, Former Toys R Us CFO, Ray Arthur. Mr. Arthur was instrumental in managing the leveraged buy-out of TOY.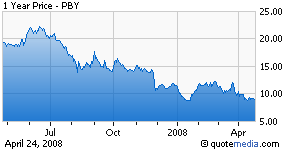 PBY's Chairman, William Leonard, has been quietly accumulating shares the last two years and now holds a 320000 share position supplying him ample incentive to see the shares appreciate The company has sold $230 million worth of real estate within the past 6 months and still retains 320 locations with an estimated real estate market value near $1 billion. If I was a "betting man", and I am, I would say that PBY is "telegraphing" its intention to be put on the "auction" block as evidence is piling up to support this claim (1) Recent consolidation in the sector (CSK Auto being acquired by O'Reilly Automotive) (2) The elevation of the COO to interim CEO without plans to conduct a search for a permanent replacement, (3) Recent sales of real estate to cut long term debt and to showcase "hidden value" of it (4) The hiring of a new CFO that has extensive experience in Leveraged buyouts (5) The long term inability of management to implement a successful turnaround effort (6) Heavy insider share accumulation (Insiders have recently purchased 1.6 million shares).
If PBY intends to "put itself up for sale" it could fetch a substantial premium with a potential "takeout" value north of $15 per share. The share's five year trading range has been $8 to $30 so a 50% premium does not seem unreasonable. The stock pays a hefty 3% dividend yield, so there is an immediate return for those willing to park their money for a possible buyout scenario to develop. The writing appears to be on the wall that PBY could be setting itself up for a takeover play, and it's clear enough to see even without a magnifying glass.