In a further effort to diversify and shake its reputation as just a soft drink company, PepsiCo (NYSE:PEP) has taken another huge step in the right direction. PepsiCo will begin selling yogurt and dairy products in the U.S. after it made a joint venture with Theo Muller Group, a large German dairy company. This move once again adds to PepsiCo's growing portfolio of nutritional products.
PepsiCo has made a valiant effort to produce healthier products for the consumer, since people are beginning to become more aware of what they are eating. Over the years it has acquired companies such as Quaker oats and Sabra. It has also revamped divisions with healthier options such as Frito-Lay with more whole grain, low sodium options, and Pepsi with low sugar drinks.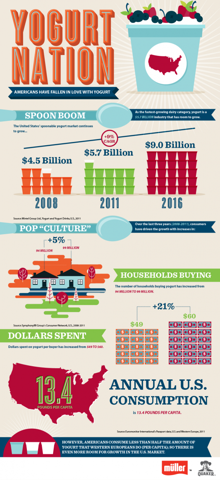 While soft drink sales in the U.S. have been slowly declining over the past few years, the yogurt market has been booming. Since 2006, yogurt sales in the U.S. have grown from $4.7 billion to $6.4 billion in 2011. Experts predict that the market could reach 9.5 billion by 2016 too, which would be a 49% jump from current levels. PepsiCo has always competed with Coca-Cola (NYSE:KO) in the soft drink business, however now in the yogurt market PepsiCo would be competing with General Mill (NYSE:GIS), which produces Yoplait, as well as Dannon. Yoplait and Dannon currently hold about 60% of all yogurt sales in the U.S.
PepsiCo's healthy portfolio currently generates about $13 billion annually. It expects the portfolio to grow to $30 billion by 2020 largely driven by yogurt and dairy sales. The current revenue sits right around $60 billion a year, so going forward the healthy portfolio is definitely the focal point of the company's growth. It will be interesting to see if this has an effect on sales, as the is U.S. becoming more health conscious and beginning to actually read food labels.
Along with being an intriguing addition to PepsiCo's current list of products, the new deal will create an estimated 180 new jobs at the new dairy plant in Batavia, New York. Yoplait and Dannon are going to have to "moooove" over, because there's a new competitor in the yogurt market. This move will take some time to show results though, so investors shouldn't expect an immediate increase in revenue and stock price. The 3 percent dividend makes this stock worthwhile to own in the meantime.
An entry point around $60 a share or lower is a terrific price to buy PepsiCo at, as the price has run up too much. However, lower energy and commodity prices could help PepsiCo's earning power in the short term. The company is set to report earnings on July 25; the estimates are $1.10 per share, and $4.10 per share annually in 2012. Earning estimates for 2013 are $4.43.
Disclosure: I am long PEP.