High volatility and abrupt daily swings based on macro-economic data rule the day. The summer swoon arrived on schedule despite the record setting first quarter rally. Nevertheless, weakness in the market often provides great buying opportunities. I have selected five companies reporting earnings this week to review. I believe three are poised to move higher while two will most likely disappoint. The bar has been set extremely low this earnings season. Even so, I believe certain companies are facing significant headwinds and not even lower expectations will help.
In the following sections, we will take a closer look at these stocks to determine if the mean target prices are justified. We will perform a brief review of the fundamental and technical state of each company. Additionally, we will discern if any upside potential exists based on sector, industry or company specific catalyst. The following table depicts summary statistics and Monday's performance for the stocks.

Ford Motor Co. (F)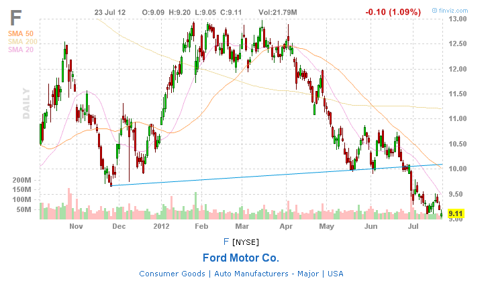 Ford is trading well below its consensus estimates and its 52 week high. The company is trading 32% below its 52 week high and has 48% upside based on the analysts' consensus mean target price of $13.48 for the company. Ford was trading Monday for $9.11, down 1% for the day.
Fundamentally, Ford has several positives. The company has a forward P/E of 5.87. Ford is trading for 7.45 times free cash flow and 2.13 times book value. EPS next year is expected to rise by 18.94%. The company pays a dividend with a yield of 2.17% and has a PEG ratio of 0.26.
Ford reports earnings on July 25th before the market opens. The stock is resting at just 2% off its 52 week lows. $9 has been significant support for the stock. The European situation is completely baked into the stock at this level. I see an opportunity for Ford to surprise to the upside this time. U.S. auto sales are up and Ford stands to benefit. They have disappointed me for the past two quarters; nevertheless, I believe they will pull off a beat this quarter based on lowered expectations.
Ford could see 39% upside, JPMorgan's Brinkman argues, rising to $13 per share. Ford's North American operations are "lean and highly profitable" and it is producing "desirable new products that are global in nature." Ford shares rose 1.2% to $9.45. The stock is a buy heading into earnings.
Corning Inc. (GLW)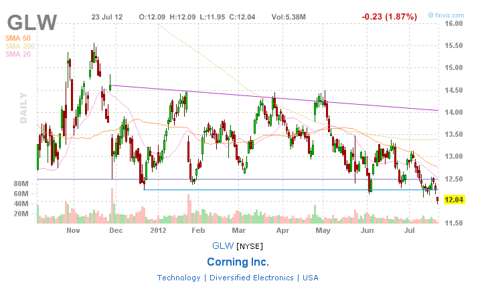 GLW has a net profit margin of 31.94%. GLW has 31% upside based on analysts' consensus estimates. The consensus mean target price is $15.75 for the company. GLW was trading Monday for $12.04, down almost 2% for the day.
The company has many fundamental positives. GLW has a forward PE of 8.13 and trades at a 10% discount to book value. The company pays a dividend with a 2.44% yield. GLW is trading for 27 times free cash flow. Insider ownership is up nearly 200% over the past six months.
GLW stands to gain from the surge in flat panel TV prices. U.S. flat-panel TV prices continued their year-long surge. iSuppli reported the price of the average set reached $1,248, up 11.4% from December. Adoption of LED TVs and 3D TVs is contributing to the increase, but so are stabilizing LCD panel and glass prices, and an end to the brutal price war TV manufacturers such as Sony (SNE), Panasonic (PC) and Samsung (OTC:SSNLF) were engaged in last year. This bodes well for GLW. Not to mention the huge prospects for Gorilla Glass 2.
Corning reported earnings on July 25th before the market opens. Corning beat expectations on revenues and earnings per share last quarter. Corning recently broke down and is trading below its recent trading range. I see this as a buying opportunity created by macroeconomic headlines. The stock is a buy going into earnings.
Level 3 Communications Inc. (LVLT)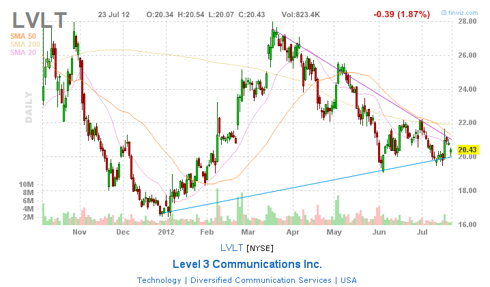 I first invested in level 3 back in November of 2010 when it was trading for $1 and on the verge of being delisted just before they won the Netflix (NFLX) contract. Even after they won the contract the stock floundered due to the fact many said they had to cut margins to gain the business. Nevertheless, the stock began to rise in 2011 reaching the mid $2 mark.
The stock had a 15 to 1 reverse split since and is now trading at approximately $20. Fundamentally, Level 3 has two strong positives. Sales and EPS are growing quarter over quarter by 73.52% and 63.85% respectively.
The Global Crossing acquisition has filled several holes for the company. Firstly, the high debt to equity ratio that the bears clung to is gone. The combination of the networks has filled the gaps Level 3 had in regards to Latin America. The merger of the two company's sales and back office personnel will invigorate the organization by the injection of fresh blood, new ideas and streamlining of expenses.
One big positive for me is the install base of fix costs are currently covered by growing revenues. The company has reached an inflection point where if cost targets are met, all future dollars should flow straight to the bottom line. Level 3 already has positive free cash flow. With the strong tail winds provided by the emerging cloud based computing paradigm and proliferation of video streaming, the free cash flow and value of the assets will only increase boosting the share price.
Cloud based services and streaming media companies are on the rise and Level 3 seems to be a great way to participate. Look for Level 3 to beat earnings estimates and move higher. I like the stock here.
Facebook, Inc. (FB)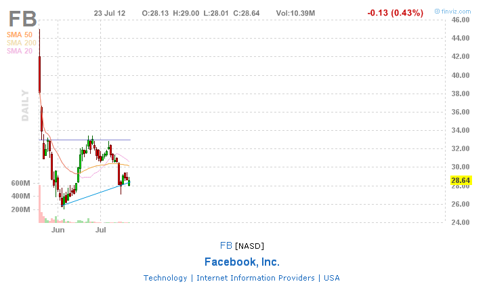 My major problem with Facebook is a majority of 1.7 billion shares of Facebook's stock is due to hit the market as staggered lock ups expire prior to the end of 2012. Second, Zuckerburg said himself they were not going to focus on short term quarter over quarter objectives but rather their long goals. This sounds good for the company and bad for stockholders.
This will be Facebook's first quarter to report. It will be interesting to see how the company handles the inevitable inquisition. I can't see analysts getting satisfactory answers to all their questions. Furthermore, I see any rally fading as the locked up shares hit the market in November and December. Remember, the capital gains rate may change significantly next year. I feel this is why Facebook scheduled the IPO and lock ups in this fashion. I would avoid Facebook prior to earnings.
Zynga, Inc. (ZNGA)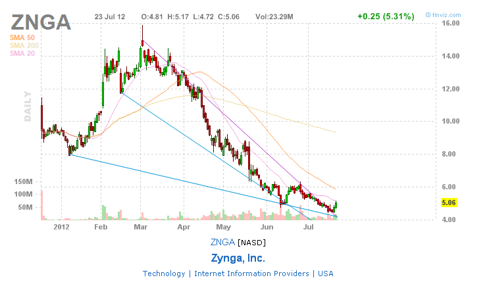 Zynga is trading well below its consensus estimates and its 52 week high. The company is trading 68% below its 52 week high and has 119% potential upside based on the analysts' consensus mean target price of $11.42 for the company. Zynga was trading Wednesday for $4.61, up almost 1% for the day.
Fundamentally, Zynga has few positives. Year over year revenue is down. The company is losing money hand over fist. Zynga's net profit margin is -41.57. That means almost 1 out of every 2 dollars are lost. Not the kind of burn rate I want to be involved with.
Some feel the selloff of Zynga has made it a value stock. The company's forward multiples have become more moderate. Zynga's net cash now makes up 45% of its market cap. CEO Mark Pincus has been busy recently defending the company's business model. He claims his company is targeting one billion gamers and predicts its analytics tools and infrastructure will bring in 3rd party developers. Nevertheless, he admits mobile games are having a disruptive impact.
I feel Zynga is connected at the hip to Facebook. I don't like Facebook's prospects so that means Zynga unfortunately will go down with the ship. This is a highly speculative company and stock. I would not short Zynga, but would avoid this stock.
Conclusion
The negative macro headlines out of Europe may just be a blessing in disguise for these stocks due to report earnings later in the week. We saw today a significant rebound off the morning lows as U.S. investors picked up shares in buying opportunities left behind by desperate European sellers attempting to meet margin calls. I believe we are hitting a soft patch, not the end of the world as many would have you think. Don't get caught up in the negative hype. Now is the time to pick up shares in beaten down stocks with good prospects for future growth.
Use this information as a starting point for your own due diligence and research methods before determining whether or not to buy or sell a security. If you choose to start a position in any stock, I suggest layering in 10% at a time on a weekly basis to reduce risk and setting a 5% trailing stop loss order to minimize losses further if you wish.
Disclosure: I have no positions in any stocks mentioned, but may initiate a long position in F, GLW, LVLT over the next 72 hours.