Ventas, Inc. (NYSE:VTR), a real estate investment trust (REIT), is scheduled to report its second quarter 2012 earnings results on July 26. The current Zacks Consensus Estimate of 92 cents represents a year-over-year growth of 15.1%.
First Quarter Recap
Ventas reported first quarter 2012 funds from operations (FFO) of $214.8 million or 74 cents per share compared with $101.0 million or 62 cents per share in the year-earlier quarter. Funds from operations, a widely used metric to gauge the performance of REITs, are obtained after adding depreciation and other non-cash expenses to net income.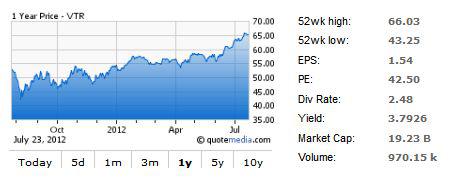 The year-over-year upside in FFO was primarily on the back of accretive acquisitions like Nationwide Health Properties Inc. and Atria Senior Living Group, Inc., and rental increases from the company's triple lease portfolio, partially offset by higher weighted average diluted shares outstanding during the quarter.
Total revenue during the reported quarter was $573.7 million compared with $268.4 million in the year-earlier quarter. Total revenue also beat the Zacks Consensus Estimate of $568.0 million.
Agreement of Analysts
In the last 7 days, none of the analysts have revised their earnings estimate for 2012. However, one out of 12 analysts covering the stock has increased the earrings estimate for 2013 during the same time period. This indicates a somewhat positive bias for the long-term earnings prospect of the company
Magnitude of Estimate Revisions
For full year 2012 and 2013, the Zacks Consensus Estimates have remained constant over the last 7 days at $3.73 per share and $3.95 respectively. For full-year 2012, the company expects adjusted FFO in the range of $3.63 to $3.69 per share
Our Recommendation
Ventas is one of the top performing healthcare REITs in the U.S., with one of the largest and most diversified portfolios in the healthcare sector with exposure to all types of facilities. The product diversity of the company allows it to capitalize on opportunities in different markets based on individual market dynamics, and provides a competitive advantage over its peers.
Healthcare is relatively immune to the economic problems faced by office, retail and apartment companies. Consumers will continue to spend on healthcare while cutting out discretionary purchases. The healthcare industry is the single largest industry in the U.S., based on Gross Domestic Product (GDP), and offers stability to the company amidst the volatility in the market.
However, a large portion of Ventas' revenue originates from a few tenants, which exposes it to concentration risk. If one of the company's larger tenants runs into financial difficulty, earnings could be negatively affected.
Ventas currently retains a Zacks #3 Rank, which translates into a short-term Hold rating. We are also maintaining our long-term Neutral recommendation on the stock. One of its competitors, HCP Inc. (NYSE:HCP) also holds a Zacks #3 Rank.