Market Recap: The market made a valiant comeback intra-day after opening down very weakly on the back of news from Greece that it would no longer be receiving funds from the IMF. That news was followed by Germany noting that the country may not be solvent past September without the IMF's help. The news spooked the markets, dropping the euro, and creating a lot of "risk-off" trading. Earnings from McDonald's (NYSE:MCD) additionally were quite weak as companies with large currency exchange parts of their business continue to weaken. Halliburton (NYSE:HAL) had a fairly solid report, continuing to show some impressive, unexpected numbers for oil service companies.
The market will be looking tomorrow at probably some more weakness unless we do get something to catalyze the market. The bullish open to close move was nice, but it was mostly just short covering profit taking combined with some minor bargain hunting. For the most part, the market is in a bearish phase due to weakness in data, earnings, and Europe. Without a surprise report or development in Europe, we may see more weakness.
Two Trades
Two trades we like right now are long DR Horton (NYSE:DHI) as well as adding a long-term position in Monster Beverage (NASDAQ:MNST). Today, DHI outperformed the market exceptionally well as it heads into an exciting Friday earnings report that is expected to show more than 100% profit growth with 20% sales growth. Housing data continues to remain strong, and housing is one of the best places to keep your money now as it is both safer than other sectors and has a lot of upside potential as well. DHI has a channel resistance at 19.20, and if it breaks that, it's off to the races. MNST was added to our long-term portfolio. We have a Buy rating on the company with $86 PT on the company. We believe that the company can make a very nice move over the next six months and the last few days of weakness have given a solid entry point for a strong company.
Trade #1: DHI, Long
Trade #2: MNST, Long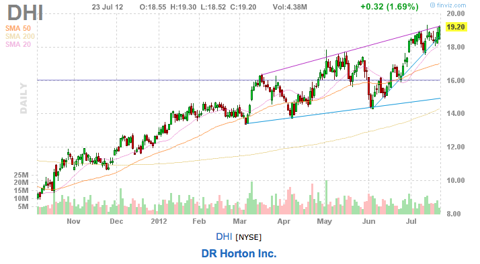 Tomorrow's Outlook
Tomorrow, the market needs something very positive to get it going upward. We have a large slate of earnings that definitely have impact on the market. Tonight, we are getting earnings from Baidu (NASDAQ:BIDU), Texas Instruments (NYSE:TXN), and VMWare (NYSE:VMW). BIDU needs a solid report to save the Chinese Internet industry. TXN and VMW will be interesting to see if they can continue the solid reports we have been getting from tech. We have interesting reports tomorrow morning from AK Steel (NYSE:AKS), AT&T (NYSE:T), DuPont (NYSE:DD), and UPS (NYSE:UPS) among a ton others. So, the market will definitely have a lot of earnings to react to. In addition to earnings, we will continue to see the market reacting to news from Greece. We have the HSBC Manufacturing PMI tomorrow morning as well for China. Other than that, data are pretty light. Look for a lot of reaction to earnings and movement in Europe and the euro, which does not bode greatly for the market.
Oxen Group Moves
We had a nice day in the market as we took a 2% gain in our Short-Term Equity Portfolio with 1/2 of our long DirecTV (DTV), short RR Donnelly (NASDAQ:RRD) position. We also took an 18% gain in Ryland (NYSE:RYL) from our Extended Value Portfolio. We had to take a 1/2 exit in VeriSign (NASDAQ:VRSN), however, for a loss. We added a bull put spread in Home Depot (NYSE:HD) in our Options Portfolio.
We have the following positions:
In our Short-Term Equity Portfolio we are long DirecTV , Dollar Tree (NASDAQ:DLTR), Ashland (NYSE:ASH). We are short RR Donnelly & Sons , Pall (NYSE:PLL), McDonalds .
In our Options Portfolio, we are long Monsanto (NYSE:MON), Dollar General (NYSE:DG), Home Depot . We are short Facebook (NASDAQ:FB).
In our Earnings Alpha Portfolio, we are long VeriSign , Seagate Tech (NASDAQ:STX), Apple (NASDAQ:AAPL), Disney (NYSE:DIS). We have a reverse iron butterfly in F5 (NASDAQ:FFIV).
In our Goldman Sachs Up/Down Paper Portfolio, we are long Calpine (NYSE:CPN).
Chart courtesy of finviz.com.
Disclosure:
I have no positions in any stocks mentioned, and no plans to initiate any positions within the next 72 hours.