Commodity chart of the day - Daily Aussie dollar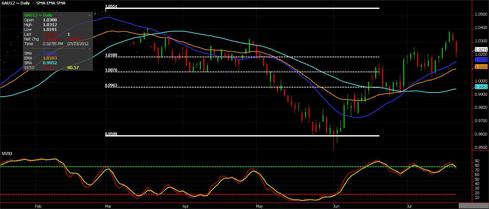 Click to enlarge
There are three "Commodity Currencies" which are coined this term because their economies are so heavily dependent on commodity price action. They include the Canadian dollar, the New Zealand dollar and the Australian dollar. Find the Australian dollar chart above.
In the last two months prices have gained nearly 10% but based on the rent price action and that commodities as a whole are retracing I'm calling an interim top. A settlement under the 20 day MA, the dark blue line at 1.0155 in September should confirm this in the coming sessions. I am expecting a trade back under par and feel this could be traded via futures or options.
Traders could also look at the Kiwi and Loonie as they to should exhibit some downward movement in the short run. My forecast is based on the assumption that energy, metals and agriculture prices could back off in the coming weeks.
Risk Disclaimer: The opinions contained herein are for general information only and not tailored to any specific investor's needs or investment goals. Any opinions expressed in this article are as of the date indicated. Trading futures, options, and Forex involves substantial risk of loss and is not suitable for all investors. Past performance is not necessarily indicative of future results.
Disclosure: I have no positions in any stocks mentioned, and no plans to initiate any positions within the next 72 hours.