On Thursday, Perrigo (NASDAQ:PRGO), a company that develops, manufactures and distributes over-the-counter and prescription pharmaceuticals, announced that it had received approval from the FDA to market a Nicotine-based smoking cessation gum.
This is another in a long line of wins the company has experienced of late. Shares of Perrigo have bucked the market trend over the last six months and have continued to move sharply higher. Commenting on the news, CEO Joseph C. Papa said:
This approval of orange-flavored, coated nicotine gum extends our leading store brand position. Our expanded range of smoking cessation products also includes coated mint-flavored gum, coated fruit-flavored gum, uncoated gum and lozenges.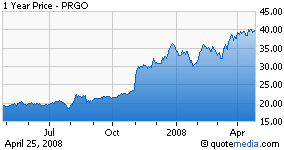 The estimated market for over-the-counter nicotine gum and lozenge products is around three quarters of a billion dollars. Therefore, this is clearly a big potential earnings driver for the company.
I have never smoked so I have no idea what it's like to try and stop. But from what I understand, the hardest part is trying to break the cravings from nicotine addiction, as well as certain activities that you do when smoking. That those activities 'call' for you to smoke. The nicotine gum helps negate the cravings associated with smoking, freeing you up to work on your ability to do certain activities without smoking.
Disclosure: The author's fund has a position in PRGO. The fund has no position in any other stock mentioned as of April 25, 2008.