Trimble (NASDAQ:TRMB) shares are sharply higher this morning after the company late yesterday reported a classic beat-and-raise quarter.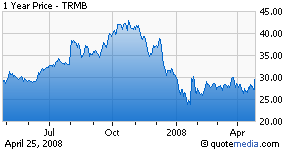 For Q1, the company posted revenue of $355.3 million, well ahead of the Street at $338.7 million; non-GAAP profits of 40 cents a share beat the consensus by a nickel.
The company, which makes GPS systems used for a variety of commercial and government applications, said its engineering and construction unit is being affected by slow U.S. economic conditions, but that it saw strong growth across all other geographies. The company also said it had 75% growth in its field solutions segment, "driven by strong agriculture product sales."
For Q2, the company sees revenue of $374 million to $379 million, and non-GAAP profits of 44-46 cents a share. The Street had been looking for $375.2 million and 41 cents.
For the full year, Trimble now sees top line growth of 15%-17%, up from previous guidance of 14%-17%. It sees non-GAAP profits of $1.50-$1.55, up from its previous forecast of $1.39 to $1.44.
Trimble this morning is up $4.34, or 15.4%, at $32.47.