By G C Mays
When Mosaic (MOS) reported its 4th quarter and full year earnings last week the stock popped just over 5 percent despite lower operating and net earnings. For the full year company EPS was $4.42 versus $5.62 a year ago. However, it is important to note that in fiscal 2011 the company had a gain from the sale of investments of $685.6 million. If we lower 2011 earnings by the same amount and recalculate taxes paid based on the 23 percent effective rate paid in fiscal 2011 we wind up with net earnings of $1.98 billion or $4.43 per fully diluted share versus fiscal 2012 net earnings of $1.93 billion.
Phosphate
The company's phosphate operating segment earned $1.8 billion during the quarter, which was 5 percent lower than a year ago. The decline was due in large part to lower prices as tons sold, at 2.89 million, were at the high-end of company expectations and marginally higher than year ago totals. However prices slid from $536 per ton in the 3rd quarter and $574 a year earlier to $494 per ton in the 4th quarter of fiscal 2012.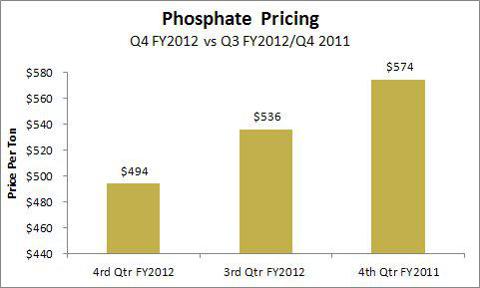 Source: The Mays Report
Lower prices received also caused gross margins to decline to 18 percent as operating capacity remained at 86 percent versus a year ago. In the 3rd quarter operating capacity fell to 81 percent, which resulted in gross margins tumbling to 15.7 percent. Gross margins are very sensitive to operating capacity as well as sulfur and ammonia costs. Operating earnings tumbled 39 percent compared to a year ago to $224.1 million.
Potash
Potash sales volumes in the 4th quarter were 6 percent lower than a year ago as distributors kept inventory levels low during the quarter. This was not unexpected. The lower sales volumes were offset by higher prices as net sales from the potash operating segment totaled $1.04 billion during the quarter versus $982 million during the same period a year ago.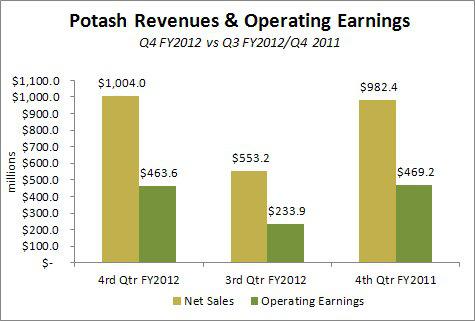 Source: The Mays Report
At $455 per ton, potash pricing was basically flat with the prior quarter but higher than the $404 per ton received during the same period a year ago. Operating margins were lower year over year in part due to lower operating rates as they slumped from 95 percent of capacity during the 4th quarter of fiscal 2011 to 85 percent. However, operating capacity improved from 81 percent in the 3rd quarter as the company ramped up production slightly. This helped margins to improve from 15.7% in the 3rd quarter to a still anemic 18 percent in Q4. The company also cited higher unrealized derivative mark-to-market losses, brine management costs, and depreciation costs as contributors to lower gross margins.
The company guided lower moving into their fiscal 2013 as they expect lower phosphate pricing and tons sold during their first quarter. Price estimates range between $510 - $535 a ton, which is 7 - 11 percent lower than a year ago. Phosphate sales volume estimates of 2.5 to 2.8 million tons are 12 - 21 percent below year ago levels.
FY 2013 potash sales volume estimates are roughly in line with year ago levels. However, the company is mum on price, which is not surprising as this has been a bone of contention between producers and dealers since late in Calendar year 2011. I have written for a while now that in my opinion the fertilizer companies were at the top of the current business cycle. So why is Mosaic moving higher? Drought and wheat (WEAT).
The drought has severely limited corn production in the current growing season as there was insufficient moisture during the crop's key pollination period. This has stirred up well founded fears of a supply shortage and this fear has caused more wheat feed purchases. Both corn and wheat prices have surged as a result, with corn climbing to a recent high of $7.95 for December delivery while wheat prices have soared to a recent price of $9.43 a bushel for delivery in September. Since June 26th the correlation between wheat and the stock prices of both Mosaic and Potash Corp (POT) have surged from almost no correlation of 0.14 and 0.03 to 0.94 each, respectively.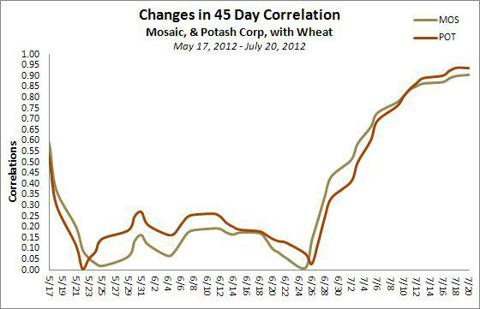 Source: The Mays Report
Over the same period the stock prices of Mosaic Co and Potash Corp are up 10.8 and 12.5 percent, respectively. As I have written recently, these gains are a gift as they are not based on business fundamentals. This gift may in fact keep on giving through the August crop report. Should traders choose to continue to ride the rally prudence to protect short-term gains with trailing stops is in order. Longer-term investors could use long-dated puts to offset some of the inevitable decline that will occur once the US and global corn supply situation becomes clearer and the market begins to look at fertilizer business fundamentals again.
Disclosure: I have no positions in any stocks mentioned, and no plans to initiate any positions within the next 72 hours.