By: Brendan Gilmartin
Overview
Broadcom (BRCM) is scheduled to report 2Q 2012 earnings after the close of trading on Tuesday, July 24. Results are usually available at 4:05 p.m. EST and will follow with a conference call at 4:45 p.m. EST. According to iFixit, Broadcom's Bluetooth and Wi-Fi combo chip are embedded in the Apple iPhone, along with a host of other premier smartphones.

Outliers and Strategy
Key measures covered by Selerity:
Non-GAAP Earnings Per Share: The Street estimate is $0.67 (Source: Yahoo Finance), toward the high end of the projected range ($0.60 - $0.71).
Revenues: Broadcom said back in January it expects revenues between $1.9 bln and $2.0 bln. The estimate is at $1.95 bln.
Revenues Guidance: The current consensus is $2.11 bln. If the low end of the outlook is above this estimate, Broadcom may reverse the downward trend. If the high end of the range falls short of the consensus, look for a potential pullback.
Broadcom is now trading at just 10.1x forward earnings, resulting in a Forward PEG ratio of just 0.75, implying the shares are trading at roughly a 25% discount to the estimated earnings growth rate.

Recent News
07/17: Broadcom shares fell nearly 4% after Samsung Electronics agreed to acquire the mobile chip business of Britain's Cambridge Silicon Radio PLC for $310 million. While the acquisition was seen as a potential negative for Broadcom, analysts were quick to defend the shares. According to Barron's Online, FBR Capital maintained an Outperform rating on Broadcom, suggesting CSR products lack advanced features. Nomura Securities also reiterated a Buy rating and $45 target, while Oppenheimer maintained an Outperform and $54 price target and suggested the recent sell-off presents a buying opportunity.
06/28: Cantor Fitzgerald initiated coverage on Broadcom with a Buy rating and a price target of $40, according to a post on Benzinga.com. The firm cited Broadcom's broad exposure to the communications markets.
05/29: CLSA Asia upgraded Broadcom from Underperform to Outperform, according to a report on Barron's Online. The firm cites the potential boost from an "iPad mini," its WiFi combo chip in the next-generation iPhone, and sales into low end 3G models.

Technical Review
Broadcom shares are off more than 20% from the 52-week high ($39.54) established in late April. The shares are currently at a support/resistance line near $31.00. Should earnings surprise to the upside, look for a run back toward resistance at $33.00, followed by the 200-Day SMA near $34.00. Support is at the recent lows near $30.00. (Chart courtesy of StockCharts.com)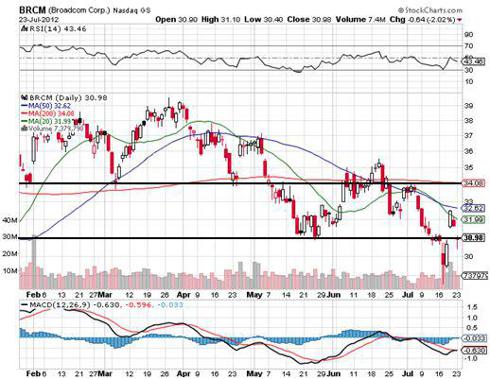 Summary
Broadcom shares have come under pressure in recent months, due in part to the iPhone transition and questions surrounding its chips in the mobile devices, and slower overall smartphone sales in light of the weak macro backdrop. But given its exposure to the communications markets, Broadcom is seen recovering in the second half of the year, thanks in part to new products from Apple and Samsung, coupled with forecasts for improved growth trends in Asia. The shares are also cheap with a Forward PEG of just 0.75, implying recent weakness is priced in.
DISCLAIMER: By using this report, you acknowledge that Selerity, Inc. is in no way liable for losses or gains arising out of commentary, analysis, and or data in this report. Your investment decisions and recommendations are made entirely at your discretion. Selerity does not own securities in companies that they write about, is not an investment adviser, and the content contained herein is not an endorsement to buy or sell any securities. No content published as part of this report constitutes a recommendation that any particular investment, security, portfolio of securities, transaction or investment strategy is suitable for any specific person.
Disclosure: I have no positions in any stocks mentioned, and no plans to initiate any positions within the next 72 hours.