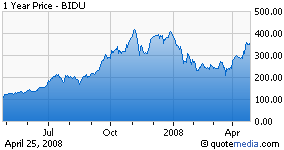 Baidu (NASDAQ:BIDU) shares today have extended a remarkable rally after the company late yesterday reported stronger-than-expected March quarter results as well as second quarter guidance that exceeded Street expectations.
Today, Baidu shares have gained $19, or 5.6%, to $361. The stock is now up $153.10, or nearly 74%, since closing March 20 at $207.90. Even with that rally, the stock is off almost 12% since peaking at just over $400 in late December. You want a high beta stock, this is it.
Baidu is widely perceived as the Google (NASDAQ:GOOG) of China, with a small footprint but nearly unlimited potential. But you are paying for that potential, big time. The stock now has a market cap of $12.4 billion, or well north of 28x the 2008 consensus revenue estimate of $431 million. (Google, by contrast, trades for 10.6x estimated 2008 revs.)
There is considerable disagreement with what to do with the stock; this morning we had both an upgrade and a downgrade of the shares; a number of analysts upped their targets on the upside surprise yesterday. Here's a quick rundown on some of the commentary:
George Chu, Deutsche Bank: He cut his rating on the stock today to Sell, from Neutral, citing margin concerns; he notes that while revenue in the quarter beat his forecast by 7%, EPS only beat by 3%. He says rising costs of acquiring traffic could pressure margins.
Colin Gillis, Canaccord Adams: Gillis repeated his Sell rating and $265 target on the stock. He says the valuation is expensive; that Street expectations for the second half may be too high; that the company could be vulnerable to litigation about MP3 downloads; that there is uncertainty that it can monetize its foray into Japan; and that a boost in spending from the Olympics "may wane faster than expected."
Jason Brueschke, Citigroup: He raised his rating on the stock to Buy from Hold, and upped his target to $415 from $350. He says the company now has the seasonally weakest quarter behind it.
Steve Weinstein, Pacific Crest: He repeated his Outperform rating and raised his target price to $405 from $350, based on a valuation of 60x 2009 EPS of $6.75. "We consider this reasonable given Baidu's growth, market dominance and potential for upside."
Gene Munster, Piper Jaffray: "The Street can debate the beat in March, but the positive guidance is undeniable," he writes. Munster maintains his Buy rating and $430 price target.