Many tag the first 10 years of the 21st century as a "lost decade" for stocks. And whether you look at 2000-2009 or 2001-2010, U.S. equities did indeed underperform a wide variety of assets.
For example, emerging market stocks were one of the more noticeable beneficiaries. Over the previous 10 years (7/24/2003-7/23/2012), the iShares MSCI Emerging Market Fund (NYSEARCA:EEM) massively outperformed the SPDR Select S&P 500 (NYSEARCA:SPY).
click to enlarge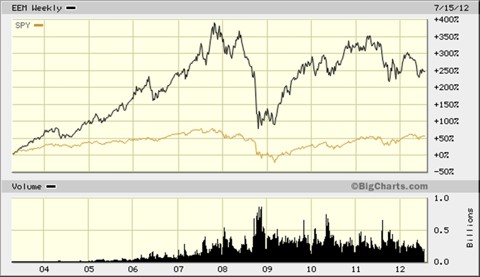 Many have described the circumstances as an epic transfer of wealth from the developed world to developing economies. And yet, the asset class has been severely hampered by the Eurozone calamity… far more so than U.S. stocks.
The 2-year long crisis has pushed investors away from the risks associated with lesser-known emerging market companies; many have moved back to well-established U.S. brands. What's more, investors are flocking to the familiar confines of the once-maligned U.S. dollar. And they're purchasing longer-term U.S. treasuries — instruments offering interest payments that are lower than the inflation rate – in order to protect against a European meltdown.
The S&P 500 may have been flat in 2011, yet that was far more desirable than the bearish -20% experienced by the MSCI Emerging Market Index. Here in 2012? The S&P 500 SPDR Trust (SPY) is up 8.5% to the iShares MSCI Emerging Market Fund's (EEM) year-to-date return of 0%. Worse yet, EEM is in a technical downtrend.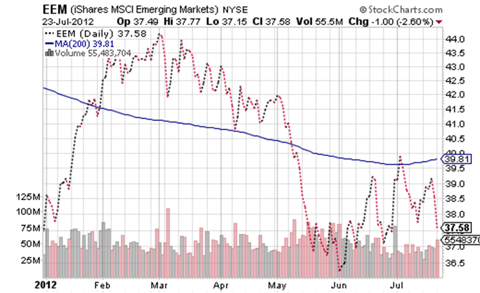 With the shadow of Europe's debt dilemma hanging over risk assets from stocks to commodities to higher-yielding bonds, why might you bother with anything that is "emerging?" Essentially, the MSCI Emerging Market Index, whether tracked by EEM or Vanguard Emerging Markets (NYSEARCA:VWO), is heavily ties to energy, materials and commodity production. There are a number of emerging market ETFs that track less volatile indices and/or favor non-cyclical economic segments and/or tap uniquely successful countries.
Here, then, are 3 emergers that are worthy of a first (or second) look:
1. iShares Emerging Market Minimum Volatility (NYSEARCA:EEMV). Just as the less volatile sectors of the U.S. economy (e.g., consumer staples, health care, telecom, utilities, etc.) have worked wonders for U.S. investors, the recent trend toward lower beta has captured the imagination of emerging market investors. While it is true that EEMV does have far more financial exposure (25%) than low volatility investments stateside, EEMV is up 8.2% year-to-date and it has been hitting higher highs since bottoming out in early June.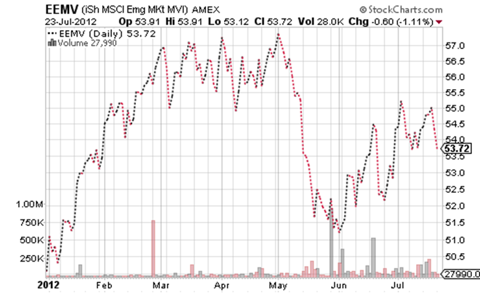 2. iShares MSCI Thailand (NYSEARCA:THD). This relative newcomer to the iShares exchange-traded line-up suffered mightily in 2011. Of equal concern, THD tracks an index that is heavily weighted towards financials and energy. Nevertheless, the Thai economy is expanding at a rapid clip as local businesses recover from the prior year's floods. Best of all, the current trend remains THD's friend.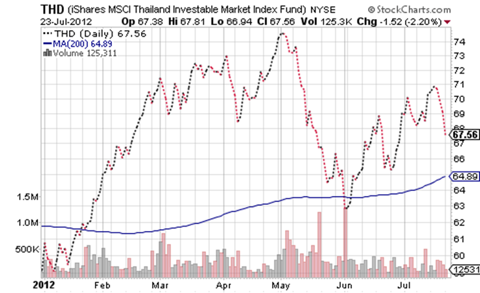 3. iShares MSCI Malaysia (NYSEARCA:EWM). Some countries may put up unbelievable GDP growth numbers. However, that often comes at the expense of inflation. (Think China and India). In contrast, Malaysia has the lowest inflation rate in all of Asia (1.6%), while still growing at 4.7% in the latest quarter. Meanwhile, unemployment is only 3%. What's not to like!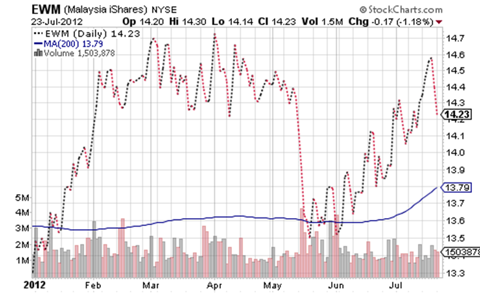 Disclosure: Gary Gordon, MS, CFP is the president of Pacific Park Financial, Inc., a Registered Investment Adviser with the SEC. Gary Gordon, Pacific Park Financial, Inc, and/or its clients may hold positions in the ETFs, mutual funds, and/or any investment asset mentioned above. The commentary does not constitute individualized investment advice. The opinions offered herein are not personalized recommendations to buy, sell or hold securities. At times, issuers of exchange-traded products compensate Pacific Park Financial, Inc. or its subsidiaries for advertising at the ETF Expert web site. ETF Expert content is created independently of any advertising relationships.