Earnings results and reports are important, but often the key details get obscured by the headline numbers. A company can report earnings numbers that are below estimates, and it can give a guidance that doesn't dazzle, but there can still be good things going on underneath the hood which will power results going forward. So while the initial market response can reflect an earnings miss or a bad report, the long-term makes the dip worth buying.
PNC Financial's (PNC) recent second quarter report provides a strong example. On the surface, the major regional bank missed earnings estimates badly and revenue estimates narrowly. The stock price dropped about 1% in the immediate aftermath, and 4% by the end of the week, with the renewed Euro concerns on Friday helping fuel the drop. This was the second earnings miss in three quarters, which has kept the stock price essentially flat year to date.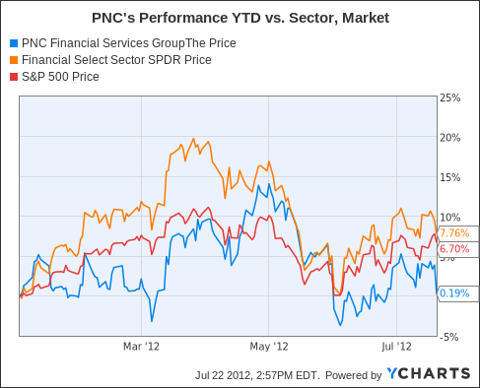 At the same time, PNC's underlying performance was very strong, and the bank remains well-positioned for this difficult economic and banking period. As a large regional bank with little exposure to international and European banks, and high exposure to the U.S. economy and the housing market, PNC remains a good investment, and the disconnect between the market reaction and the positive core results in the bank's report create a buying opportunity.
The Bad News: Ongoing Mortgage Plague
The headline numbers were not strong for PNC. Revenue of $3.623B missed estimates by $87M, and earnings of $.98/share came in $.12-.26 below the various estimates I came across. These estimates had already been lowered in the wake of a June 12th presentation in which CEO James Rohr announced that the bank would set aside an additional $350M to cover the demand to repurchase bad mortgages.
The mortgage issue was the biggest weight on earnings this quarter for PNC. The bank originally set aside that $350M to buy back bad mortgages from one of the government-sponsored entities, either Freddie Mac or Fannie Mae. On the report, PNC announced that it ultimately set aside $438M for bad mortgages, with the other $88M coming for the second of the GSEs. This affected earnings by $.54/share and compared to $32M set aside in the first quarter for similar bad mortgage provisions.
The aftermath of the lending bubble in 2005-2008 continues to affect banks as they own up to aggressive pre-crisis policies. In PNC's case, the problems are largely related to the purchase of National City Corporation amidst the crisis in 2008. Having bought the bank, PNC owns the problems.
With the demands from Fannie Mae and Freddie Mac to buy back the mortgages hard to predict, PNC could be vulnerable to requests to buy back more than the $438M they've prepared for. Indeed, much of the second quarter conference call saw analysts asking how well PNC has prepared for future buyback demands. The overall answer: PNC has prepared for the possibility of up to $350M more in funds to be needed, but places a higher possibility on having set enough money aside already to cover all future mortgage buybacks. CFO Richard Johnson mentioned in the Q & A that the bank's goal is to have a clean 2013, free of sudden shocks like these, which would of course bring relief to investors.
The Good News: Loan Growth and Interest Strength
Beyond this ongoing mortgage problem and a few other minor, non-core costs, PNC had a very strong quarter. The company grew its loans 2.38% quarter over quarter and 20% compared to last year, with commercial and auto loans driving the growth. The Q1 conversion of RBC's (RY) U.S. banks, which PNC bought a year ago, also helped boost this growth. Even if the year over year figure is not wholly organic, though, the growth is strong and provides a bread-and-butter backing to PNC's business and earnings. The quarterly figure especially bodes well considering the weakness that seeped into the overall economic climate in May and June.
The other major strength in the report was the bank's net interest margin. Those margins are under pressure across the industry due to the nature of our low-growth, low-rate environment. Despite that environment, PNC has seen its net interest margin grow faster than most of its peers and stay higher than those same peers. Part of this boost is due to the higher-rate loans the company took in from the RBC transaction, but it allowed PNC to post its first above 4% NIM in at least a year and a half. While this could also be a one-time event - Johnson noted that, "in the current low rate environment, we believe our net interest margin will come under pressure in future quarters as rates remain low and some of our assets will reprice to those lower rates" - its impact is large enough to allow the bank to boost its full year net interest income guidance to 10-12% growth, which balances off the effect of the mortgage repurchase provision.
Valuation, Dividend, and Chart Factors
PNC has a cheap valuation on both earnings and book value ratios when compared to its peers. This comes before noting that while PNC's revenue growth is not stellar, its loan growth and net interest margins are superlative for the group. I've included U.S. Bancorp (USB), M&T Bank (MTB), BB&T Corporation (BBT), Fifth Third Bank (FITB), and Wells Fargo (WFC) as the most similar huge bank:
(Sources: TDAmeritrade, WSJ, respective banks' earnings reports)
| | | | | | | |
| --- | --- | --- | --- | --- | --- | --- |
| As of Q2 2012 | PNC | MTB | BBT | FITB | USB | WFC |
| Market Cap | $31.3B | $10.8B | $22.1B | $12.5B | $63.6B | $179.7B |
| Semiannual Revenue Growth (Y-over-Y) | 1.69% | 12.62% | 8.97% | 8.55% | 8.56% | 5.43% |
| Quarterly Loan Growth (Q-over-Q) | 2.38% | 2.22% | 1.23% | 0.90% | 1.86% | 1.13% |
| Quarterly Loan Growth (Y-over-Y) | 20.03% | 11.48% | 7.11% | 6.77% | 7.68% | 3.10% |
| Net Interest Margin (NIM) | 4.08% | 3.74% | 3.95% | 3.56% | 3.58% | 3.91% |
| Q-over-Q NIM Change in basis points | 18 | 5 | 1 | -5 | -2 | 0 |
| EPS Growth (Annual, Prior 2 Years) | 15.60% | 54.24% | 29.31% | 38.81% | 60.27% | 26.23% |
| Estimated Earnings Growth (next 3 years) | 8.90% | 8.41% | 23.56% | 12.85% | 10.55% | 12.96% |
| Earnings 2011 | 5.64 | 6.35 | 1.83 | 1.19 | 2.46 | 2.82 |
| Earnings 2012 (Est.) | 5.78 | 6.88 | 2.75 | 1.57 | 2.82 | 3.31 |
| Earnings 2013 (Est.) | 6.77 | 7.52 | 3.04 | 1.53 | 3.02 | 3.65 |
| Book Value/Share | 69.82 | 69.18 | 26.71 | 14.01 | 17.4 | 25.4 |
| Tangible Book Value/Share | 55.19 | 47.07 | 16.68 | 11.5 | 11.83 | 20.92 |
| 2011 P/E | 10.49 | 13.38 | 17.31 | 11.46 | 13.66 | 11.99 |
| 2012 P/E | 10.23 | 12.35 | 11.52 | 8.69 | 11.91 | 10.21 |
| 2013 P/E | 8.74 | 11.30 | 10.42 | 8.92 | 11.13 | 9.26 |
| P/Book | 0.85 | 1.23 | 1.19 | 0.97 | 1.93 | 1.33 |
| P/Tangible Book Value | 1.07 | 1.81 | 1.90 | 1.19 | 2.84 | 1.62 |
| Price (as of 7/20 close) | 59.14 | 84.97 | 31.68 | 13.64 | 33.6 | 33.81 |
| Dividend | 1.6 | 2.8 | 0.8 | 0.32 | 0.78 | 0.88 |
| Yield % | 2.71% | 3.30% | 2.53% | 2.35% | 2.32% | 2.60% |
(Definitions: Revenue = 1H 2012 Non-interest Income + Interest Income compared to 1H 2011; Book value/share = (Total Shareholders' equity - Preferred Stock)/Diluted Share Count for Q2 end; Tangible Book Value/Share = (Total Shareholders' equity - Preferred Stock - Intangible Assets)/Diluted Share Count for Q2 end.)
The chart shows that while PNC lags in revenue growth and earnings growth both for the past two years and going forward through 2014, the bank is otherwise topping its peers. Its loan growth figures are impressively ahead of its rivals. The net interest margin is not only pacing the group but also expanded far more than any other bank's NIM of this group. And with those satisfying core results, PNC still weighs in at a significantly lighter valuation on P/E, P/Book, and P/Tangible Book bases (I should note that other websites and analysts give different, lower figures for PNC's tangible book. I calculated each of these banks' TBV the same, so any discrepancy should be roughly the same across the group), with only Fifth Third even comparable.
In addition, PNC's dividend is among the highest in the group. The bank has raised the dividend in two consecutive years and has a strong capital position that should allow it to continue raising it in the future. In commenting on a likely slow down in M&A activity, CEO James Rohr stated that most capital will be dedicated to loan growth and then shareholder return, with big potential to increase the latter as interest rates rise, stating, "I think you'll see us return a great deal of capital to the shareholder assuming the government permits it." So far, PNC has not had any problems with Washington on that front.
A last interesting note is that PNC, for the third time since June, has touched its 200-day moving average. I'm not offering exhaustive technical analysis, but it is worth mentioning that the stock has bounced off that average each of the previous two times, and barring a major macro disturbance, it could well stay above that level.
(Source: TDAmeritrade, Daniel Shvartsman; click to enlarge)

Summary
In this unsettling macro environment, many of the money center banks remain overly risky investments. Large regional banks offer a good mix of earnings visibility (tied to the housing recovery and the overall recovery, sluggish as it is), domestic security, and leverage to grow.
In that cohort, PNC remains a top pick. The most recent quarter seems weak in the headlines, but beneath the surface the bank has its loan growth engine working well, a solid net interest margin to churn out its profits, a recent acquisition (the RBC banks) that gives PNC added access to the Southeast market, and an overall strong core business. The provision for bad mortgage buybacks hit earnings this quarter, and looms as a wild card for the second half of 2012, but PNC is striving as a bank and should be able to endure that risk.
In the meantime, the post-earnings dip and the overall low valuation of the stock create a bargain. An 11x2013 earnings multiple gives a target price of 74.5/share, and a blended target price adding 1.2x book value and 1.4x tangible book value gives a target of 78.5/share. Those levels are 26-32% above current price.
I've held PNC for over a year, and admittedly the stock has circled the 60/share price range for most of that time. With a growing business and exposure to the stronger parts of the current economy, PNC could finally break out of that range over the coming 12 months. Clarity might come to the economy as a whole, but also to the bank's earnings as investors dig past the headlines. Underneath, there's a story worth listening to and, more importantly, investing in.
Disclosure: I am long PNC.