Apple (AAPL) has experienced an extremely volatile 2012 and I have recommended option strategies on Apple since 2010 with positive results (remember past performance is not indicative of future results). For reference, please view the first and other articles in the series to fully understand the strategy and its potential returns. This strategy is oriented towards long term investors with the objective of simultaneously generating income and reducing your effective cost basis. In essence the investment objective is to capitalize on Apple's volatility by selling out-of-the-money options to generate weekly income without sacrificing long-term returns. Even if you have no plans to engage in the options market this is your one-stop primer for the critical Apple developments from the past week.

(Source: Yahoo Finance)
A brief recap of this week in Apple, which was down $0.82 (-0.1%):
NYT: Apple Developing 7.85 Inch iPad Mini (New York Times July 15)
Microsoft (MSFT) Reports First Loss A Public Company Due to $6B Writedown (Wall Street Journal July 19)
Verizon (VZ) Sells 2.7M iPhones; 2.9M Android Devices in Second Quarter (Apple Insider July 19)
Apple was only down fractionally this week but the chart above tells a more accurate story. Apple was uncharacteristically flat up to Thursday when it rose above $614 largely on macroeconomic news before declining by a similar amount on Friday. The eyes of the entire business world will return to Apple on Tuesday as it reports third quarter earnings on Tuesday after the market closes. The lack of news on Friday could indicate that investors are becoming fearful ahead of earnings and taking profits, a trend that could continue into Monday. Analysts have been taking sides on whether the third quarter results will disappoint in the face of consumers delaying purchases of iPhones while waiting for the New iPhone this fall. Consumers typically start delaying purchases of iPhones ahead of new iPhone launches and the pent-up demand is simply deferred to the subsequent quarter. Additionally, Apple is not immune from the continued global slowdown that could be a drag on profitability for the quarter. The consensus forecast is $37.5 billion in revenue and $10.37 per share in profit - I share the sentiments of many analysts that Apple will have difficulty in far surpassing estimates as it has in many previous quarters. This is quite an unusual situation for Apple as the earnings bar has been set uncharacteristically low. With that in mind, it is also possible that Apple could jump over that low bar and rocket higher.
For these reasons I offer two core strategies this week depending on if you are a long-term Apple investor or are seeking a more short-term trading position. Long-term Apple investors may wish to hedge their investment by writing a call that is far out of the money such as the July 27 Weekly 620 or 625; however, simply avoiding calls for the announcement is also a choice. On the other hand, short-term Apple investors may look towards the weekly at-the-money options to capitalize on the robust premiums ahead of earnings. For example, the July 27 Weekly 605s are marginally out of the money and offer $16.40 of intrinsic value and have a time value ratio in excess of 2.7. To simplify the position, Apple would have to fall nearly three percent to incur losses on the position. After Apple's 1.6% decline on Friday this offers investors a modest margin of safety on an extremely high quality company. If you decide to sit on the sidelines during earnings, I am still adamant that Apple is a great buy under $600 and any dips are attractive opportunities for long-term investors. It is not unfathomable to envision a scenario in which Apple declines immediately after the earnings release; however, everyone knows that Apple has a strong fourth quarter ahead.
Below I present three possible scenarios and the potential returns for the Apple options. The first scenario represents a negative outlook for Apple while the final two scenarios are more reasonable. These scenarios are forecasts and there is no guarantee that they will come to fruition. Even if you are optimistic it is important to consider both positive and negative circumstances in order to stress your assumptions. As a general rule, selling calls with higher strike prices has greater potential return but additional risk of loss due to the lower (or lack of) downside protection. For more information on the fundamentals of covered calls, consult Investopedia.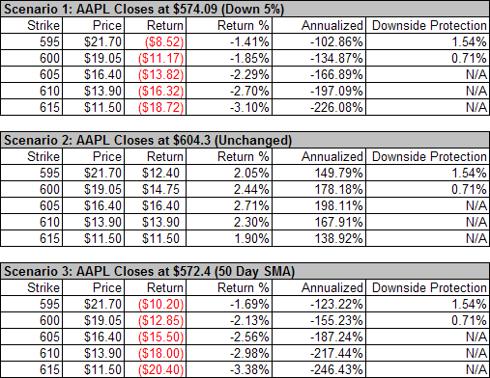 Additionally, if you would like even more information, I have prepared a sensitivity analysis for absolute return and percent returns, respectively. After studying the information above, these two charts make it easy to pick a strike price based on where you believe Apple will close at the end of the week. Estimate where you believe Apple will close and select the strike price with the highest return.

With this information, executing a buy-write on AAPL July 27 (Weekly) 615s is the optimal risk-return strategy as an opening Apple transaction. If you are uncomfortable with this strike I would consider a buy-write in the range of 595-625s. Even if you are extremely bullish you can still profitably sell covered calls; Apple is volatile enough that you will have opportunities to repurchase on further dips. An alternative approach is to sell out-of-the-money 600 puts and collect the ~$15 premium without having to purchase the stock outright. Based upon Apple's volatility I think this might be the best strategy of all for this week. Note that if the stock declines to the strike price, you are obligated to buy the stock (or closeout the position). You should always consider the risk factors (particularly with naked calls or puts) raised in this article in light of your personal circumstances (including financial and taxation issues) in consultation with your professional financial adviser.