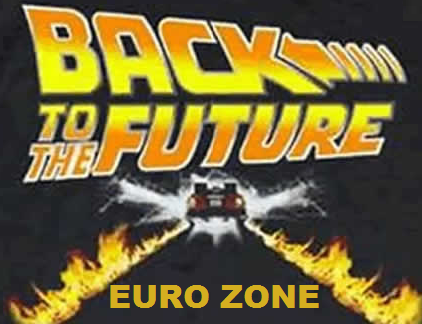 Charts look similar to the past two years even though we're still in July. In 2010 Bernanke delivered the second round of QE which kicked-off the post Labor Day stock market rally. Of course the punchbowl was taken away in June 2011 and markets had their volatile hissy-fit. Now we face another round of European worries which have returned like a bad habit. Investors are finding it all tiresome now and the BS about it being fixed has worn thin.
The new Greek coalition has refused to meet with the troika regarding its commitments. Germany has stated there will be no further bailout money without these commitments being adhered to. That would probably lead Greeks out of the eurozone which may be a good thing for them ultimately. Eurozone Consumer Confidence fell (-21.6 vs -20 expected)-no surprise really. Italy and Spain banned short-selling Monday. For some fun here's Britain's Nigel Farage in one of his many speeches mocking eurozone efforts.
When I suggest we're returning to the past few years is more about volatility increasing as markets respond furiously to rapidly changing conditions. After all, HFTs and their algos long-term view is measured in seconds responding more to each other than any real news let alone economic philosophy. So Da Boyz operating these systems in concert with the exchanges are just picking each other's pockets second by second.
Markets quickly succumbed to downward pressure Monday as equities gapped open sharply lower, bond prices rose, gold and commodities fell while the dollar rose slightly. Earnings news from Apple (NASDAQ:AAPL) is on the horizon Tuesday, and given its outsized weighting, will be much watched. Tuesday also brings the PMI Manufacturing Flash Index which will have an impact. Bernanke also speaks in the morning and no doubt he's watching markets. Perhaps he's willing to drop a clue here and there regarding QE if he thinks it's needed.
As the DJIA was down nearly 240 points this morning, I tweeted that it wouldn't be a surprise if equity markets closed green on the day-anything can happen in this environment. But we closed the day on the downside as a few "stick saves" were launched at critical support levels like the 50 day moving average for the DJIA. Leading the way lower were, you guessed it, financials (NYSEARCA:XLF) once again. This action was typical in 2010/2011.
Volume wasn't that impressive until the last minute or two as ETFs were making matching adjustments and intraday bulls were squaring up. Breadth per the WSJ was quite negative.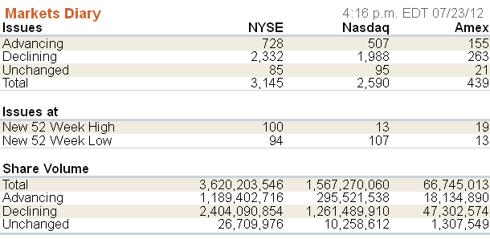 Click to enlarge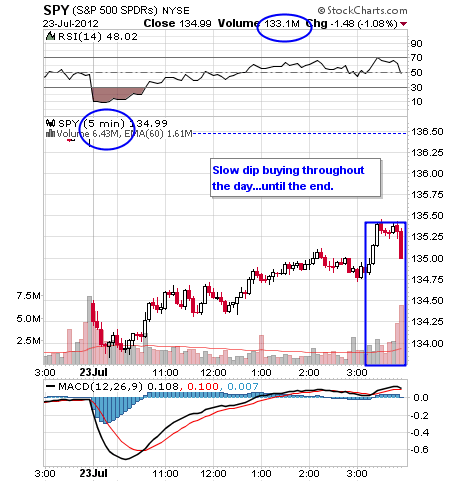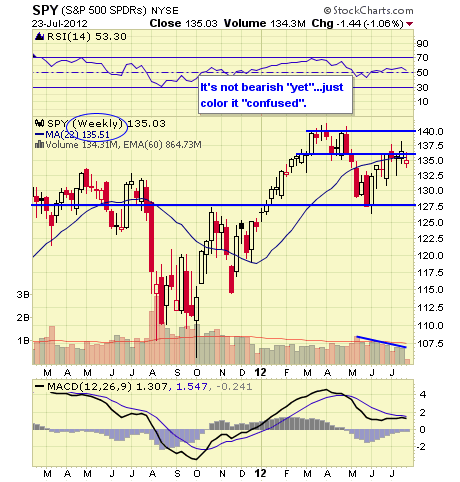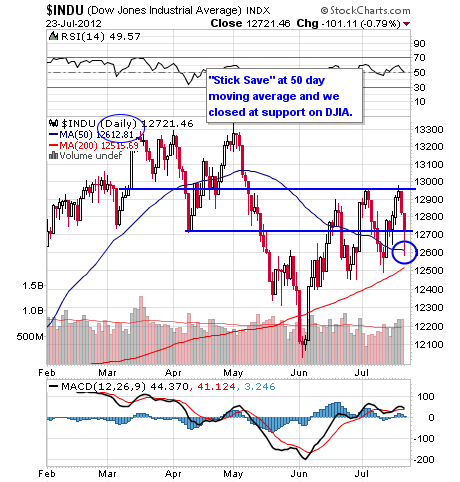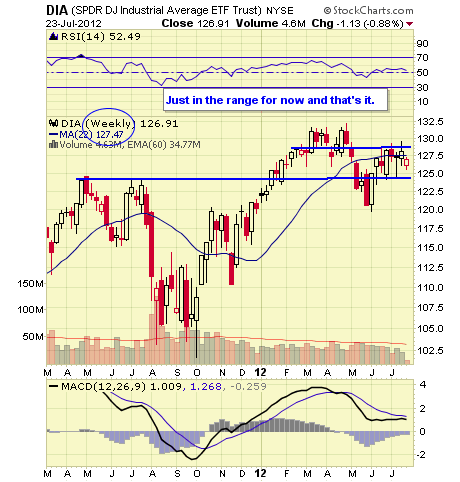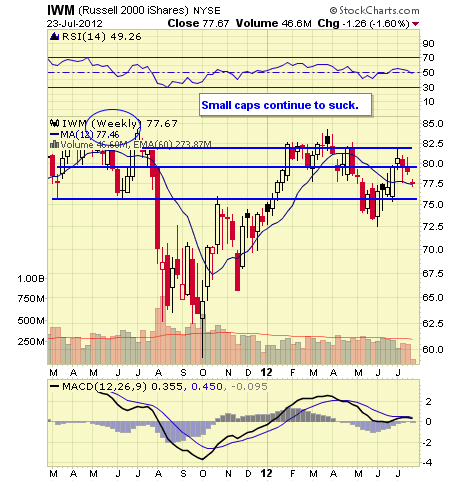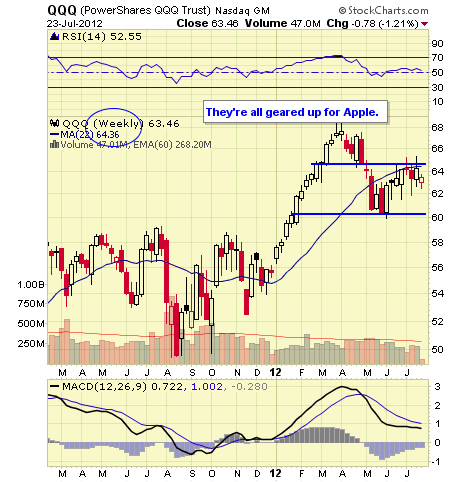 Continue to U.S. Sector, Stocks & Bond ETFs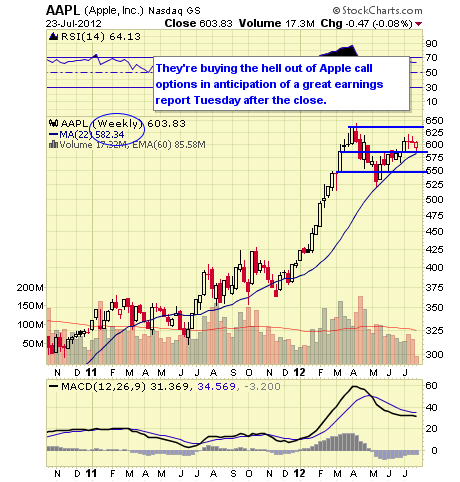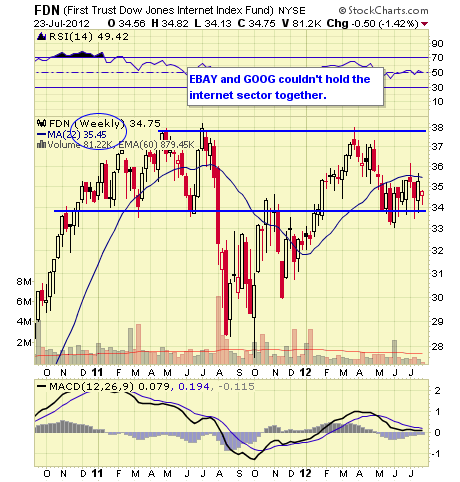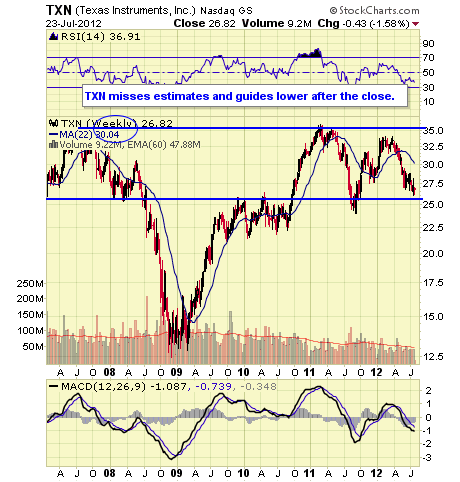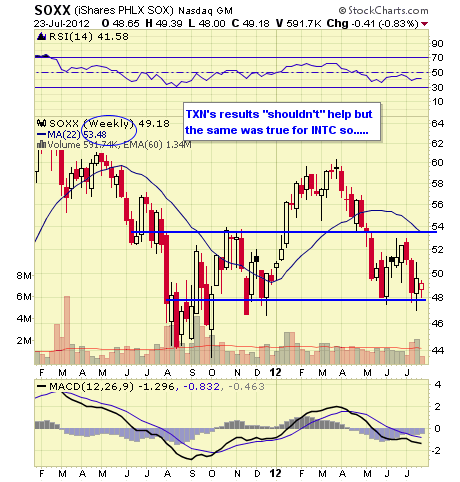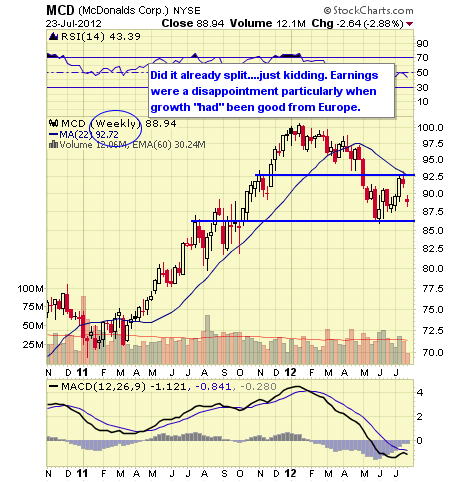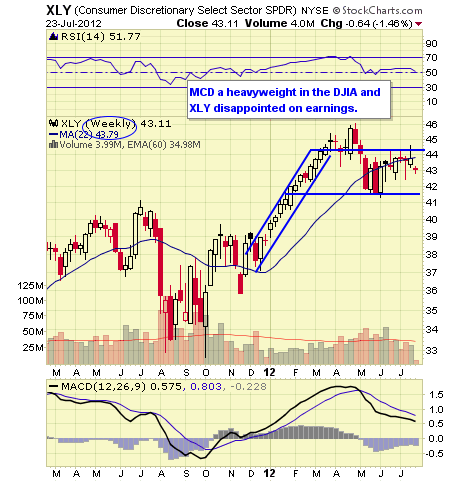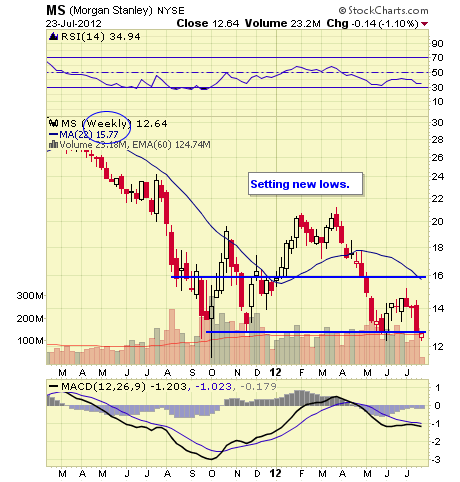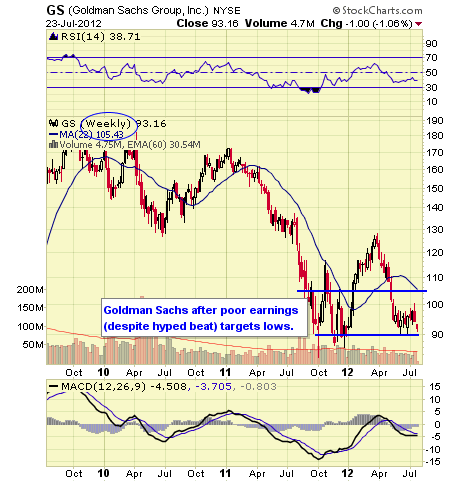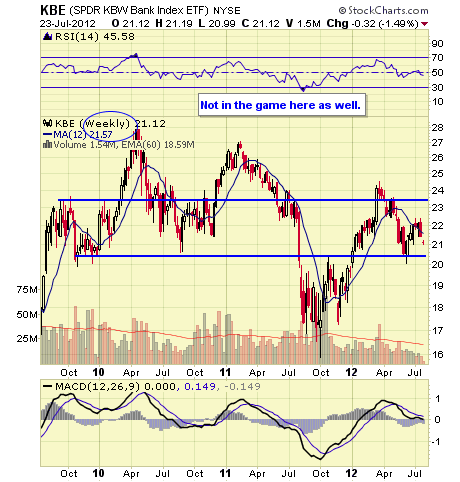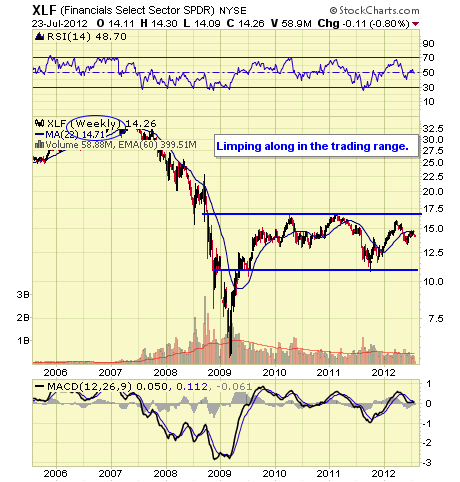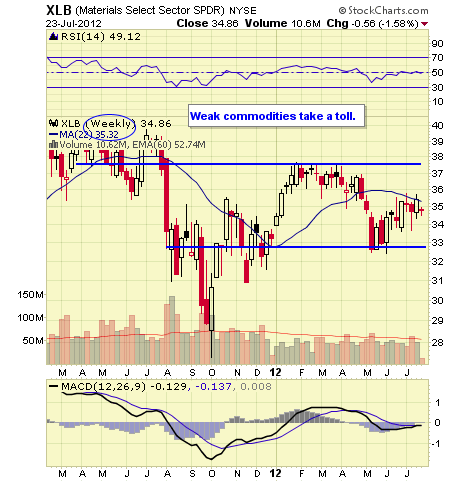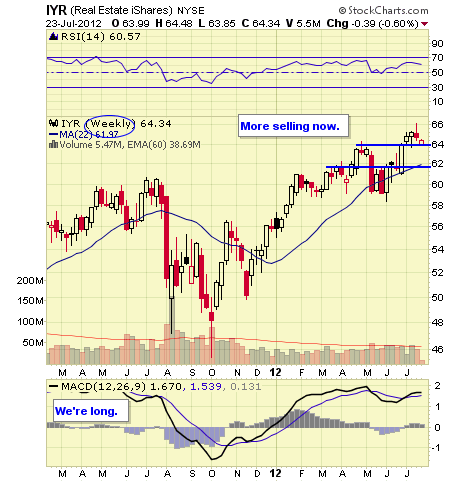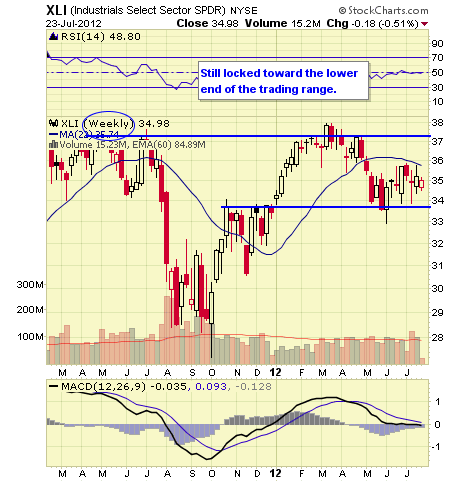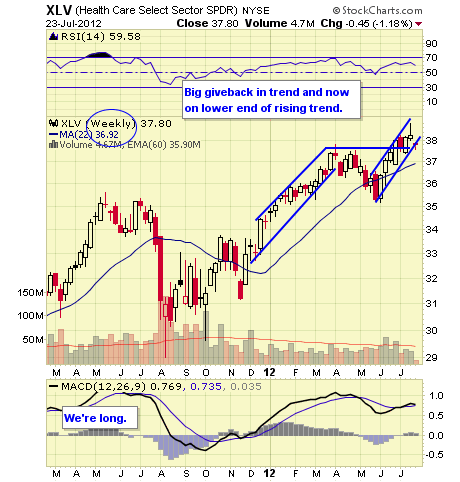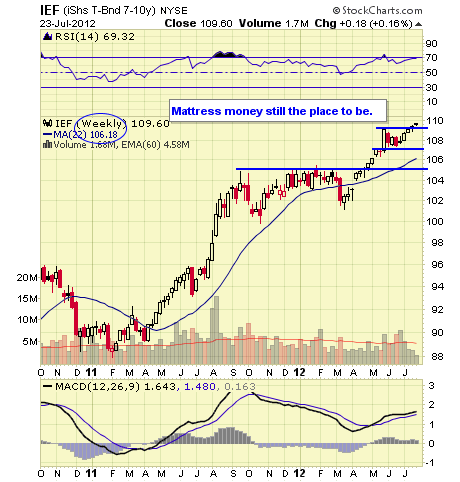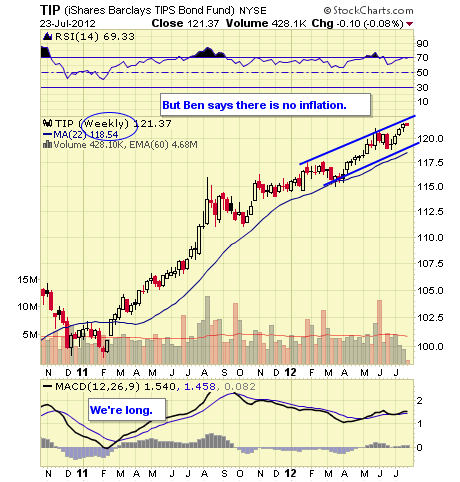 Continue to Currency & Commodity Market ETFs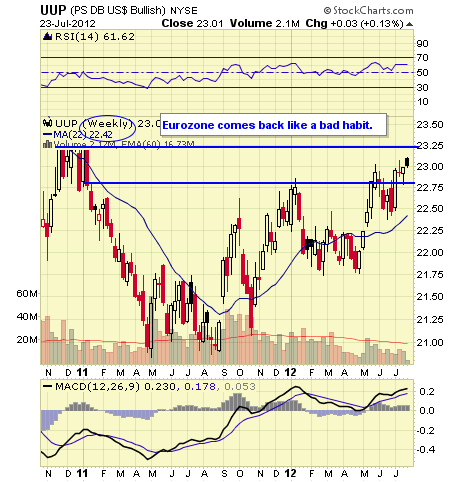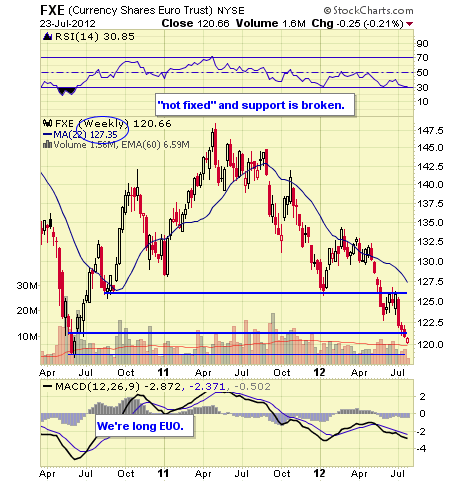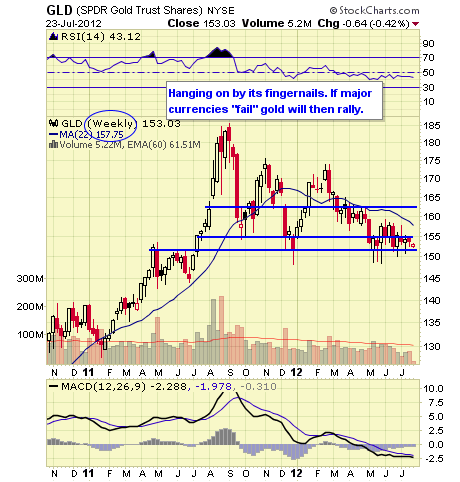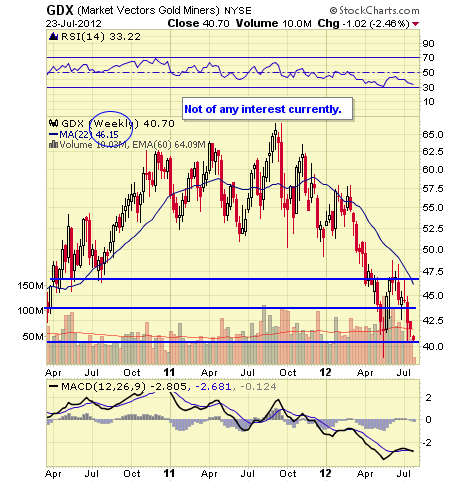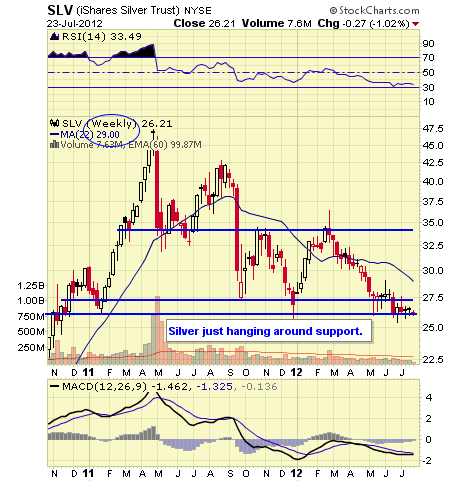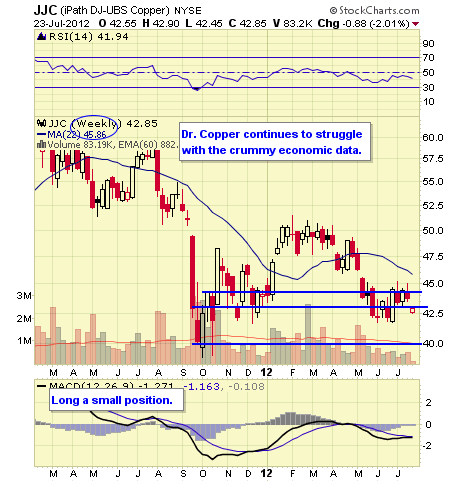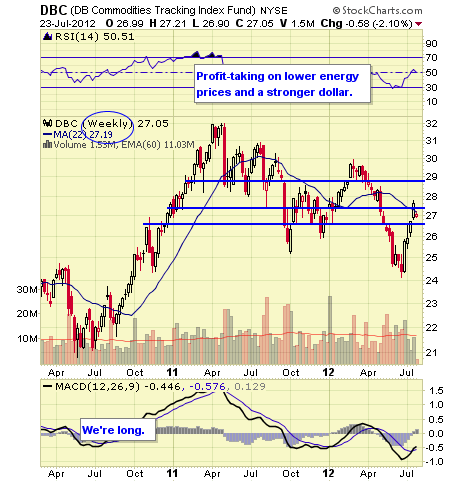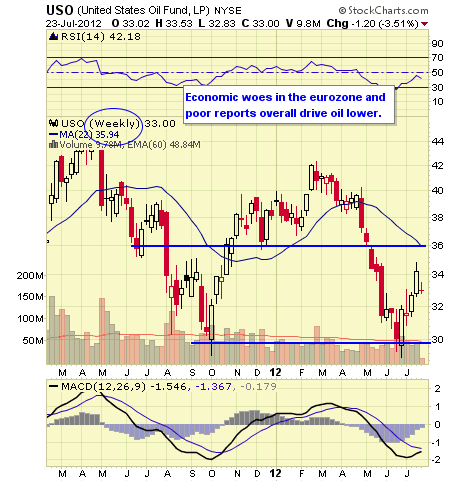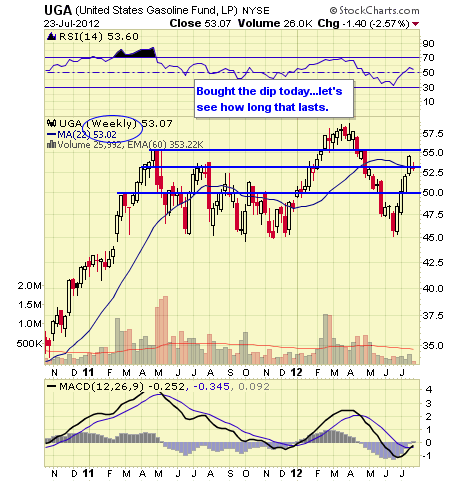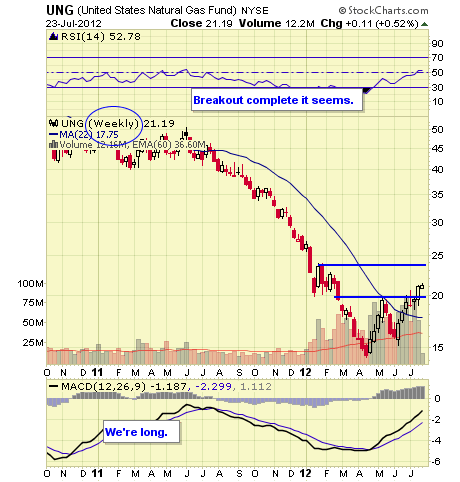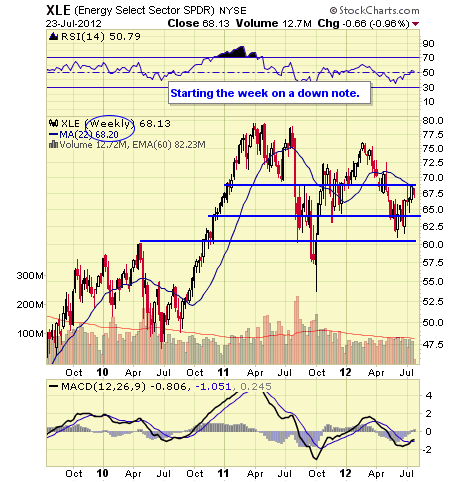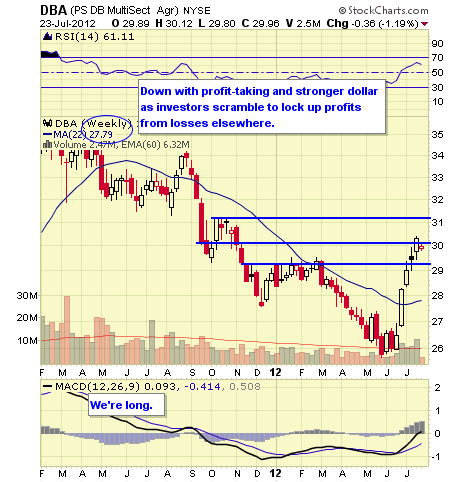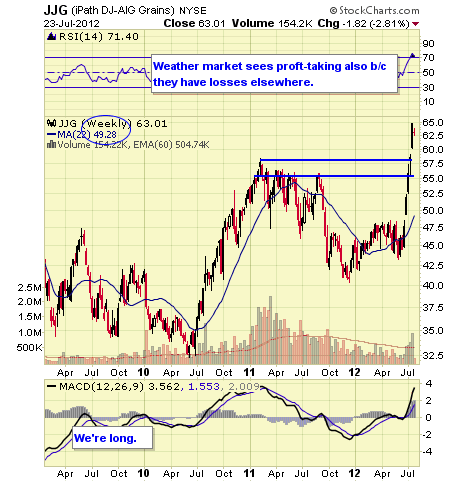 Continue to Overseas Sectors & ETFs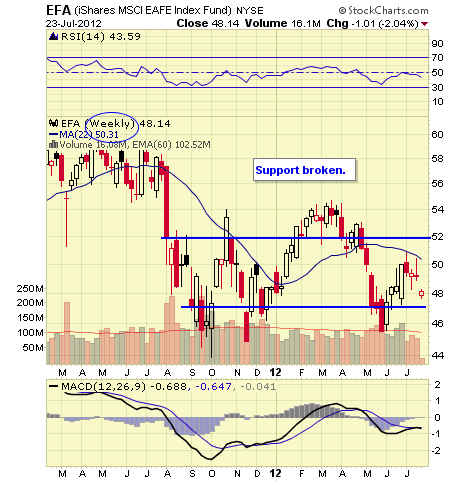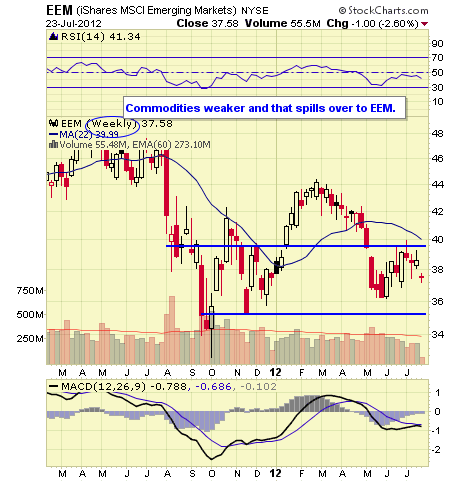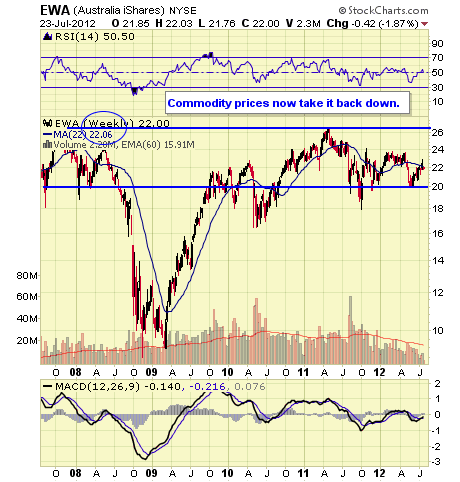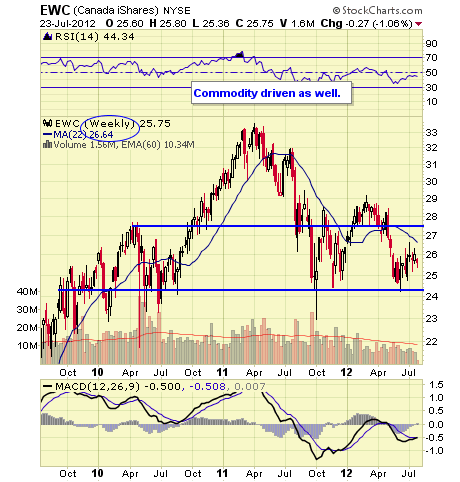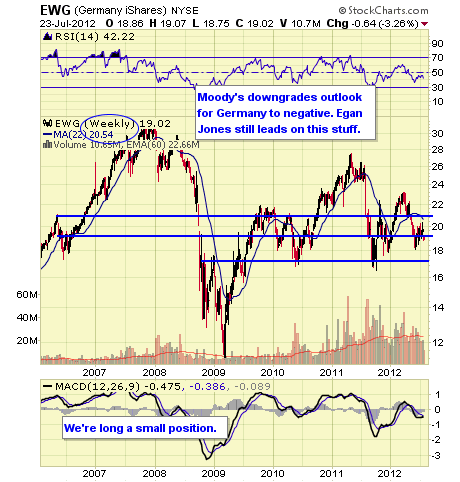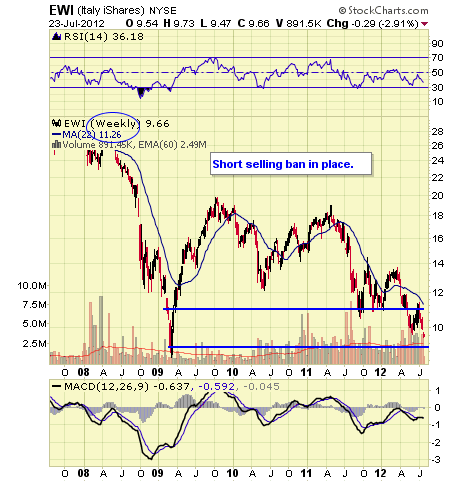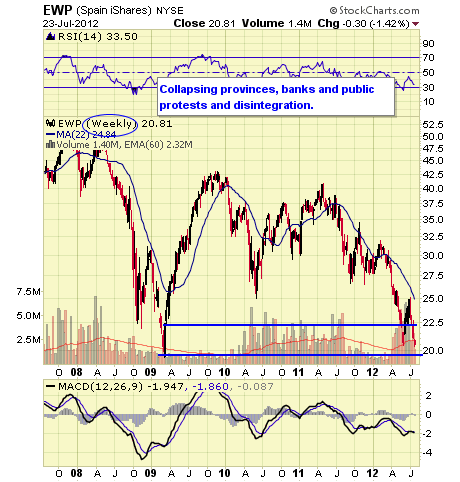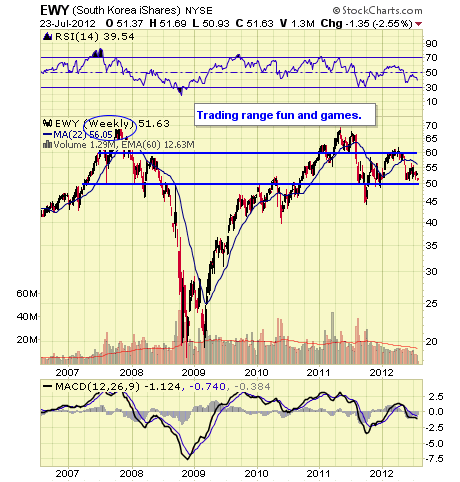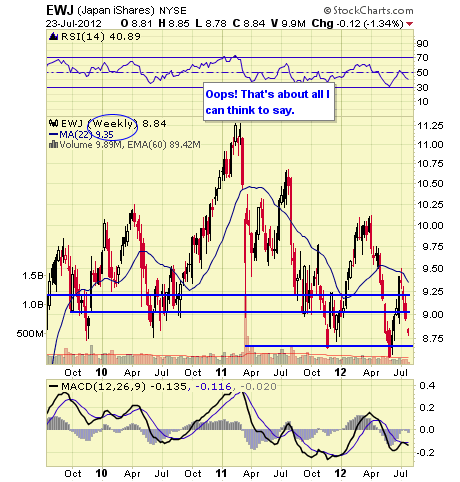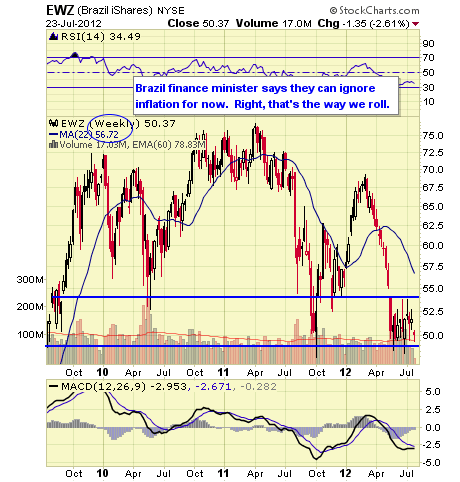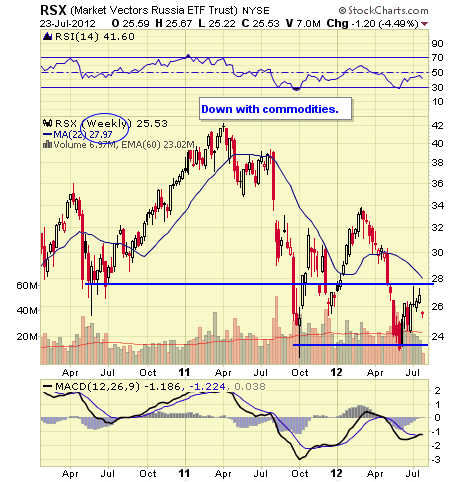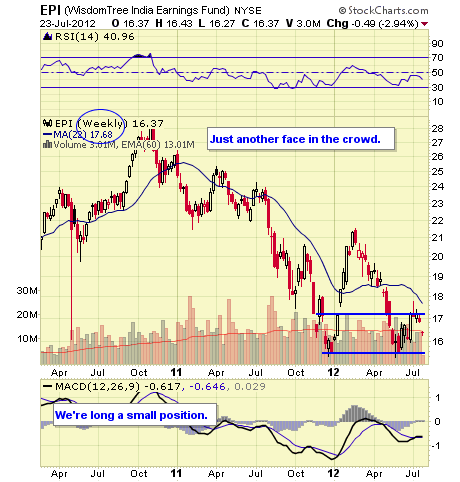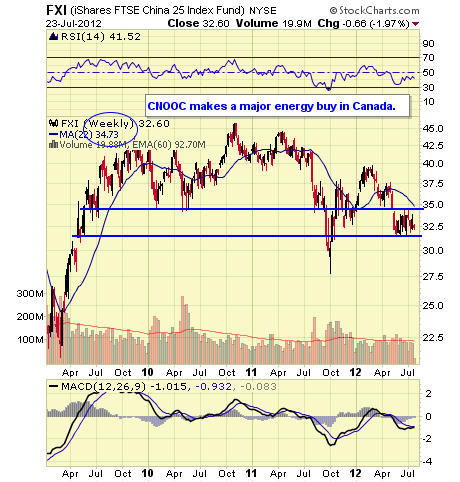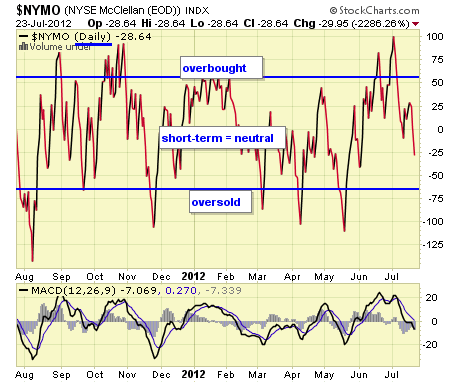 The NYMO is a market breadth indicator that is based on the difference between the number of advancing and declining issues on the NYSE. When readings are +60/-60 markets are extended short-term.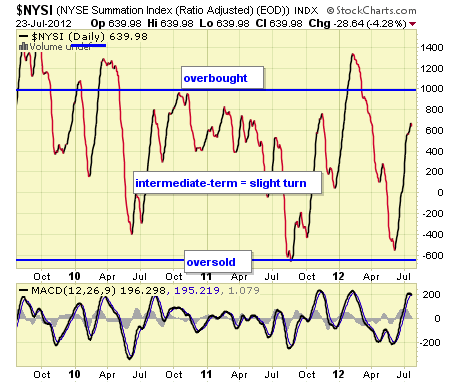 The McClellan Summation Index is a long-term version of the McClellan Oscillator. It is a market breadth indicator, and interpretation is similar to that of the McClellan Oscillator, except that it is more suited to major trends. I believe readings of +1000/-1000 reveal markets as much extended.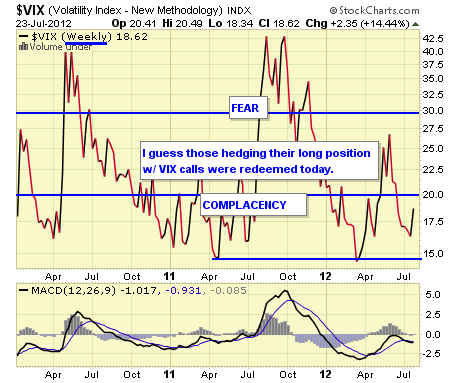 The VIX is a widely used measure of market risk and is often referred to as the "investor fear gauge". Our own interpretation is highlighted in the chart above. The VIX measures the level of put option activity over a 30-day period. Greater buying of put options (protection) causes the index to rise.
Some bad news just keeps coming back again and again. Bureaucrats in Brussels are determined to keep things together. For some countries staying in the euro is a huge mistake since their export costs have risen too high and borrowing most likely will be unavailable.
Tuesday brings us Apple earnings and much is expected judging by those piling in to Apple calls. The company may disappoint which would send a shudder through markets given the oversized weighting of the company in many indexes. The Flash PMI will be closely watch and who knows what Bernanke might say Tuesday morning.
Let's see what happens.
Disclaimer: The ETF Digest maintains active ETF trading portfolio and a wide selection of ETFs away from portfolios in an independent listing. Current "trading" positions in active portfolios if any are embedded within charts: Lazy & Hedged Lazy Portfolios maintain the follow positions: VT, MGV, BND, BSV, VGT, VWO, VNO, IAU, DJCI, DJP, VMBS, VIG, ILF, EWA, IEV, EWC, EWJ, EWG, & EWU.
The charts and comments are only the author's view of market activity and aren't recommendations to buy or sell any security. Market sectors and related ETFs are selected based on his opinion as to their importance in providing the viewer a comprehensive summary of market conditions for the featured period. Chart annotations aren't predictive of any future market action rather they only demonstrate the author's opinion as to a range of possibilities going forward. More detailed information, including actionable alerts, are available to subscribers at www.etfdigest.com.
Disclosure: I have no positions in any stocks mentioned, and no plans to initiate any positions within the next 72 hours.