I have been trying to create a shopping list of stocks for any sell-offs in the next month or so as plays on trading the final months going into November's presidential election. As I noted in "The Positive Trade When Incumbent Presidents Run For Re-Election", the S&P 500 (NYSEARCA:SPY) tends to perform very well in the three months before a presidential election featuring an incumbent President. On Friday, I tossed all reservations to the wind and tossed JPMorgan Chase & Co (NYSE:JPM) into my basket.
JPM's woes are well-known now and cost the company billions in market cap. When the company reported earnings on July 13th, the stock jumped to a gain of 6.0% on the day, only to lose it all within five days. By that fifth day, JPM CEO James Dimon decided to load up on 500K of common stock at an average price of about $34.20. Dimon now owns 3.2M shares of JPM common stock.
This ~$17M bet grabbed my attention so forcefully that I jumped at the chance to buy at a slightly lower price in after-market trading that day. The following Monday morning, I was of course dismayed to find JPM getting dumped along with the rest of the stock market. However, before I could even think through a plan to add more stock, the buyers rushed in to remove the "bargain." The chart below shows how JPM found perfect support at 2011′s close.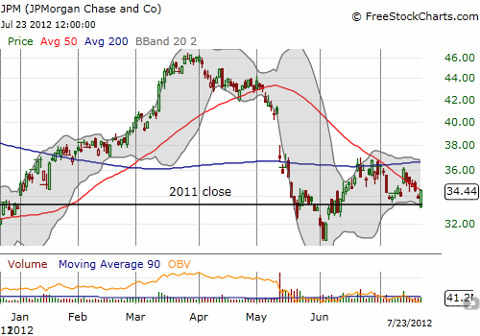 JPM finds holds at its 2011 closing price
JPM did not jump as a part of the general bounce back in the stock market for the day. JPM's bounce preceded the one in the S&P 500. In fact, the S&P 500 still closed down for the day while JPM managed to print a respectable 1.6% gain.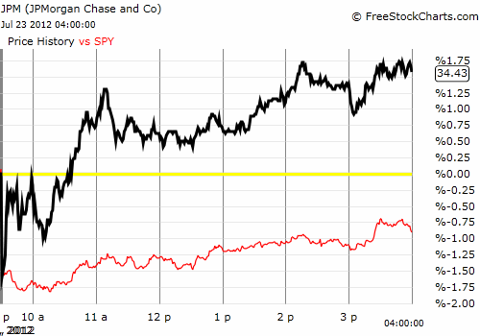 JPMorgan Chase & Co (thick black line) versus the S&P 500 (thin red line) intraday, July 23, 2012
Source for charts: FreeStockCharts.com
From a technical perspective, JPM's stock is not in the clear until it can break free of the downtrending resistance at the 50-day moving average (DMA). From there, it will need to close above its 200DMA and follow-through. I bought here anyway because as far as insider purchases go, it almost never gets as good as this situation. With a base pay of $6M, Dimon is committing a significant chunk of change by increasing his direct holdings about 18%. Moreover, JPM sports a 3.5% dividend that provides a decent cushion in a world of low-yielding financial investments.
Be careful out there!
Disclosure: I am long JPM.