American Capital Agency Corporation (AGNC) provides dividend investors a 14.60% annual dividend yield. Investors will benefit even if the dividend is decreased due to compressed net yield margins. The recent American Capital Agency secondary highlighted a few agency mortgage real estate investment trust (mREIT) investor concerns. American Capital Agency continues to dominate the number one agency mREIT, Annaly (NLY) in terms of performance.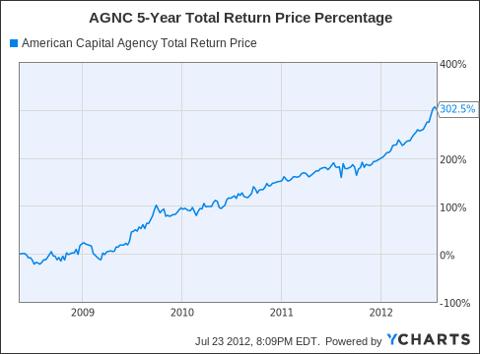 Click to enlarge
AGNC Total Return Price data by YCharts
June 30th Book Value Per Share
Management stated, as of July 17th, the American Capital Agency June 30th book value per share was approximately $29.35. This is a slight increase from $29.06 book value per share stated on March 31st. The slight increase was due to the decrease in hedges combined with an increase in the face value of government backed securities (GSE) mortgage backed securities (MBS).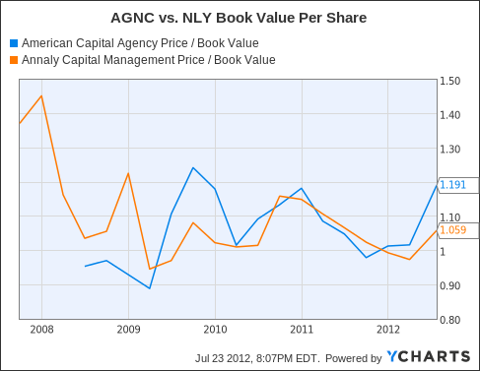 Click to enlarge
AGNC Price / Book Value data by YCharts
July 18th 32 Million Share Secondary Offering
American Capital Agency had a successful 32 million secondary offering at a net price of approximately $34.06 per share. This, after the fact, increased American Capital Agency's book value per share. Management stated the mREIT's book value per share was about $29.35 on June 30th. The mREIT was able to raise $1.1 billion at a price 16% above the June 30th $29.35 book value per share.
Quarterly Dividends
American Capital Agency has recently paid $1.25 per share per quarter. This equates to an annual $5.00 per share dividend. This is likely to decrease if the GSE MBS yields decrease. The net yield margin will constrict and American Capital Agency may only pay a $1.00 - $1.15 dividend per quarter.
A 9% to 12% dividend will still remain lofty versus telecoms and utilities. The telecoms and utility sector have become, by default, the proxy for low risk bond yields.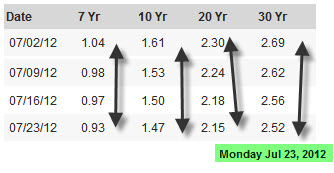 The European markets have moved money into the U.S. Treasury Bond markets to move rates to continued low levels. American Capital Agency, if interest rates remain low or decline further, will experience an increase in book value per share and a compressed net yield margin. This will result in declining quarterly dividends but increasing quarterly book values per share.
Increase in Book Value Per Share
Today the 10 Year Treasury Bond market set a record intraday low of 1.396%. The return of capital, versus a return on capital, created a negative yield of 7 basis points on the 2 year German bond.

Click to enlarge
American Capital Agency will increase its book value per share due to the declining in GSE MBS yields. The Federal Fund rates are anticipated to remain low for a couple of years.
Action
I continue to hold American Capital Agency shares as the dividend and increase in book value per share are compelling values. The Spain and Italy fiscal issues, U.S. economic woes, and global monetary crisis guarantee investors will seek safety in the U.S. Treasury Bond and GSE MBS markets.
Disclosure: I am long AGNC.