Many investors have been bemoaning the high cash balances on the books of many tech stocks including Google (NASDAQ:GOOG), Dell (NASDAQ:DELL), eBay (NASDAQ:EBAY), and others asking for a return of cash to shareholders' pockets. Most firms claim that they need the cash as a buffer, but in some cases, how much is enough?
In the tech industry, large firms often horde cash for a variety of reasons. One reason is the tax policy in the United States which taxes firms at a 35% rate for returning overseas profits, making it unlikely that they would repatriate overseas cash in a major way. The counterpoint to returning some of the cash is that the cash can then be used to pay a dividend, putting a floor under some of the stock prices.
If one looks to the mining industry, a few companies have linked their dividends to either the gold price or operating cash flow, giving a potential roadmap for tech companies.
Newmont Mining (NYSE:NEM) started the trend by linking their dividend to the price of gold, effectively putting a floor under the stock and forcing them to manage their cash flows in a tight manner. Mining companies have significant capital budgets requiring spending billions of dollars to open and operate mines around the world. Linking the dividend to the price of gold adds an additional level of complexity to the cash management process.
Following in their footsteps, a few months later, mid-tier producer Eldorado Gold (NYSE:EGO) announced that they would be linking their dividend to the gold price. In a slightly different manner than Newmont, Eldorado links their semi-annual dividend to the gold price by establishing an amount to be paid per ounce of gold sales from the prior six months which is then divided by the amount of issued common shares outstanding.
Also getting into the action was silver streaming company Silver Wheaton (NYSE:SLW) who decided in late 2011 to pay out 20% of their operating cash flow from the prior quarter as a dividend to investors.
Using the price of a product or quantity sold would not work in the tech industry but operating cash flow is a nice, simple, transparent metric to return cash to shareholders. Easily understood, easy to calculate, and transparent enough for everyone to understand. In the charts below I have taken the trailing twelve month operating cash flow and compute the payouts, dividends per share, and dividend yield of three large cap tech stocks that do not pay dividends.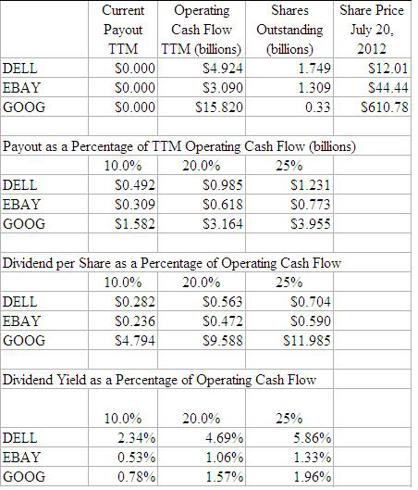 Click to enlarge
The first company, Dell, has been on the radar of investors who seek a return of cash rather than share buybacks. If Dell chose to return just 10% of their operating cash flow to investors rather than buy back stock they would have a 2.32% dividend yield based on Friday's closing price. eBay does not pay a dividend, but if they returned 20% of operating cash flow the stock gains a yield of 1%.
Should Google decide to return some of their cash flow to shareholders the stock would have an interesting yield as well. In fact, Eric Schmidt recently remarked that the $30 billion dollars on Google's balance sheet indicates that Google is out of ideas worth scaling up. Returning cash to shareholders would not make you any less of a technology company since many do so and some, like Qualcomm (NASDAQ:QCOM), are quite aggressive in returning cash flow to shareholders.
Would it be bad to see cash returned to shareholders similar to Silver Wheaton by tying the dividend to the prior quarter's cash flow? This way in slow times a floor is placed under the stock price and in good times it rewards shareholders.
For years tech companies have made the case that they cannot afford to pay a dividend and investors have clamored for some sort of yield. By using a simple metric of operating cash flow investors can enjoy a fixed dividend that will rise along with the success of the company, putting a floor under the stock price.
Disclosure: I have no positions in any stocks mentioned, and no plans to initiate any positions within the next 72 hours.