When it comes to real estate investing, I have two very famous but also very practical rules. First, as Will Rogers once said (April 13, 1930):
...out here I had been putting what little money I had in Ocean Frontage, for the sole reason that there was only so much of it and no more, and that they wasn't making any more...
(Note: this is the line that is often paraphrased to say: put your money in land, because they aren't making any more of it. This is the most "famous" of the Will Rogers quotes on land or real estate.)
Second, Warren Buffett often recognizes (and invests in) successful companies because of certain wide "economic moat" strategies or to gain advantage that allows investments to consistently stay ahead of the competition. Companies can build an economic moat by having industry-leading market share, being a low-cost producer, having proprietary products or by making customer switching costs prohibitively high.
A "Wide Moat" REIT That Owns Acres of Land
Equity Lifestyle Properties, Inc. (ELS) combines the famous but highly practical attributes of land ownership and wide moat product differentiation by operating one of the highest quality portfolios of resort communities in the United States. The Chicago-based REIT has a controlling interest in over 382 quality properties in 32 states and British Columbia with over 141,000 sites.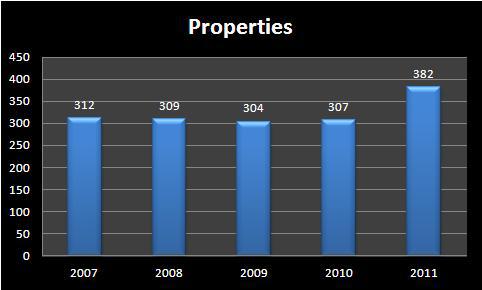 Equity Lifestyle has a unique business model that is centered on land ownership and leasing individual developed sites to customers. With around 75,600 manufactured (resort home sites) and around 65,500 resort cottage and RV sites, Equity Lifestyle has a broad presence that protects the company from economic downturns in any one market.
Equity Lifestyle owns 80 properties with lake, river, or ocean frontage and around 100 Equity Lifestyle properties are within 10 miles of coastal US. Most property locations are correlated with population migration with the largest concentration in FL, AZ, CA, and TX.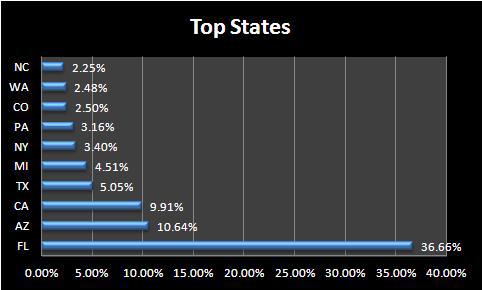 Unlike most other property sectors, Equity Lifestyle invests in land - the appreciating component of real estate in the long run. Conversely, the low management alternative provides for lower maintenance costs and lower customer turnover costs (compared with other forms of real estate).
Many of the properties have high barriers to entry as new development sites are scarce - especially for retirement and vacation destinations (62 percent of the sites are in FL, AZ, CA, and TX).
Since going public company in 1993 (over thirty years in business), Equity Lifestyle has grown from 12,312 sites to over 141,081 sites today. During the same time, the company's enterprise value has grown from around $296 million to over $5.63 billion today.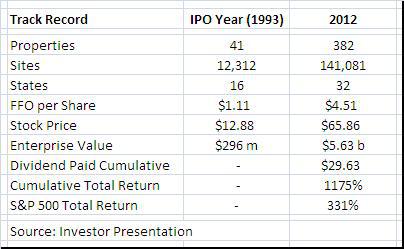 Recent Revenue Performance
Equity Lifestyle has a history of maintaining long-term predictable cash flows. Over 96 percent of estimated 2012 revenues are comprised of property operating revenues and in 2011 a large part of the REIT's growth was driven by the $1.4 billion acquisition of Hometown. Here is a snapshot of the company's revenue results: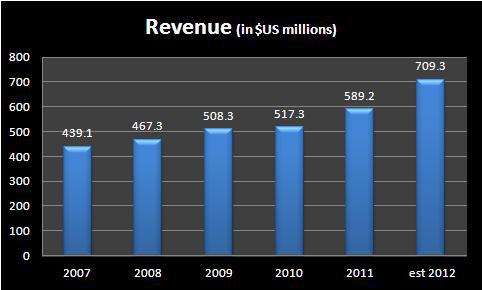 Funds from Operations (FFO) also grew and Equity Lifestyle expects to grow FFO in 2012 by around 39 percent. Here is a snapshot of the company's historic Funds from Operations: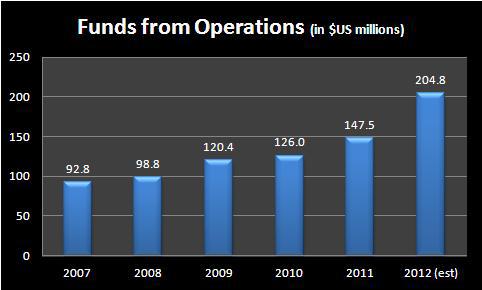 FFO per Share should increase to around $4.57 per share (consensus) and here is a snapshot of historic and anticipated FFO per Share: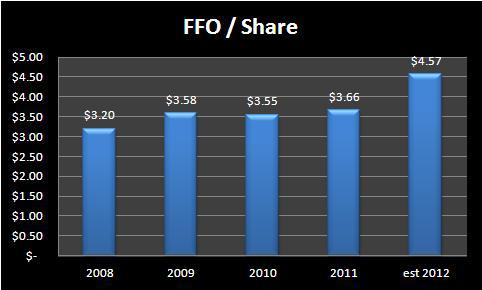 The steady and reliable revenue model consists of predictable resort home and RV income. Here is a snapshot of the company's revenue buckets: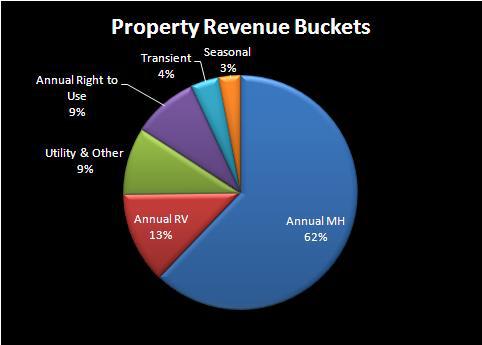 Balance Sheet Flexibility
Equity Lifestyle raised around $344 million of common equity in 2011 and many (around 200) of the company's properties are unencumbered. The company has reduced its debt considerably and the current total debt / total capitalization is around 41 percent.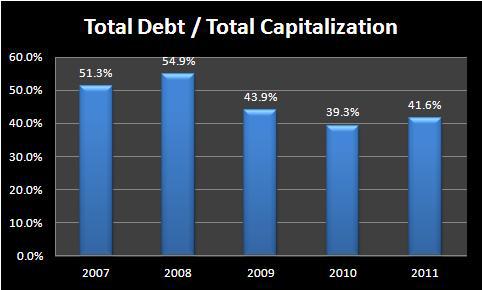 Total enterprise value is around $5.63 billion and debt to enterprise value is around 40 percent, The company has around $380 million undrawn on its credit facility.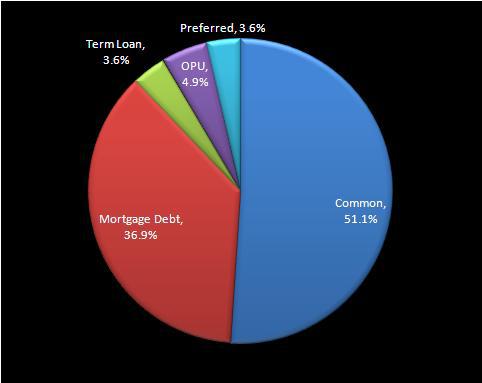 Experienced Management
Equity Lifestyle has proven management as many of the senior executives have tenured experience with the company. Thomas Heneghan, CEO, has been with the company since 1995. Marguerite Nader, the president and CFO, has been with the company since 1993.
Sam Zell is chairman of the board and he has been a director since 1993. Zell is the largest individual shareholder with around 1.693 million shares owned (4.1 percent) values at around $122 million.
The Value Proposition
Equity Lifestyle owns a lot of land that is leased to diverse range of lifestyle branded customers. With a market capitalization of around $2.982 billion, the "wide moat" REIT is paying a current dividend yield of 2.43 percent. Equity Lifestyle announced that its 2012 dividend is 17 percent higher than 2011. Equity Lifestyle's total return has outperformed both the S&P 500 and other REITs for both the last 5 and 10 years.
I don't get excited about the common shares considering the current price ($72.16) and yield (2.43 percent); however, the ELS-PA shares (yielding 8.03 percent) are worth exploring (and remember to check the call date first and conduct adequate due diligence) and Sam Zell and his team have done a great job at renting land and building a "wide moat" lifestyle platform.
The following chart is from IPO (1993) through current date (July 23, 2012):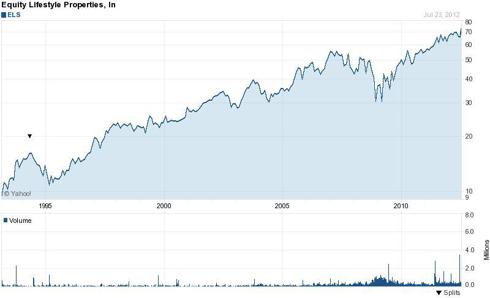 Click to enlarge
Peer REITs include UMH Properties (UMH) and Sun Communities (SUI). I wrote a recent Seeking Alpha article on UMH here.
Disclosure: I have no positions in any stocks mentioned, and no plans to initiate any positions within the next 72 hours.