In the Eurozone it is just bad news after bad news, and in the U.S. it is all about the fiscal cliff. Neither of these problems is going away any time soon and that will keep the market jumpy for a while longer. This is why last Friday's selloff was mainly due to profit-taking. The market had a pretty good run for a few sessions, despite the fact that lousy headlines out of Europe took centre stage again.
Some large cap blue chip stocks had done well, and going into the weekend investors figured that the time was right to take some money off the table. What triggered this urge to take profits was that the yield on Spain's benchmark 10-year bonds ran up to 7.5% on Friday, and since a rate of 7% and above is considered to be unsustainable, the rush for the exits was on. But the late rattles in the market are being caused mainly by a deepening Spanish debt crisis which has raised fears that Spain, not Greece, is most likely to torpedo the Eurozone, unless the fiscal trouble shooters over there come up with a miracle solution before September. Then a major government audit of the sick Spanish banking industry will show if this thing is worth saving, or to just let it go down the drain.
Because U.S. financial institutions are in some ways involved with this mess, it is no wonder that Wall Street is having the jitters, especially in the financial sectors. Critics who know about the origins of this fiasco claim that Spain's financial problems stem from reckless bank lending (shades of subprime?) to finance a property boom that went bust. It is here where the U.S. banking industry is receiving some bruises. Put it all together and it is no wonder that according to a recent survey bullish sentiment in the market is at the lowest level since August 2010. Some professional market watchers of the contrarian ilk view this as a sign that the market is about to turn and engage in a sustainable rally. After all, the market did so under the same circumstances in August of 2010, 2011 and probably will do so again this August. Well, they may have a point.
Although Europe's financial problems and the U.S. fiscal cliff give the market plenty of reasons to tank, the bulls in this game, along with the market, remain remarkably resilient, and that is showing up in these charts. Despite last Friday's steep selloff, this three index Troika remains in a bullish mode. Although the (SPX) large cap index along with the (NYSEARCA:SPXL) bull trend index received a bit of a haircut, their green, red and yellow MA lines have started positive configurations again, and that is bullish for the market. Confirming this bullish setup is the (NYSEARCA:SPXS) bear trend index by keeping its MA lines in a negative configuration. Also note that despite Friday's sharp selloff its MACD momentum index remains deep in bearish territory, while the RSI strength indicator remains negative as well. So this Troika remains bullish, and so is the market.
(click to enlarge)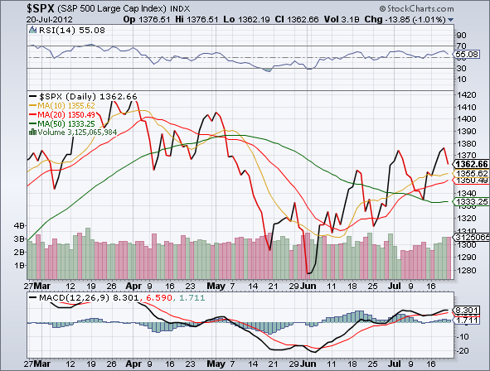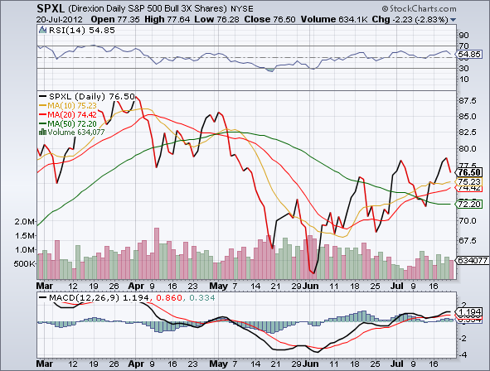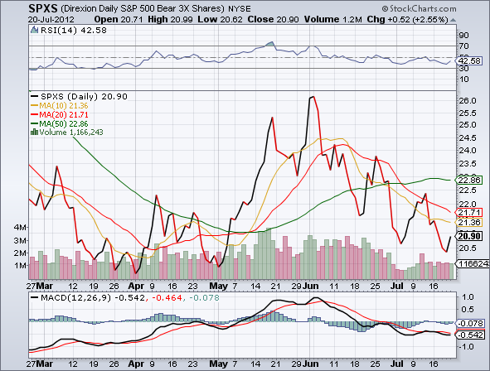 Click to enlarge
This CRB commodity index is as bullish as bullish gets, boosted primarily by strength in the agricultural products and natural gas. But check this CRX commodity related equity index which has yet to get off the ground while keeping its MA lines in a positive configuration in order to confirm this bullish stance by the commodity market. If not confirmed, the CRB index could perform a spectacular nose-dive from here.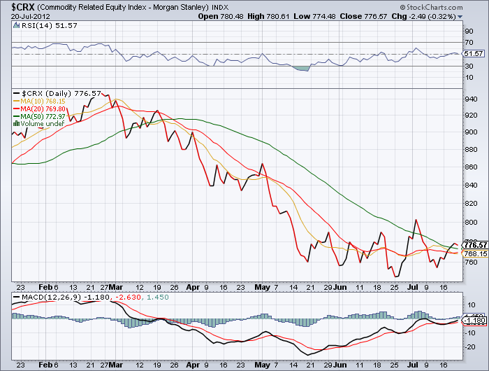 Click to enlarge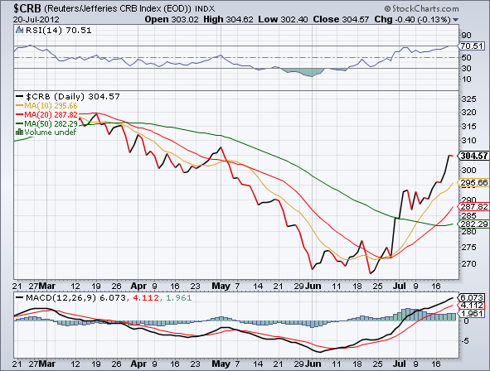 Click to enlarge
For the first two weeks of July gold's green, red and yellow MA lines were inconclusive in their configuration, but during the past week they broke out into a bearish configuration. Also note that while its RSI strength indicator remains flat-lined in dead neutral, the MACD momentum index continues to move sideways in bearish territory. All of this indicates that (gold]) is still a bear.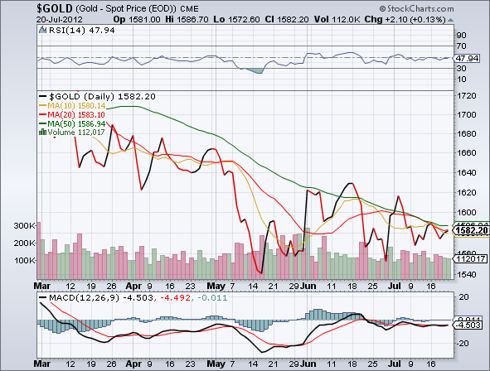 Click to enlarge
This crude oil WTIC index had itself quite a bullish spurt to the upside while its MACD momentum index along with the RSI strength indicator remained bullish in their respective territories also. But for as long as this index's green, red and yellow MA lines remain in their bearish configuration, this strong move to the upside is suspect.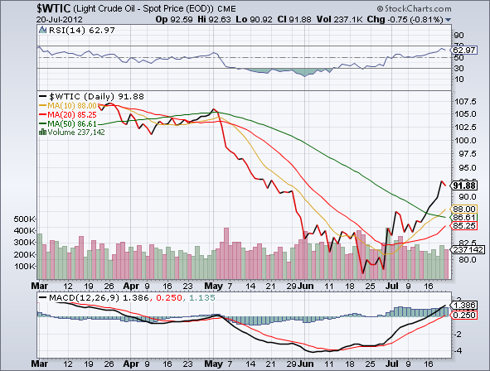 Click to enlarge
Despite a strong commodity market which ought to support the commodity laden (TSX), this index remains totally bearish and that makes the strong rally in the CRB commodity index very suspect.
Here are some ETFs which will perform well at the appropriate time.
Leveraged Bull ETFs for when the market rallies:
Real Estate BULL 3x (NYSEARCA:DRN). Alerian Infrastructure 2x (NYSEARCA:MLPL). ULTRA NASDAQ 100 3x (NASDAQ:TQQQ). DB Agriculture 2X (NYSEARCA:DAG). ULTRA S&P 500 3x (APR). Mid Cap Bull 3x (NYSEARCA:UMDD).
Non leveraged long ETFs:
Home construction (NYSEARCA:ITB). Bio Technology (NYSEARCA:XBI). iPath Grains (NYSEARCA:JJG). Home Builders (NYSEARCA:XHB). iShares Philippines (NYSEARCA:EPHE). Pharma Portfolio (NYSEARCA:PJP).
Leveraged Bear ETFs for when the market tanks:
Developed Markets Bear 3x (NYSEARCA:DPK). ULTRA Short Russell 2000 3x (NYSEARCA:SRTY). Semis. Bear 3x (NYSEARCA:SOXS). ULTRA Short S&P 500 3x (NYSEARCA:SPXU). ULTRA Short 3x NASDAQ 100 (NASDAQ:SQQQ). Financial Bear 3x (NYSEARCA:FAZ).
Non Leveraged Short ETFs:
Short Crude Oil (NYSEARCA:DTO). Short Gold (NYSEARCA:DGZ). Oil Fund Short (NYSEARCA:DNO). Short DB Crude (NYSEARCA:SZO).
GOOD LUCK!
Disclosure: I have no positions in any stocks mentioned, and no plans to initiate any positions within the next 72 hours.