Shares of Halliburton (HAL) rose 2.4% in Monday's trading session after the oilfield services provider announced its second quarter results. Last week competitors Baker Hughes (BHI) and Schlumberger (SLB) already announced decent second quarter results.
Second Quarter Results
Halliburton announced second quarter income from continuing operations of $745 million, or $0.80 per share, beating analysts consensus of $0.75 per share. Operating income was virtually unchanged from the $739 million realized in the second quarter of 2011, but up from the $635 million profit in the first quarter. First quarter earnings were negatively impacted by a $191 million after-tax charge related to the Macondo well incident.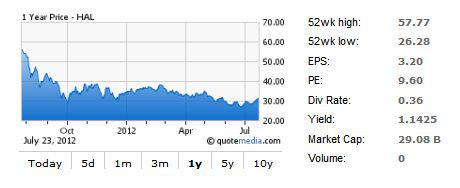 Revenues for the second quarter of 2012 came in at $7.2 billion, up 4% compared to the first quarter. Revenues beat analysts expectations of $7.0 billion and came in far above last year's quarterly revenues of $5.9 billion. Similar to its competitors, Halliburton experienced margin pressure in its North American operations as fracking costs are on the rise and price pressure becomes notable as demand is falling. Its international activities reported double-digit percentage revenue growth.
Dave Lesar, CEO of Halliburton commentedL
We continue to be successful in executing our strategy of market share growth while maintaining a focus on industry-leading returns. From a global perspective, we achieved record revenues in eight of our product service lines.
Segmental Information
Completion & Production
Revenues for the completion and production division rose 4% from the first quarter to $4.5 billion. Increased demand for the U.S. land market offset the Canadian spring break-up. Operating income came in at $912 million, down 12% on the quarter as a result of higher costs for guar gum and pricing pressure on production enhancement services. Europe, Africa and the Middle-East reported a sharp increase in profits amidst cost control in Angola and improved demand in Norway, Russia, Australia, Qatar and Saudi Arabia.
Drilling & Evaluation
Revenues for the drilling and evaluation business rose 8% on the quarter to $2.8 billion. Greater demand in the Gulf of Mexico and higher activity levels internationally spurred revenue growth. Operating income rose 7% to $393 million. Weakness in North America was offset in international markets.
Valuation
Halliburton ended its second quarter with $2.2 billion in cash and equivalents. It operates with $4.8 billion in short- and long-term debt for a net debt position of $2.6 billion. The company generated $14.1 billion in revenues for the first six months of 2012. Operating income came in at $2.2 billion and net income rose to $1.37 billion, or $1.48 per share. At this rate, the company is on track to generate annual revenues between $28-$30 billion, on which it is expected to report annual earnings around $3 billion. This values Halliburton at around 1.0 times annual revenues and roughly 10 times annual earnings.
Halliburton's valuation compares to a revenue multiple of 2.3 times for Schlumberger and 1.0 times for Baker Hughes. Both competitors trade at around 17 and 11 times earnings, respectively.
Currently Halliburton pays a quarterly dividend of $0.09 for an annual dividend yield of 1.1%
Investment Thesis
Shares of Halliburton have lost 9% so far this year as lower oil prices have caused fear among investors about demand for oilfield services. Record low natural gas prices have already reduced demand for oilfield services for natural gas fields. At the same time, margins are under pressure as fracking costs have been on the rise. Consequently, shares have fallen from a peak of $57 in the summer of 2011 to around $31 at the moment.
Monday's earnings beat reassured investors after the company warned for lower earnings in recent weeks. In both absolute and relative terms, the company's valuation seems attractive despite the fact that the company is highly reliant on the North American market, which currently is a drag on earnings growth.
Despite the low dividend yield, I would consider taking a long-term long position in the stock as a rebound in the North American market will inevitably occur in the medium-term. Until that point in time, excellent results in international markets will continue to keep up the results.
Disclosure: I have no positions in any stocks mentioned, and no plans to initiate any positions within the next 72 hours.