More than 1000 companies are set to report their earnings during the week of April 28-May 2. The Correct Call screens for those companies that are likely to pop or drop based on their quarterly performance.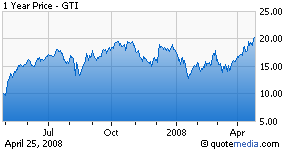 GrafTech (GTI) is set to report earnings before the market opens on Friday May 1st. GTI is the country's largest maker of graphite electrodes, which are used in the production of steel and aluminum. GrafTech's products are also used in exciting industries like, fuel cells, semiconductors and solar panels. Some of their customers include high flyers Apple (NASDAQ:AAPL) and Nucor (NYSE:NUE).
We expect GTI to announce earnings that will beat investors' and analysts' expectations of 39 cents. Graftech has a history of exceeding Wall Street's outlook as they have topped the consensus estimate 4 quarters in a row by an average of 41%.
Investors can feel relatively sure holding on to GTI shares despite recession hype/fear. GTI business should be relatively unaffected by US economic worries as its order book stands at 90% full for the remainder of '08. With about 70% of GrafTech's revenue coming from overseas, earnings should get a boost from the weak-kneed dollar.
If we have made The Correct Call , we believe GTI's shares could be up by more than 15% in the next 3–to-6 months.
Disclosure: none