We published our research on CYS Investments (Cypress Sharpridge Investments, Inc: CYS) after it went ex-dividend. We were surprised that the company issued a secondary public offering of stock recently due to the fact that it has a small estimated market premium to book value, especially in relationship to two of our favorite mREITs (American Mortgage Capital: MTGE, and American Mortgage Agency: AGNC).
Our firm took advantage of the 2.7% decline in CYS's stock price on July 11th to add to our position in CYS's common stock. We believe that the market received this offering as well as we did because not only did CYS increase it from 30M to 40M, CYS's stock price recovered to the July 10th pre-secondary closing price of $14.14 on July 17th. CYS's stock price dealt with volatility when AGNC issued a secondary offering of its own, but has only shed $.02 net from the close of July 17th to the close of July 20th.
CYS Investments pays a $.50 per share quarterly dividend, which represents $2/share annually and a 14.2% dividend yield. Yield-hungry investors who invest in mREITs need to make sure that the company is able to maintain the dividend because what good is a 17% dividend if you end up losing 100% of your seed capital. We know people invested in Anthracite and Thornburg who can attest to getting burned with those mREITs.
Looking at CYS's Net Interest Income Per share, we can see that the company generated $.513 in Q1 2012 and $.49165 in Q2 2012. While 100% net interest income to dividend may seem high at first glance, we also noticed the high level of realized and unrealized gains per share. We also note that CYS and other mREITs are pass-through entities for purpose of taxation. MREITs are similar to mutual funds for taxation purposes in that both entities must distribute 90-98% of pro forma taxable income to shareholders in order to avoid entity-related excise taxes.
In our opinion CYS's 100% coverage of its dividend through net interest income will allow the company to have a dividend per share that is either stable or will decline slowly in the low-to-mid single digit range. We were disappointed to see that the company had a significant decline in spread income versus Q2 2011 levels, however we noted that Q2 2011 spread income had a significant non-recurring increase versus Q1 2011 levels.
On a sequential basis, spread income declined by 4% versus the prior linked-quarter. We noticed that CYS will not be the only mREIT that will see a decline in its net interest income per share, as the interest rate yield curve has been flattening due to the flight-to-safety by investors into high quality dollar denominated bonds in response to the European debt crisis.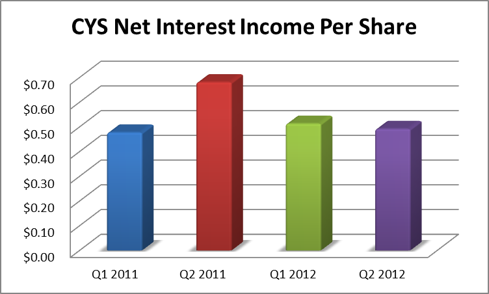 Source: CYS Q1 and Q2 earnings releases from 2011 and 2012
Core Earnings as defined by CYS's management represents net income offset by net investment gains and gains and losses on swap and cap contracts. For Q2 2012, CYS had $.383 of Core Earnings as defined by CYS management, which declined by 4.2% from $.40 in Q1 2012. Core Income of $44.8M grew by 6.9% in the linked quarter, but was offset by 11.6% increase in outstanding shares.
We prefer to use the lessor of net interest income per share or net income per share in evaluating the ability of mREITs in order to meet our dividend expectations. While we never like to see declines in realized and unrealized gains on investments, we are more than cognizant of the fact that mREITs will be generating lower gains going forward. We expect lower gains going forward due to the low-interest rate environment that resulted in the inability of bonds to generate the capital gains that were generated when market interest rates declined from 2007-2012 in the wake of the global financial crisis and the monetary easing programs of the world's central banks in response to the crisis.
We are hoping that the Federal Reserve refrains from additional monetary easing actions. We understand that Democrat obstructionism is preventing fiscal and macroeconomic policy solutions from passing Congress and we understand that the Federal Reserve may be pressured into monetary easing. If the Fed refrains from monetary easing measures, this will ensure that any dividend cuts from mREITs will not be steep and that investors will still be able to generate satisfactory double-digit dividend yields on their mREIT investments.
We believe that most of the world's monetary easing will come from Europe due to the sovereign debt crisis afflicting those countries. Though we don't expect any per share dividend growth for mREITs, we believe that most investors are attracted to the high current dividend yields and mainly want to make sure that the dividends are not drastically cut. We emphasized this last point in our most recent research analysis report covering AGNC's recent secondary offering.
In conclusion, our three favorite mREITs are CYS, AGNC and MTGE. Of these three, we like CYS the best, then MTGE and finally AGNC. These are our favorite mREITs because we find these three companies to be the best in breed in the mREIT sector.
In our previous report, we discussed how CYS specializes in the 15-year mortgage segment. We noticed that CYS's weighted average CPR rate for its agency RMBS securities decreased from 19.5% as of Q4 2011 to 17.3% in Q1 2012 and 15.8% in Q2 2012. Not only is this lower than the average CPR rate for all agency RMBS in the market, but it is declining, whereas AGNC's is seeing an increase in its weighted average agency RMBS portfolio CPR rate from 8% last year to 12% in Q2 2012. The tie-breaking criteria we used to rank CYS, MTGE and AGNC is the premium to book value ratio for the companies.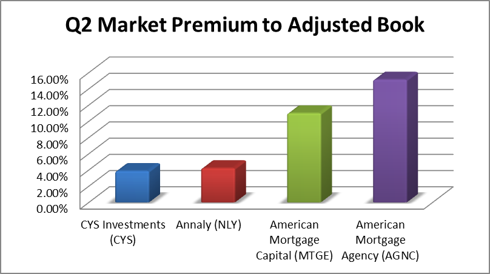 Sources: Morningstar Direct, CYS Q2 2012 10-Q and Saibus Research estimates
Disclosure: I am long CYS.
Additional disclosure: Saibus Research has not received compensation directly or indirectly for expressing the recommendation in this report. Under no circumstances must this report be considered an offer to buy, sell, subscribe for or trade securities or other instruments.