YRC Worldwide (YRCW) is one of the largest trucking companies in the U.S. and the company has suffered along with the U.S. economy through a tough first quarter. YRCW stock has plunged for more than a year, today trading at levels 70% lower than a year ago. However, after releasing earnings and an optimistic forecast, the stock is up a whopping 30% at the time of writing. Trucking is often viewed as a leading indicator of economic activity, so the guidance offered by the company's CEO is a hopeful one.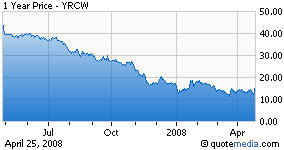 The results for the first quarter were mostly in-line with estimates as the company was in the red. The poor performance was in part due to one-time items, skyrocketing fuel costs, tough winter driving conditions, and the soft economy. YRCW struggled to integrate some new acquisitions which resulted in over 1,000 job cuts and the closure of some trucking bases. Margins have been pinched as the company was unable to offset rising fuel costs with price increases due to the hyper-competitive nature of the trucking business. Also, CEO Bill Zollars said that hauling imports from China – previously a major growth area—held fairly steady as did most all import and export business.
Zollars predicted that YRCW will return to profitability in the second quarter of this year, when he expects overall operating conditions to improve. He is extremely excited about the company's new foray into trucking within China. If YRC can gain a foothold in China—whose industries continue to grow at a pace unrivaled in the rest of the world—it could serve as a great revenue generator in times of U.S. economic weakness. YRCW has nearly completed its acquisition of Shanghai Jiayu Logistics, which is a small operation by U.S. standards, but one of the largest in China. The potential for growth in China is readily apparent as production there continues to boom. Zollars stated: "what you will see is a fairly significant inventory build-up prior to the Olympics. They will make sure there is no interruption in supplies."
YRCW's valuation still looks very compelling even after the significant jump in the stock Friday. Based on a historical study of what the market was willing to pay for YRCW for a given level of sales and cash, we have a rationally expected range for the stock of $27-$37 per share. The normal range of price-to-cash flow is between 4.25 and 7.18, but it is currently only 2.17, which is 49% below the low end of our range. Even more impressive is the price-to-sales metric, which is normally between .195 and .35. The current value is .077, which is 61% below the low end of the range. According to the guidance by the company today, the worst is behind YRC Worldwide, and long- term investors could still get in on the bottom floor even after the 30% pop today.
Disclosure: none