Drought conditions have plagued the Midwestern United, severely damaging America's corn crop. Markets have clearly reacted to this with skyrocketing corn prices, but does the damage to the crop suit rapid corn prices? The mismatch to corn prices versus the July crop report, technical resistance, and other bearish fundamental factors make corn (The Teucrium Corn ETF: CORN) a solid short at these levels.
Expectations for the corn supply were dismal, and recent crop and farmer survey reports have reflected that. The corn supply fell by 1.82 billion bushels to 12.97 billion. However, this 12.3% decline in supply, does not warrant a nearly 40% increase in the price of corn within the past month. Assuming the amount of corn demanded is unchanged over the past month, the equilibrium price adjusted for the amount of crop lost to the drought is about $7.10 per bushel, significantly lower than its current price.
In addition to this pricing mismatch, other fundamental factors favor a decline in corn prices. Weather is improving in the Midwest, with incoming rain storms and high temperatures in Iowa, Illinois, and Nebraska falling by an average of 10 degrees. Also with farmers killing livestock early in anticipation of higher feed prices, the reduced amount of livestock will reduce long-term demand for corn. The removal of corn ethanol subsidies has also been a long-term headwind for corn prices as Brazilian sugar cane ethanol becomes cost effective for ethanol producers.
Click to enlarge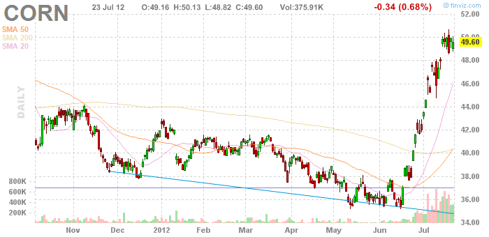 Technicals also seem to confirm a short- to medium-term top in corn. First, corn reached a hard resistance of $800 on its December contracts (translating to $50 on the Tercium Corn Fund) and is consolidating currently at this region. In addition, the MAC-D and full stochastic indicators have crossed negative, which implies the bullish momentum of corn has faded. The 14-day RSI is also sitting at an overbought level of 69.
Overall, due to the market's exaggerated fear of the repercussions of the Midwestern drought, along significant fundamental and technical headwinds, I am short corn with a price target of 710 on the December corn futures (42.50 equivalent on CORN) with a stop slightly above $50 per share on the ETN. Mother nature may prove me wrong and extend this drought further, but the situation in the corn market favors the bears.
Disclosure: I am short CORN.