On Thursday night, California-based footwear play Deckers Outdoor (NASDAQ:DECK) reported stellar earnings results: Q1 EPS of 86c (20% growth) vs. cons of 76c (DECK, on average, beats by 12c) and revenue of $97.5M (34% increase). The company's main line – the sheepskin Ugg boot, which accounted for 56% of the Q's sales – posted sales of $54M, an 86% increase YoY. DECK also increased Q2 guidance for 30% growth on the bottom line and 50% on the top line. Lastly, DECK said 2008 revenues should grow to the tune of 30%, an increase from the 25% rise they expected just a quarter ago.
The only blemish in the quarter was the weak Teva line sales (-2.3% YoY), but that was due to delayed shipments rather than demand impairment. Investors jumped all over the stock Friday, sending it 20% higher on 3x average daily volume. Prior to Friday's pop, investors in DECK had fled the stock after the company had reduced guidance for the quarter just reported from 92c to 75c.
Part of Friday's surge can be attributed to the large short interest hounding DECK (6 days to cover/26% of float). This should help lift the stock up some more in the near term as not all the bearish bets out there have likely been unwinded. We continue to view DECK as sustainable high end luxury comfort footwear play with a tight lid on inventory control and keen awareness about what its core customer wants. The Ugg line could be a $500M brand by 2012 and international growth should contribute nicely to the firm's target $750M 2012 total revenue target.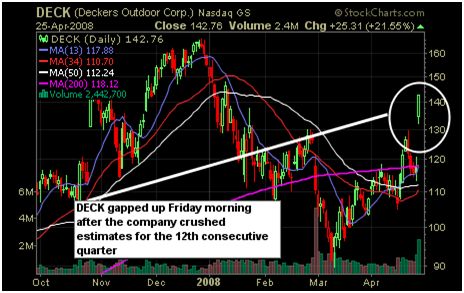 Bottom Line: The Street was expecting DECK to turn into another CROX or HLYS, and it didn't happen. The macro environment isn't harming their business to the degree many were projecting and DECK remains, along with NKE, our best idea in the footwear space. DECK is valued somewhere around the $157 handle (based on above-cons 2009 EPS of $7.50 and 21x multiple). As the chart below indicates, DECK's valuation has come in a bit even though the fundamental story has remained attractive.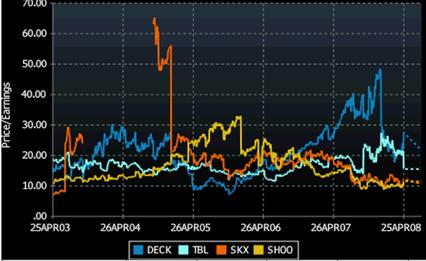 In the last four quarters, DECK's P/E has ranged from as low as 17x to as high as 32x; currently, the stock is fetching 21.7x 09 consensus numbers. A higher multiple could be justified if DECK continues to outshine rivals in the debilitated economic backdrop & Teva/Simple sales ramp far enough to diversify DECK out of its concentration on the Ugg line. With the summer season about to ramp, and Decker's proven merchandise control and brand cachet, we suggest nibbling at the stock after Friday's beat as shares are likely to test prior highs.
Disclosure: none