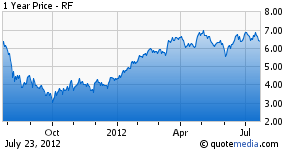 Dick Bove, the long time and respected banking analyst is extremely positive on regional banks due to their quality of earnings. Bove spotlighted US Bancorp (USB), PNC Financial (PNC), BB&T (BBT) and even Wells Fargo (WFC) on CNBC's Squawk Box yesterday. I have always been a fan on Bove as he has made some great calls on the banking sector over the years. One regional bank I own, Regions Financial (RF), reported earnings this morning that highlighted the improving earnings picture for the sector that Bove alluded to. The stock should have a nice bounce today on its latest earnings report that beat expectations and should do very well in the coming years as long as the housing market and economy improve, even if it is at a tepid pace.
Highlights from Region's earnings report:
Earnings came in at 20 cents a share, a huge improvement from the same quarter of last year when it earned 4 cents a share and significantly above estimates of 15 cents a share.
Net interest income increased $11 million and totaled $838 million, while the net interest margin increased 7 basis points to 3.16 percent.
Non-performing loans, excluding loans held for sale, declined $236 million or 11 percent. Net charge offs were also down 20%.
The company has a strong capital position with an estimated Tier 1 ratio of 11.0 percent.
The bank also said it repaid $3.5 billion of U.S. treasury's Series A preferred stock investment.
Four reasons RF still has value at $6.50 a share:
Earnings are on the right track. The company earned just 17 cents a share in FY2011. However, analysts expect 62 cents a share in FY2012 (look for this to be revised up on this last earnings report) and 76 cents a share in FY2013.
This is the seventh straight quarter that the company has beat earnings estimates as analysts keep underestimating the company's improving fundamentals.
The stock is cheap at just 64% of book value and around 8.5 times forward earnings, a discount to its five year average (15.3).
Insiders are holding onto their shares despite the recent rise of the stock price from $4 a share. Credit Suisse has an "outperform" rating and a $9 price target on Regions.